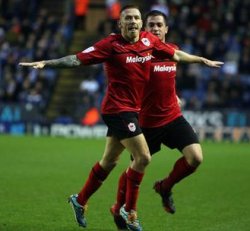 Craig Bellamy's winner at the KP Stadium saw City re-open a three point gap over Hull who had gone level with City on Friday night.
The win extended City's lead over Leicester to 10 points and thanks to some other excellent results saw Cardiff enjoy a great pre Christmas Saturday.
While City were winning at Leicester, Mllwall were losing at home to Barnsley and Middlesbrough were losing at Leeds Utd.
The evening game between Crystal Palace and Huddersfield produced a 1-1 draw with both sides having players sent off. Damien Delaney for Palace, who will miss the Boxing Day game at CCS, while the Huddersfield red card went to former Bluebird Anthony Gerrard.
The full results from the day and the current table are below:
Birmingham

2 - 2

Burnley




Blackburn

P - P

Brighton

Ipswich

1 - 1

Bristol City




Leeds United

2 - 1

Middlesbrough




Leicester

0 - 1

Cardiff




Millwall

1 - 2

Barnsley




Peterborough

5 - 4

Bolton




Sheff Wed

2 - 0

Charlton




Watford

2 - 0

Nottm Forest




Crystal Palace

1 - 1 H

uddersfield
| # | Team | Pl | W | D | L | F | A | Pts | +/- | |
| --- | --- | --- | --- | --- | --- | --- | --- | --- | --- | --- |
| 1 | Cardiff City | 23 | 15 | 2 | 6 | 44 | 28 | 47 | 16 | |
| 2 | Hull City | 23 | 14 | 2 | 7 | 35 | 27 | 44 | 8 | |
| 3 | Crystal Palace | 23 | 12 | 7 | 4 | 44 | 29 | 43 | 15 | |
| 4 | Middlesbrough | 23 | 13 | 2 | 8 | 40 | 31 | 41 | 9 | |
| 5 | Leicester City | 23 | 11 | 4 | 8 | 37 | 22 | 37 | 15 | |
| 6 | Watford | 23 | 11 | 4 | 8 | 41 | 31 | 37 | 10 | |
| 7 | Millwall | 24 | 10 | 7 | 7 | 37 | 33 | 37 | 4 | |
| 8 | Leeds United | 23 | 10 | 5 | 8 | 35 | 36 | 35 | -1 | |
| 9 | Brighton and Hove Albion | 23 | 8 | 10 | 5 | 31 | 23 | 34 | 8 | |
| 10 | Derby County | 23 | 9 | 6 | 8 | 36 | 34 | 33 | 2 | |
| 11 | Nottingham Forest | 23 | 8 | 9 | 6 | 30 | 28 | 33 | 2 | |
| 12 | Blackpool | 23 | 8 | 8 | 7 | 40 | 33 | 32 | 7 | |
| 13 | Wolverhampton Wanderers | 23 | 9 | 4 | 10 | 31 | 30 | 31 | 1 | |
| 14 | Burnley | 23 | 8 | 6 | 9 | 36 | 39 | 30 | -3 | |
| 15 | Huddersfield Town | 23 | 8 | 6 | 9 | 29 | 36 | 30 | -7 | |
| 16 | Bolton Wanderers | 23 | 7 | 8 | 8 | 36 | 37 | 29 | -1 | |
| 17 | Blackburn Rovers | 22 | 7 | 8 | 7 | 29 | 31 | 29 | -2 | |
| 18 | Charlton Athletic | 23 | 7 | 8 | 8 | 28 | 30 | 29 | -2 | |
| 19 | Birmingham City | 23 | 6 | 8 | 9 | 30 | 37 | 26 | -7 | |
| 20 | Ipswich Town | 23 | 6 | 6 | 11 | 23 | 44 | 24 | -21 | |
| 21 | Sheffield Wednesday | 23 | 6 | 3 | 14 | 27 | 40 | 21 | -13 | |
| 22 | Barnsley | 23 | 5 | 6 | 12 | 23 | 36 | 21 | -13 | |
| 23 | Bristol City | 23 | 5 | 4 | 14 | 33 | 46 | 19 | -13 | |
| 24 | Peterborough United | 23 | 6 | 1 | 16 | 30 | 44 | 19 | -14 | |