Cardiff City 0 - 0 Parma
By Michael Morris
Updated Saturday, 30th July 2011
Views: 50
A thoroughly enjoyable game at Cardiff City Stadium this afternoon. No goals but plenty of action and exciting football.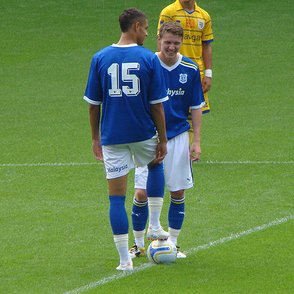 City line up: Marshall McNaughton Taylor Hudson (c) Gerrard Whittingham Cowie Earnshaw Conway Gestede Mason
Subs: Heaton Miller Keinan Parkin Naylor Gyepes Taiwo Fagan
Aron Gunnarsson and Filip Kiss were rested with tight hamstrings.
Well the quality of football was of a decent standard and the game, despite lacking a goal, was a positive experience with some encouraging displays from the new Cardiff City players.
Joe Mason and Rudy Gestede joined Robert Earnshaw up front with Mason, allowed to roam, proving he is a really exciting prospect.
I was encouraged by the effort from Mason especially and from Gestede. He is a big lad and won plenty of flick ons and was a menace in the box.
Peter Whittingham was again quality and early on Craig Conway was causing problems down the left hand side.
Several Parma players were booked as they cynically took out the City players with trips, tugs and shoves. Parma played their part but over the 90 minutes Cardiff had won on points if not goals.
Kenny Miller came on at half time for Gestede but his partnership with Earnie as City switched to 4-4-2 was shortlived with Earnie going off for Craig Fagan.
There were a couple more subs with Naylor, Taiwo and Keinan coming on and plenty of boos when ex jack Borini came on for Parma.
Another decent home crowd was announced as 8,256 and at the end at least one Parma player handed his shirt over to a City fan.
The Parma supporters, less than 20 of them were in good voice but everyone went home without seeing a goal. Cardiff came close, three times they hit the woodwork. A good workout and next time it's for real.
West Ham v Cardiff City
Sunday August 7th, ko 1:00pm.
Interact with us