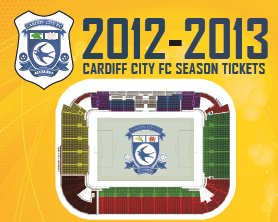 Platinum Ambassadors start year three of their five year same price deal with the club also freezing last years prices for all renewing and new ambassadors.
Season tickets can be purchased from 10am on Wednesday 1st February with the first 10,000 sold eligable for a Carling Cup Final ticket.
NOTE current 2011/2012 ST holders are all eligable for a Carling Cup Final ticket as well (18,000 of us). If you have a season ticket now you do not need to renew immediately to get a Wembley ticket, if you do renew you will be eligable for a second ticket.
Full article here on the official website.
Season current holders have until March 30th @ 5pm to reserve their same seats for next season. People purchasing for the first time from tomorrow will be sold seats that are currently available. From March 31st - Friday April 13th all seats still available will be sold until the sale end at 5pm on April 13th.