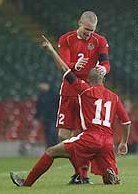 Earnie celebrates his goal v Bosnia (with Rhys Weston)
Despite not playing for Cardiff or Wales since last November Mark Hughes has kept Daniel Gabbidon in the squad for the forthcoming Euro 2004 double header against Azerbaijan in Cardiff on March 29th and the away trip to Serbia and Montenegro (formerly Yugoslavia) 4 days later.
Rhys Weston is injured and suspended for Cardiff City at the moment but is also named. Rhys started the last game for Wales against Bosnia and has a chance to see action again as regular right back Mark Delaney is out for the rest of the season.
Earnie, a starter against Bosnia is likely to be on the bench with Ryan Giggs and Craig Bellamy expected to get first call.
Hughes has named a 27 man squad to include Gabbidon and Weston as well as West Broms Andy Johnson and Readings Adrian Williams. He hopes that at least one of them could possibly be passed fit in time for the game. Hughes had to call them in todays squad or risk the clubs refusing him access to players as the two week rule on naming the squad would come into play.
"We have to cover ourselves or maybe lose them," explained Hughes.
"The biggest doubt is Gabbidon. He has been out for a long while with his problem and I would have hoped that he would have been back by now. He certainly won't be involved in any of the build-up and is probably going to miss the games anyway."

"I will have to play someone at right back who does not play in that position for his club. Weston and Matty Jones can both do the job but we'll have to wait and see until nearer the match."

James Collins is again named in the U21 sqaud. Well done boys.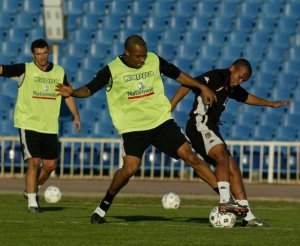 Gabbidon and Earnie train in Azerbaijan

Wales squad for Euro' 2004 qualifiers against Azerbaijan at Cardiff on March 29 and away to Yugoslavia in Belgrade on April 2:
P Jones (Southampton), Crossley (Middlesbrough), Ward (Nottm For), Coyne (Grimsby), Melville (Fulham), Symons (Crystal Palace), Page (Sheff Utd), A Williams (Reading), Gabbidon (Cardiff), Barnard (Grimsby), Weston (Cardiff), Speed (Newcastle), Pembridge (Everton), Savage (Birmingham), Davies (Tottenham), M Jones (Leicester), Robinson (Portsmouth), Johnson (West Brom), Oster (Sunderland), Trollope (Northampton), Koumas (West Brom), Giggs (Man Utd), Hartson (Celtic), Blake (Wolves), Bellamy (Newcastle), Taylor (Burnley), Earnshaw (Cardiff).
Wales Under 21 squad for UEFA Championship qualifiers against Azerbaijan at Barry on March 28 and Yugoslavia in Belgrade
on April 1:
Brown (Gillingham), Whitfield (Wrexham), Moss (Shrewsbury), Price (Wrexham), R Edwards (Aston Villa), Pejic (Wrexham), Day (Mansfield), Valentine (Darlington), Tolley (Shrewsbury), Pipe (Coventry), Brough (Notts Co), Vaughan (Crewe), Fowler (Coventry), M Williams (Man Utd), Gall (Yeovil), G Williams (Crystal Palace), Collins (Cardiff), Mumford (Swansea), G Williams (Crystal Palace).
Stand-by players: Gay (Southend), A Davies (Southampton), R Evans (Birmingham), M Jones (Wrexham), Morgan (Wrexham), Rees (Millwall), Rowland (Port Vale), Steins (Leeds), Stock (Bournemouth).