First published on ESPN
http://espnfc.com/blog/_/name/cardiff-city/id/210?cc=5739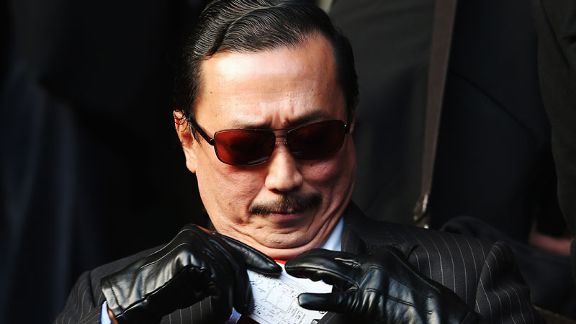 A cagey Ole Gunnar Solskjaer's diplomatic suggestion of a visit from Vincent Tan to meet the players the day before the game had a positive effect on the squad. Solskjaer was speaking after the defeat at Spurs and suggested that the visit by Tan was "appreciated" by himself and the players.

Just 24 hours later it was revealed that Tan's motive to break routine and visit the players was to offer the team a 3.7 million pound bonus if they survived in the Premier League this season.

Does that sound ludicrous? Well anyone following Cardiff City or the saga of Cardiff City will accept that this revelation is entirely in keeping with the inappropriate and unprofessional running of the club during a disastrous inaugural Premier League season.

Tan's offer breaks Premier League rules which state that all bonuses must be put in place at the start of the season. Indeed breaching those rules could see Cardiff face a fine or even a points deduction. The incident highlights just how out of touch the hierarchy of Cardiff City are with running a football club.

Tan sees Cardiff as a business like any of his other businesses. He is a very wealthy and clever man but he has misjudged how football works.

Starting with the rebrand and colour change, Tan has split fans, washed the club's dirty linen in public with his treatment of Malky Mackay, made damaging public statements on the eve of big games and now has fallen foul of basic rules that all clubs should know about.

Chairman Mehmet Dalman has tried to cover Tan's actions by saying: "This has all been taken out of context and is a misunderstanding. Yes, Vincent did make the offer on Saturday but he has no executive powers. He's just the owner. He's not running the club and it wasn't up to him to make this offer. I've told him there are strict rules about bonuses and we'd talk further about implementing with the payment structure for next season. Please bear in mind, Vincent Tan meant well on this occasion."

The comments sum up how out of touch Tan is with what's really going on. He got away with the colour change because the team was winning and went on to win promotion. Fans tolerated it and were rewarded with Premier League football, but as this season has progressed it's just turned into a big mess prompting more and more ridicule as other fans, and even the media, want to see Cardiff fail because of Tan's behaviour.

There is no feelgood factor. Fans are still backing the team but they have lost all faith in the regime. After waiting 51 years to reach the top flight our stay is going to be short-lived. Survival is not impossible but after a seventh straight away defeat and 399 minutes without scoring a Premier League goal it's difficult to see where a shot on target is going to come from, let alone winning matches.

The performance at Tottenham was better because we only conceded one goal and managed to hit the bar. That's an improvement on 3-0 and 4-0 defeats against Swansea and Hull respectively in recent weeks. Again Solskjaer made wholesale changes: he replaced six of the starting line-up that faced Hull the week before.

Craig Bellamy came back in from suspension and Gary Medel was back after injury. Out went Wilfried Zaha -- dropped to the bench, and Craig Noone was injured so he missed out. Declan John, Ben Turner, Aron Gunnarsson and Kim Bo-Kyung were the other players back in the side.

The manager included three centre-backs and two holding midfielders in the side, but it didn't stop Spurs from scoring with a 90 yard breakaway goal. Minutes later, Steve Caulker hit the bar from two yards out and Declan John stung the hands of Hugo Lloris. That was as good as it got for the Bluebirds.

Cardiff now sit one place off the bottom of the table. The only club below the Bluebirds are Fulham, and they visit Cardiff City Stadium this weekend. Solskjaer claims five wins from the remaining 10 games will be enough to keep Cardiff in the division. Saturday's game is one of the five that Cardiff have a realistic chance of winning (the others would be Palace and Stoke at home, WBA and Sunderland away.)

Quite simply if they can't beat Fulham they are not going to beat anybody. All hope will end if the club fail to pick up three points against a team that concede an average of over two goals per game.