http://spiritofmirko.com/2011/11/19/an-evening-with-cardiff- city-boss-malky-mackay/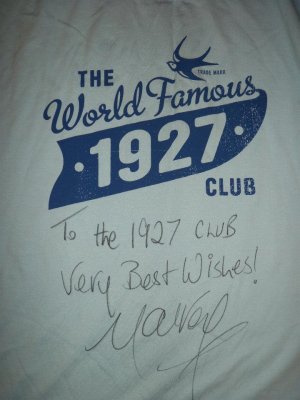 It's taken me some time to transcribe much of this Q&A. I think I've represented what was said pretty accurately, however if there are any errors please free to point them out to me.

Overall I think it was a night of few revelations and nothing new of anything earth-shattering. Perhaps the most interesting comments were regarding just how thorough the club are behind the scenes when signing players and scouting the opposition.. Anyway, here it is...


In attendance:

* Cardiff City manager Malky Mackay (MM)
* Cardiff City director Alan Whiteley (AW)
* The Cardiff City media team Barrie et. al were in attendance, I believe they were filming the proceedings for "Cardiff City Player".
* Approximately 60 Cardiff City fans, just over half who were 1927 Club members.

The night began with an introduction from 1927 Club Chairman Matthew Gabb who talked about who the 1927 Club were (London and South East branch supporters club) and what the night would entail (Questions to Malky Mackay and Alan Whiteley).

Matthew Gabb kicked off the questions by asking:

Q - What were your first impressions of Cardiff and the football club?

MM said he was very excited to take up the role at Cardiff and that he was very impressed with the training ground at the Vale and the new stadium. He said that he didn't really know Cardiff that well as he'd only really been in the city for play-off finals in the past, but he was pleasantly surprised by the area and could see that money had obviously been spent on the city recently. He feels that he sees a lot of similarities in the Welsh to the Scots, as both are warm and passionate people.

Malky outlined what a threadbare staff (playing and technical) he started with when he took over by saying that his reaction at the first training session was "Oh Dear" when he saw just how few players were there. He told us that ten players and seven members of staff were brought in before the first game of the season. The focus on technical staff was a subject he referred to continually throughout the night and it's obviously of vital importance to him.

Q How have the directors backed you since you took over at the club?

MM said that the directors were happy for him to change the structure of the club from top to bottom and he was almost free reign to change what he felt necessary to do the job. He mentioned that he felt a few minor changes were required at the training ground and he was permitted to make those by the board with very few difficulties He said he was also allowed to employ the staff he felt he needed, and that one of the most important roles to employ was the head of recruitment. He also talked about the importance of long term sustainability at the football club and that this was one of the most important things to consider when signing a player. Malky said that the club had signed 5/6 players in the summer on free transfers that could now command a decent transfer fee should the club feel the need to sell (though he did quickly add that they had no intention of selling any time soon!)

One of the recurring themes of the night was "dossiers", Malky said that whenever he wished to sign a player that he would build together a dossier of information about the footballer, this dossier would be handed to Alan Whiteley and the other directors so they could make a judgement call on whether the signing would be good for the club.

AW stated that this dossier approach was new to the club and gave a full audit trail of all signings. He said that this wasn't really the way in which the club had operated in the past few years.

MM added that whilst this doesn't eliminate the possibility of a bad signing being made it does allow everyone at the club to see a full audit trail being the signing of each player.

Q Were there any players who you wished to sign who you didn't get this summer?

Malky began by joking that the board hadn't supported him in his quest to sign Lionel Messi. He then added that he was backed to sign every single player he wanted. The only players he didn't get were ones he called "doublers" - i.e. players who play in a position who we've already managed to sign someone for. He stated that the two players who didn't come through the "dossier" approach were Rudy Gestede (who was recommended by an agent) and Kenny Miller (who became unexpectedly available in Turkey).

MM pointed out that the only player who he couldn't sign who he wanted was Craig Bellamy. Malky said he played with CB when Bellamy was a "chippy, mouthy, 19 year old brat" at Norwich and that he once locked him in a coach toilet for four hours on an away trip.

MM said that CB was only ever available for transfer on deadline day and that Cardiff were up against a couple of clubs who wanted to sign Bellamy that there's no way we could compete with. One was Liverpool, who Craig ultimately signed for.

Q What is your philosophy and how do you like to set up your teams to play?

MM said that despite the type of player he was that he had always played in sides like Celtic, Norwich City and West Ham United who all liked to play football. When he took over at Watford he realised he had two choices. He could sign a group of experienced Championship journeymen or he could create a young, athletic, vibrant squad. Malky pointed out that signing a group of journeymen would have made Watford look like any one of ten other clubs in the Championship, all of which tend to struggle in the bottom half. Instead Malky decided to go for the young, vibrant, youthful approach and attempted to get his side to play football, despite the poor pitch at Vicarage Road.

MM made it clear that ball work was an integral part of training at Cardiff City and that the ball was included at all times as it was vital that players were comfortable in possession. He added that he wanted his side to be hard-working and as fit (if not fitter) than all of the other clubs in the division, and that if you can "be competitive" then you've always got a chance. The phrase "be competitive" was probably the most used phrase during the Q&A session.

Q Is there a "new Aaron Ramsey" coming through our youth academy?

MM made the obvious point that players of Ramsey's calibre don't come along often, but that he was totally dedicated to youth and brought up his experiences at Watford as proof of that. Malky said that if you have an excellent youth system and a pathway to the first team that you can encourage players to stay with the club, rather than leaping at the first top-flight offer. He used the example of Ashley Young who graduated from Watford's academy and stayed with the club for a few years before finally moving on.

Malky talked in length about the idea of "a pathway to the first team", and that academy players must see that it's possible to break into the first team if they perform to a high enough standard. The example of Joe Ralls who's been dipped in and out of the first team in League Cup ties (and recently Championship games) was used and said that academy players should use Ralls as an inspiration to see what can be achieved if they do work hard.

MM said that there were a lot of good young players at Cardiff and that three or four of them played in the U16 Wales side that beat England (Malky being a Scot seemed to enjoy this). Malky covered the well known idea that football fans like to see local boys coming through and playing for the first team, he also added that the club would look for youngsters from all over UK if they were of the sufficient quality (i.e. Ralls is from Hampshire).

Malky also talked about the Football League rule change in the summer that reduced the number of substitutes in League games from seven to five. He said that this decision could affect youth development all across the Football League, that many sides would use the 6th and 7th slots for youngsters, and if they were leading three or four nil then they could be introduced to first team football. Malky said that he thought every single manager in the Football League thought that it was a terribly short-term decision to make.

Alan Whiteley reiterated that the Academy was vital to the future of the club and it was fundamental to the club's success.

Q A question was asked concerning the new "EPPP" rules. Will they be to the advantage or detriment to Cardiff City?

AW said that most Football League clubs were still trying to assimilate exactly what the EPPP rules will mean to them. He refused to say whether or not the club had voted for or against the proposal but he made clear that he felt that most Football League clubs had no choice other than to sign up to the ruling. [I personally believe this means the club did vote for the rules, but I obviously can't say that for certain].

MM talked again about his time in charge of his previous club, saying that Watford had Academy One status as the club had a school attached to the academy. Despite this he said that the Premier League at no point contacted the club asking questions about Watford's academy when drafting the new EPPP rules. He seemed quite annoyed about this.

Malky said that the rules "didn't sit right with him" and that all clubs can really do is to work hard to ensure that young players stay with their club and don't move as soon as a top flight club come knocking with "their club captain and a shiny tracksuit". MM said that Ralls being put into the first team would be his "sales pitch" to any youngster at the club thinking of leaving, as Ralls' experience suggests there is a "pathway into the first team".

Q A question on centre halves, related to Darcy Blake's recent performances for his country.

MM said that he and his coaches had spent a lot of time with all the centre halves and that they all felt that at the start of the season Hudson & Gerrard was the best partnership, and that their partnership was working fine. He added that Ben Turner had been a target for the club from day one and that the only reason they hadn't signed him earlier was because he was injured. Malky felt that if the club had waited for Turner's injury to fully heal before signing him that another club could well have snatched him from us. MM spoke highly of Turner. He obviously feels that Turner has a lot of potential and could become a very good player.

MM said that Darcy Blake had not called for "showdown talks" as a local paper had suggested this week, that his door was always open and that no one had walked through it recently. MM added that he had talked to Darcy six weeks ago and that Darcy knows "exactly what he needs to do" if he wants to figure in the first team.

Q How does Cardiff City's scouting network operate?

MM talked of Ian Moody who is the new Head of Recruitment at Cardiff City. Under him are seven regional scouts who work across the country in each region. Malky said that each of those scouts needs to know everything there is to know about the players and clubs in question, that if one of these clubs goes into administration (for example) that we are ready to move to sign any available players.

MM added that all these scouts were exclusively employed by Cardiff City and had their own badges, ties etc. and that they feel wanted by the club. This scouting network is new to the club this season. Mackay talked through the different stages the scouts would go through when identifying players. I won't attempt to transcribe exactly what he said here for fear of misrepresenting him but what I will say is that it's remarkably thorough and involves watching a player many times. MM said that Danny Graham at Carlisle United had been watched for over a year before Watford signed him.

Malky talked about the signing of Rudy Gestede, who was recommended to him by an agent ("a rare trusted one" Malky called him). MM said that Gestede was offered to the club on trial and that they took him on and were very impressed by his attitude, and felt that he had many attributes that could be improved on and that the club had signed a good (if a little raw) player in Gestede.

MM moved onto talking about Filip Kiss. The club has an option to buy Kiss and they will be taking up that option"very soon". AW was (understandably) very coy when asked what the fee would be.

Q Question to Alan Whiteley, why did we not change the manager sooner after the failure of last season?

AW talked of what a great job Dave Jones had done at the club in his five/six year reign. AW said that the board of directors felt that DJ had had three good cracks at it and ultimately not been promoted so it was time to freshen things up.

MM said that change for changes sake was pointless, and that Cardiff City Football Club should be given a lot of credit for giving a manager time to build a team. Malky said that it wasn't until a manager's third season that the team was a true representation of the manager, as it takes that long for a manager to put his stamp on it.

Mackay said that the "Sackrace" on Talksport on Saturday evenings had a lot to answer for as he felt that boards often listen to that (and other types of negative media), and that many boards across the country aren't very strong and don't have the "guts" to stick with a manager when things aren't going too well.

Q What were your expectations at the start of the season compared to your expectations now?

MM said that his aim was to make his team"competitive" and that he'd LOVE to get the side promoted (obviously). He played down talk of promotion a little and talked of the big spending of other clubs in the division as well as their squad sizes, Mackay obviously feels they are the ones that will be fighting it out at the end of the season.

However, Mackay did underline the importance of momentum, bulding confidence, consistency and belief and he feels his squad is doing that at the moment as they learn about one another. Mackay said he had recently made the point to the squad that they had been good enough to beat the teams in first and second this season, yet the reason the team's in first and second are where they are is their consistency of performance.

MM moved on to talk about player recruitment saying that although he felt the club needed a bigger squad, he felt that January is often a poor time to make signings in comparison to the summer when a lot more players are out of contract. He said that there are often two types of players available in January, ones that clubs are trying to cash in on, and others that clubs are desperate to get rid of. Mackay said that these types of players aren't always good value for money, or worth getting. He did go on to say that this didn't mean that the club would not sign a player in January, just that the club are unlikely to be going mad post-Christmas and that it takes a manager longer than two transfer windows to build a squad.

Q Cardiff City's Malaysian owners are still quite mysterious, what are their motives for taking over the club?

Alan Whiteley said that the Malaysian owners were interested in aligning Cardiff City along with the nation of Malaysia, and it was their ultimate goal to achieve Premier League football. He added that they wished to run the football club in a view of long-term sustainability rather than throwing money at it.

Q Considering that QPR are now also owned by Malaysians is there now a rivalry between the clubs?

Alan Whiteley said that Cardiff's Malaysian owners were probably more high profile in Malaysia than QPR's and that it's possible that Cardiff City's name is currently better known in Malaysia despite QPR's Premier League status. He went on to talk about the investment they had made into grassroots football in Malaysia (youth football schemes etc.)

Q How will you approach the Blackburn Rovers League cup tie?

Malky said that this year's League Cup run had been very strange and that in the first round game against Oxford he had five U18 year olds who he'd only ever seen play once. Mackay said regarding the quarter finals that he wanted Palace at home and that he'd throw everything he had at Blackburn in order to get through to the semis. He added jokingly that he wanted Palace in the 2 legged semis if City were to get through.

Q How is your relationship with the local press?

MM said that he felt that the relationship with the local press was vitally important as it gave the football club a conduit to communicate with the fanbase. He said it was a little different in Cardiff (two papers a day) to Watford (one a week) but that he was used to close media scrutiny after playing in Glasgow for Celtic.

Q What is the debt situation and what is the budget this season in comparison to last?

Alan Whiteley said that the only outstanding legacy debt remaining was the Langstone debt and that the wage budget this season was roughly the same to last, and then added "maybe it's a little less this season".

Q How do you prepare for a fixture?

Mackay went through in great depth how the club prepare for fixtures (like the one the next day against Reading). The club have employed Martin Hodge (a former goalkeeper) to do opposition analysis for every club City face through the season. The reports (or dossiers as Malky loves to call them) are presented to Mackay by Hodge in the week leading to the game. Hodge will also present the information to the players for about 15/20 minutes on the day before the game in order that the team know their opposition inside out.

Malky made it clear that Hodges' role within the club was to prepare analysis on the opposition and had nothing to do with scouting or player recruitment or identification. He added that he felt every club in the Championship should be doing this as he felt this approach could win you games. Martin Hodge's position at the club is a newly created one this season.

Martin Hodge works in an identical role for the Welsh national team.

Q - It's been noticeable that Team Spirit is better this season and the team is "greater than the sum of its parts" than last, how is that achieved?

Mackay was quick to state that the players the club have now are very good and that Bellamy aside he would back his current players to be competitive in the division. Mackay said that all players had to "leave their egos at the door, and pick them up when they leave to go home". He went on to say that fans can accept mistakes, but they won't accept lack of effort. Mackay talked for a while about the supporters and how he loved to watch them "go bananas" at a "wet Tuesday night in Burnley" when City scored. He said he was watching back footage of Miller's goal at West Ham and noticed the City fans all start to stand, bobbing up, like meerkats as Rudy Gestede moved down the line with the ball, before feeding Miller. Mackay is certainly a manager who likes to involve the fans where possible.

Q How did you go about setting Watford up against Cardiff City at Vicarige Road last season? Did you target our left back?

Mackay laughed at the suggestion of targetting Lee Naylor and then said that his team went out to play against City at a high tempo/ get in Cardiff's faces as he felt that City could control the game if they were allowed to play at their own speed. He did add that he tried the same approach at Cardiff a few weeks later and it didn't work at all (Watford beat Cardiff 4-1 at home, and lost to Cardiff 4-2 away).

Q Considering how Cardiff City have finished the last three seasons do you feel that Sports Psychology is an important aspect of the game?

Mackay said that he was a true "believer" in sports psychology and that he had used one himself throughout his whole career (since he was 20 years old). He went on to say that the club have brought in sports psychologists, used acupuncture, motivational speakers and have gone on team building days in recent months in order to get that extra one percent out of the team. MM said that some of it might not work on any players, but if even a little bit sinks in or is useful then it could make an important difference.

Q Do you think Kenny Miller is starting to hit form?

Malky said that he felt Miller was just about getting up to speed with the squad as Kenny had experienced a pretty difficult pre-season. Mackay said: "I don't know if you've tried, but it's not easy getting out of a Turkish prison." He went on to say that he felt Miller was a big game player and would produce the goods in big games (as demonstrated by goals against West Ham & Southampton)


-----
Overall it was a night of few revelations but did give some insight in what goes on behind the scenes at a Championship football club. Malky Mackay strikes me as a real "details man". If the club are to fail it won't be due to lack of preparation or from not being thorough.