Paul Evans writes: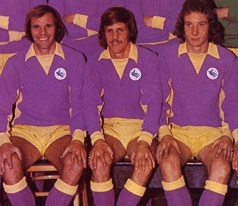 Neil Warnock has always said that he'd think we were safe from the drop when we reached fifty points. This has been the traditional figure aimed for by managers of sides worried about possible relegation from the Championship since it took on it's current twenty four team, forty six match format and the stats back up our manager's view of things.
Since the Millennium, you would be left cursing your luck if you were relegated with fifty points or more as the figures show that there is a less than one in ten chance of this happening – there have been fifty one sides relegated from the second tier since 1999/00 and only five of them had fifty points or more.
The first time it happened was 03/04, the season when we made our return to this level after eighteen years of bobbing between the bottom two divisions, Walsall went down that year with fifty one points and, as yet, have not been able to claim their place back.
The same applies the following season (the only one in which we could truly have been said to be in relegation trouble in mid April since our return to this level) when Gillingham got to fifty points, but it wasn't enough to save them.
On the other hand, Leicester's fortunes since going down in 07/08, despite having accumulated fifty two points, goes to show that an unlucky relegation need not be a sentence to a decade or more of unsuccessfully trying to "recapture former glories".
Since then, there's only been one season, strangely the one in which we won the league, where fifty points wasn't enough to keep you up and then it happened to two sides. Wolves, with fifty one points, were able to right their wrong within a season. However, you have to feel for Peterborough who, despite beating the Champions 2-1 twice, were relegated with a relatively whopping fifty four points and, following yesterday's loss at Bradford, must be beginning to believe that their exile from the Championship will last at least another year.
So, one win and one draw, or four draws, from our remaining eleven matches should see us safe, but, to listen to one of the people who sits close to where I am in the ground, you'd think we've already got enough in the bank for survival.
Hardly surprisingly, the stats are not as clear cut for this theory, but they do show that there is a good chance that we've already done enough to ensure that we'll be playing Championship football in 17/18.
In seven of the seventeen seasons since the Millennium, forty six points has been enough to stay up, while in another three it would be a question of whether our goal difference would be good enough to avoid the drop. So, only in seven of those seventeen campaigns could it be said that our current points total would definitely not be enough to ensure safety.
Maybe the most interesting stat among the stack that I've been wading through here is the one which says that in five of the last six Championship seasons, we would have already done enough to guarantee that we would stay up. That 12/13 season looks a little freakish in that it is the only one within the last nine years where you would be relegated with fifty points and, perhaps, more tellingly, it's the only one since 09/10 where forty six points would have got you relegated.
Therefore, maybe my mate is right and the perceived wisdom that you need to get to that half century of points before you can feel safe is becoming an outmoded one? Certainly, when you look at the table, current form indicators and the remaining fixtures of the teams in real danger of the drop, the notion that we can start to forget about relegation looks more realistic.
If we accept, as we surely must, that Rotherham are gone, we have Wigan and Bristol City occupying the other relegation places.
In the case of the former, even if we don't pick up another point, they will need to find a way of getting fifteen points from their remaining eleven matches to just draw level with us. When you have only won a fifth of your first thirty five games, just getting to forty six points looks a tall order for Wigan, who, just as in their relegation season two years ago, are being killed by very poor home results – they have won just once in the league at the DW Stadium since September.
Since beating Wolves on 27 September, Wigan have scored a mere six times in a dozen home league games and with thirty in all from those thirty five matches, goalscoring has been an issue all season. Defensively, with just forty one conceded, they compare well to many in this league and, as we found in October, they have been pretty resilient away from home, but that was a big, big loss for them at Blackburn yesterday and it's now three defeats in four for them on their travels – with away matches against all of the current top three to come, it's hard to see Wigan finishing above us.
City fans like to trace the decline and fall of Leeds United to that never to be forgotten 2-1 FA Cup win on January 6 2002, but, while we are not talking about anything like as spectacular a fall from grace here, there have to be Bristol City fans who think that their defeat by the same score at Cardiff City Stadium in Neil Warnock's first game in charge was the moment when it all started going wrong for them in their season.
It's amazing to think now that the wurzels came into that game with just one defeat in their previous eight matches and knowing that a win would take them into the automatic promotion places. At the time, coach Lee Johnson was being credited with having put together a vibrant, young team on the back of the money received for Johnathan Kodjia and there was talk from Johnson of playing in the Europa League within five years.
Well, something happened to Bristol City that night, because their record since then has been appalling. Since beating Nottingham Forest on 1 October in the match before they came here, Bristol's record in the league reads;-
P 24 W 3 D 5 L 16 Pts 14
Their 0-0 home draw with fellow strugglers Burton yesterday offered a microcosm of the nightmare all concerned with that club are currently living through. Whereas we found a way to win what had threatened to be a tedious stalemate with Nigel Clough's side when they came here, Bristol couldn't score despite having twenty one attempts at goal in the ninety minutes! Seven of those efforts at goal were on target, but Lee Tomlin's penalty was not one of them as the wurzel's diver in chief blasted his spot kick over the bar – apparently the ground gave way under him!
Johnson cannot complain about a lack of funding either as he was given the money in January to completely transform his line up with five newcomers I make it, being recruited. However, the way yesterday's game went says so much, as does the fact that three of the signings of a few weeks ago, who were supposed to give the wurzels the experience and physical attributes they had been lacking, were sat on the substitutes bench – that's the sort of thing that happens with relegation sides.
Yesterday's draw followed on from ones at Derby and Newcastle in the last month, so it would be tempting to say that any side that can go to places like that and end up not losing has to have a good chance of staying up, but then you consider that they were 3-0 up at half time against the Rams and 2-0 ahead at the break against the Geordies and, again, you have to think, that's the sort of thing which happens to relegation teams.
Despite this, I still believe that the wurzels have a good enough squad to get clear, especially if they can get Tammy Abraham fit again soon, and that the twelve point gap between them and us could be turned around, but I've been thinking that they have it in them to recover their form of the autumn for months now and they're just not doing it.
A home match with Norwich (when you look at their away results in 2017, you have to wonder how on earth did we lose to them in the manner that we did?), a massive game at Wigan and then Huddersfield at Ashton Gate before the International break offers the possibility of the sort of outcomes that could save them before a run in, largely made up of games against sides who'll have little to play for by that time, which makes me reluctant to tip the wurzels for the drop. However, often, these things have a momentum of their own to them and there's so much evidence to say that this is the case at Bristol – they are beginning to look fated to go down.
I'd still like us to get to Neil Warnock's fifty points to be absolutely sure (I cannot see either Wigan or Bristol getting to that figure) and with, arguably, the majority of our remaining matches against sides who are unlikely to be bothered by possible relegation or the hope of trying to secure promotion or a top six finish when we play them, I'm backing us to get to fifty points and a fair few more on top of that.
However, when you look at the table as it stands now, you have to conclude that, just as in 14/15, we are one of those sides who teams with something to fight for will fancy playing against – we're not quite there yet as far as safety goes, but I can't help thinking that the remaining weeks of the season will see the sort of situation Sean Morrison was hoping to avoid developing.
Yes, I'm sure that there will be a desire not to let the season peter out, but I believe it is human nature for the intensity which drives an individual or group on as they try to attain a goal to fade somewhat as it get's closer or is reached.
That was one of the impressions that I got from yesterday's 2-1 loss to Queens Park Rangers at Loftus Road. We were up against a team whose need for the points was a bit greater than ours and so defeat doesn't come as such a jolt -even arch competitor Warnock was able to make jokes about Jazz Richards taking the own goal which decided things well after the game!
Of course, Warnock wouldn't be Warnock without a few barbs being aimed at the referee who was taking charge of a game at this level for the first time. There were a couple of moans about penalty appeals which were turned down, but I got the impression that our manager's main beef with the Championship novice ref was to do with the awarding of the free kick which led to the corner from which QPR got the decisive goal.
Yes, I know that every ref has to start their career in the higher leagues somewhere, but I would have been fearful beforehand that Darren England, in what was the biggest game of his refereeing career so far and in front of what may have been the biggest crowd he has officiated in front of, would have shown something of a home team bias and maybe he did.
Therefore, when you put this alongside the BBC match stats which show us having more goal attempts, more efforts on target and forcing more corners than our opponents, you can conclude that our defeat was a somewhat unfortunate one.
That said, in this era where you hear so much talk about how important scoring the first goal is, it has to be disappointing to end up with nothing from a match in which we were leading at half time.
Apart from his issues with the ref, Neil Warnock seemed in a disturbingly positive and happy frame of mind in his post match chat with the press. I must admit to finding it somewhat disquieting when someone as driven as he has been throughout his managerial career takes defeat as philosophically as he did yesterday. Maybe he's mellowing in his old age, but I doubt it – I think it's more likely that he, like we all will be doing to an increasing extent in the weeks which remain of this season, was looking ahead to 17/18 and thinking how different his, and his team's, approach will be when they return to Loftus Road next season.
*pictures courtesy of http://www.walesonline.co.uk/