http://thelonegunmanblog.blogspot.co.uk/2012/09/a-tribute-to-simon-insole.html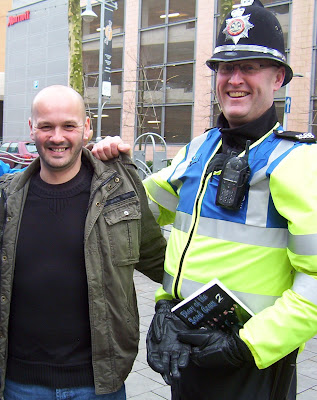 Simon, who collapsed and died last Thursday evening at the age of 49, had worked as a Football Intelligence Officer for more than a decade and this season was being employed by the club as a safety officer. He was a fantastic and much-loved character who will be greatly missed by everyone who had the pleasure of knowing him.
I first met Simon back in the Eighties, probably around 1987. I was 20 years old at the time and a regular at the Butchers Arms in Rhiwbina. Simon was close friends with another police officer who lived locally, namely Andy 'Orpy' Davies, and they would often call into the pub at the end of a shift or when they were off duty.
The Butchers bar in those days contained a wide variety of weird and wonderful characters, such as Dean Oliver, Steve James, Paul 'Dubber' Dupuy, Chrissy Higgins, Simon Norris, Steve 'Chelsea' Williams, Mikey Donovan, Martin 'Scouser' Ballard, Dennis Clarke, Steve Sherlock, Tommy McCoy, John 'Jock' Hendry, Nigel Crocker, the Judd brothers (Alan, Gareth and Tony), Chris and Adrian Leeds, Dai King, Andy Coomber and the lunatic who eventually became my best mate, Richard Bull. Anyone who frequented the pub during the late-Eighties is sure to recognise some of those names. We were a diverse bunch, but fairly close-knit all the same.
Simon cut an unmistakable figure with his giant frame and bald head – a result of a lengthy battle with leukaemia which I believe dated back to his teens. I was also easy enough to spot with my dyed hair, ripped jeans and brothel creepers. The policeman and the punk rocker was an unlikely combination, but I got on famously with the big man from the word go and we soon became good friends. Having taken me under his wing, Simon used to drag me to all sorts of places after last orders, including the police staff club in Cathays, where he would pretend I was either his younger brother or his cousin while signing me in. Needless to say I always came off a hopeless second best in our frequent late-night Guinness-drinking contests.
During the summer of 1989, Orpy was going through a divorce and struggling to make ends meet after his wife had moved out of their house in Birchgrove. Simon and I were both looking for somewhere to live, so we moved in. I was working as an apprentice bricklayer at the time. The two coppers took the double bedrooms, while I made myself at home in a small single room with Orpy's animals – a dog called Biscuit and a cat named Crumb. The arrangement suited me down to the ground, particularly as the other lads insisted on paying most of the bills because I wasn't earning much money. I can remember Simon showing his girlfriend around the house shortly after we had settled in. He opened my door to find me lying on the bed watching television alongside the dog and the cat. "This is where me and Orpy keep our three pets," he told her.
My girlfriend's name was Samantha. She was a student at ExeterUniversity and would often come home at weekends. We wrote to each other regularly while she was away and Simon would take great delight in delivering her letters to me at the crack of dawn. I'd always be fast asleep when the postman arrived, but he would usually be awake either preparing for an early shift or returning from a late one. He would quietly tiptoe into my room with the letter and either empty a glass of water over my head, whip away my quilt covers or whack me with a pillow while bellowing "Sam-o-gram for Sugarman!" Doing so seemed to keep him amused, but it didn't do my sleep patterns much good.
Our living arrangements lasted for several months until we were evicted due to the ongoing divorce proceedings. Orpy moved into a flat at the top of the street and Simon found a new place on Whitchurch Road, but I stayed in the house on my own for a few more weeks and was effectively squatting while I tried to get somewhere else fixed up. When I finally did move, it was Simon who borrowed a van and helped me to shift my stuff. He often looked out for me during that particular period and his friendship was invaluable as I was going through something of a rough patch and was in danger of slipping off the rails.
In those days, Simon normally drove around in a battered old orange Mini. It was a tiny car and he looked absolutely ridiculous in it, but it got him to work and back and he gave me lifts to the pub and the football often enough, so it served its purpose.
Simon and I went our separate ways during much of the Nineties, although he made a point of calling into the Butchers or the Deri from time to time and I would occasionally see him out and about when he was policing Cardiff Citymatches.
We re-established regular contact in 2000 when he became one of the South Wales Police's Football Intelligence Officers. His new role meant he was present at almost all of Cardiff's home and away games, as well as Welsh internationals, and he quickly proved to be brilliantly suited to the job. Simon employed many of the methods he had learned while engaging in community policing work and his friendly disposition coupled with his natural ability to effectively deal with people on all levels soon made him a popular figure with the supporters. He always treated Bluebirds fans with patience and respect, and his attitude earned him plenty of respect in return.
During the decade in which Simon worked as a Football Intelligence Officer, the behaviour of Cardiff City supporters improved dramatically and he deserves a huge amount of credit for the part he played in that turnaround. The bridges he helped to build between the fans, the club's officials and the local police went a long way towards creating today's situation whereby trouble of any sort at Bluebirds matches is very rare.
Over the years, I attended many meetings with Simon and prepared a number of website reports at his suggestion. He was always very keen to do his bit towards helping to improve the club's image, particularly back in the days when the new stadium was still at the planning stage.
A good example of that came in September 2006 when the South Wales Echo published a lengthy letter from a rugby fan complaining about alleged hooliganism at Ninian Park. Simon was on the phone shortly after the paper had hit the news stands and requested that I pen a response in order to redress the balance. He gave me some facts, figures and quotes to use in my reply, which the Echo printed in full a few days later.
Another example came in October 2010. While I was travelling home from a midweek fixture at Coventry's Ricoh Arena, Simon rang to ask for my opinion regarding the policing at the game. I told him I thought it had been pretty low-key and said if the truth be told I couldn't even remember seeing any police officers at the ground. He laughed and explained there was a good reason for that – it was the first Cardiff Cityaway game in decades which had been a police-free, stewards-only fixture. Simon and his colleagues had been working towards such a goal for years and he was proud they had finally managed to convince another force that the behaviour of Cardiff fans had improved to such an extent that no policing was necessary inside the stadium. It was a major step forward for the football club and Simon was very keen that the public should know about it, so I drew up a report for the Cardiff Mad website on his behalf and an article based on that report appeared in the Echo the following day.
While he was always professional in the way he went about things and firm when he needed to be, Simon's common-sense attitude towards his job and the respect with which he treated people meant that he was readily accepted by the majority of Bluebirds supporters as being one of us. He made genuine efforts to get know a large number of the fans who travel away regularly and often helped to get people out of trouble of one sort or another. The fact that he used to turn up in his own time and with his family at events such as stadium open days and Academy fundraisers demonstrated his dedication to the club. He was an integral part of the Cardiff City set-up for more than a decade and will be greatly missed by all of the staff he worked alongside and the many hundreds of supporters he assisted.
When Simon Insole began working at Cardiff City as a Football Intelligence Officer in 2000, the club had a dreadful reputation for hooliganism and problems at matches were commonplace. When he left his position with the South Wales Police in 2011, the Bluebirds had just won the Football League's Family Club of the Year award. I reckon that fact speaks volumes about the quality of the work he did during the time in which he was involved with the club.
Simon was a fine police officer, a great character and a good man, and I feel genuinely privileged that I could count on him as a friend for so many years. May he rest in peace.