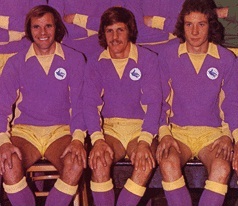 City fans of a certain vintage will recall the truly strange coincidence which saw their team get drawn against Leeds United in the FA Cup Third Round three times in successive seasons in the fifties. The odds against that happening must be astronomical, but the truly weird thing was that each time the score ended up Leeds 1 Cardiff 2 – what must the odds be of a sequence like that occuring?
Well, what happened at the City Ground yesterday evening didn't quite match that hat trick from sixty years ago, but Cardiff did earn a third consecutive 2-1 win at the ground of the twice former European Cup winners. More than that, the coincidence was stretched further by the way that this latest victory followed the same pattern as the previous two had done, as a dominant City team went a couple of goals clear, only for the home side to score a goal that hadn't really looked like coming, to prompt a finale to the match that was a lot more fraught than it should have been.
In fact, yesterday's fixture stuck to that script more closely than the previous couple had done because City's third game unbeaten since Neil Warnock's appointment was being won with an ease which would have been thought to be truly unbelievable nine days ago.
Last night offered more of the Warnock blueprint whereby possession of the ball is not considered an essential, what is though is committed and organised defending, often in numbers, and a determination to keep things simple with "the Cardiff Way" firmly commissioned to the dustbin.
If there were grounds for criticism, then they came because you couldn't help but think that a chance was missed to really improve a goal difference which is only better than bottom of the league Rotherham for now.
Indeed, the chances were there for City (goal difference before yesterday, minus ten) to finish the match above Forest (goal difference before yesterday, minus two) with both teams level on fifteen points.
That really is no exaggeration. For a start, the goal Forest did get came via a highly dubious penalty awarded against Sky's Man of the Match Aron Gunnarsson for a pretty innocuous aerial challenge on Forest captain Henri Lansbury.
However, it was at the other end that Cardiff showed a profligacy which could cost them against other opponents as Joe Ralls early on and then the otherwise very good Anthony Pilkington missed great chances. In fact, Pilkington had two of them with the second falling into possible miss of the season territory as Chris Cohen did well to block his initial effort after the keeper Stojkovic had been confidently rounded, but the side footed effort wide from the corner of six yard box that followed beggared belief from someone who is usually such a sound technical player.
There was also a fine Stojkovic save when Sean Morrison met a Gunnarsson long throw in with the sort of header that was bringing him goals last season. The keeper also distinguished himself on a couple more occasions as well, while there were various other escapes for the home team and, for now at least, I suppose the way to look at the missed opportunities would be to think back to those days, not so long ago, when just getting one such chance in a match would have been welcomed.
The hope has to be that, as belief mounts, tension fades and the points, hopefully, keep mounting up, we will become more ruthless in front of goal – my feeling is that, while I can't see us ever being prolific exactly, we should see an increase in our goals per game rating.
I would qualify that slightly mind by saying that we are unlikely to face many defences more prone to individual error and collective failure than Forest's this season. Indeed, while they could point to important players missing through suspension or injury, the overwhelming impression I gained from yesterday's encounter was that, if we were watching a team that would be playing in League One next season, it would the one that was wearing red.
Now, I think Forest have too much quality within their ranks to go down, but when you see stories about supposed player unrest due to unpaid bonuses and unnecessary comments from the club owner which do not help things one iota, I can't help but remember our lone, dismal, Premier League campaign which started really going wrong in October.
Also, while Forest do have that talent I mentioned earlier, it won't count for much if they keep on defending as they did yesterday evening. As his time at Cardiff increases, you get to learn more about Neil Warnock and the way he thinks about the game, but even those City fans with just a fleeting acquaintance with his time at his other clubs would know that the post match dressing room would be a place to be completely avoided for an hour or more if one of his sides had defended half as badly as Forest did.
The goals City got both owed more than their fair share to ropey home defending. Yes, Gunnarsson did give a bit of a push to his marker Thomas Lam as Peter Whittingham's corner came over for the first one, but it was all pretty mild stuff compared to the WWF wrestling which passes for contesting free kicks and corners these days and it shouldn't have been enough to enable the Iceland captain to have no opponent within yards of him when he nodded in from a central position eight yards out.
Similarly, it was impossible to know what was on full back Armand Traore's mind as he tried to play his way out from the left corner flag, only to lose out to Craig Noone (only just bought on in place of Rickie Lambert who sustained a nasty gash when challenging for a ball on the ground with Stojkov) . Noone's cross was a good one which Pilkington was able to get a touch on that was blocked by the keeper, but Ralls got the reward he deserved for an improved performance which saw him getting into attacking areas more often, when he headed into the empty net.
It wasn't just on these two occasions though that Forest looked wobbly at the back. Sometimes they aided City by presenting the ball to them in dangerous areas, but other times, it was their uncoordinated high defensive line which could be unpicked with a single pass that would let them down.
In front of the back four, their midfield seemed to be unaware of what has been clear at this level for most of the last decade – that is that, given the time and space, Peter Whittingham has the technique and range of passing to unpick any defence in the Championship.
However, it was in the back four where Forest were really lacking and, if one incident typified the huge contrast in styles on show last night, it was the one which led to Lam's dismissal with a third of the game still to be played.
Sky's commentary and the pundits in the studio spent a lot of time building Forest up as the division's great entertainers. There have been more goals scored in their matches than anyone else in the division and, despite their current poor results, it was remarked that manager Phillipe Montanier remains a popular figure with supporters because, when his team get it right, they are a very entertaining side to watch.
The danger any side that wants to play the game "the right way" can face though is that they look naive if and when this approach goes wrong. In the piece I did on the Sheffield Wednesday game in midweek, I mentioned about sides passing the ball without a purpose – what Forest were doing in the seconds before Lam was forced to grab Pilkington to stop a clear goal scoring opportunity was the complete opposite of passing with a purpose.
As the defenders and sitting midfielder passed sideways and backwards to each other, the thought occurred to me that this was exactly what Neil Warnock doesn't want his side to do and his charges spent the ninety minutes giving the home team an object lesson in the art of defending.
Although the last few minutes saw some hectic episodes where the ball fell to the feet of home players in shooting positions inside the penalty area, there was always someone there to get a block in and the game ended with a feeling that, Lansbury's penalty apart, the Forest attack never got to see the whites of Ben Amos' eyes.
For the third consecutive match, there was a demonstration of solid and effective, no frills, defending from Warnock's side and they would have got a deserved first clean sheet since the opening day of the campaign were it not for that very soft penalty award.
With Matt Connolly coming in for Lee Peltier (who appears to have some ongoing injury issue that he cannot completely shake off this season) doing a sound job at right back and Joe Bennett growing into his role at left back, City were in little trouble down the flanks as Pilkington and Junior Hoilett were later followed by Noone in providing the defensive support from the wingers that has been a feature of the last three matches.
It was through the middle though where City were strongest with Morrison and the excellent once again Bamba proving to be a formidable combination that concentrated solely on being defenders and not the modern day Franz Beckenbauer's that our manager appears to have a problem with!
I should say here that I feel that we will need to see a little more from our centrebacks in terms of what they do with the ball at their feet if those optimists who feel a top six finish can be achieved, are going to stand a chance of being proved right.
However, for now, the object of the exercise has to be to get into a position whereby relegation, first, becomes a possibility rather than the probability it was when we were losing at Burton three weeks ago.
With a handy gap of three points between us and the bottom three now, perhaps we are getting towards the time when we can say that we are now only possibles for relegation? This would certainly appear to the case if we could beat one of the teams below us, Wigan, next weekend.
However, with Newcastle, Huddersfield, an improving Villa and Brighton to follow in the four matches that follow, the dangers of trying to run before we can walk could well become clear.
City have definitely improved a lot in the last eight days and you have to believe that parts of the game which were a real problem for our players at the start of the month are starting to come naturally without a second thought now, but, surely, the call from our manager will be for more of the same for the foreseeable future – Cardiff City was broken for the first two months of the season, it's not fixed yet, but we appear to be getting there.
*pictures courtesy of http://www.walesonline.co.uk/