Click here for another Sky highlights feed with some extra action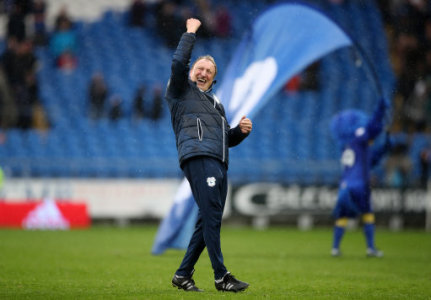 Neil Warnock was happy to see his side take all three points against Burton, despite the team being huge favourites before the game. His team dealt with weight of expectaion as they won for the 8th game in a row.

"Today was a tough game for us though because the expectation was on us to win," Warnock said. Burton are fighting for their lives and it's difficult to go to a team that's battling at the top of the League.

"All credit to them as they started the brighter team and they had a good ten-minute spell after the equalised. But it ended up being a comfortable victory for us in the end."

So onto the next game (Sheffield Utd on Monday) and keeping the players focussed and enjoying themselves.

"I told the lads today that they needed to enjoy every game," Warnock continued. "We're not looking at anything beyond our next match.

"We'll just keep on doing what we're doing and playing without pressure; you can see the way that we're playing that we're doing that.

"I'd take a point at Sheffield United, that's for sure," said the Gaffer. "Chris [Wilder] has done a great job there and they'll still fancy a Play-Off place with three points for a win on offer and seven games for them left to play.

Nigel Clough had a good old moan

"It's the usual, the same old story," he said.

"We had enough chances and situations again.

"We feel a bit hard done by with the decisions today.

"We thought, in conceding the goal just before half-time, the lad has come back from an offside position.

"Then the third one is handball and offside. So that certainly doesn't help.

"But I think the goal was at a crucial time, the one we conceded on the stroke of half-time.

"It's poor defending again - Tom Flanagan gives the ball away and then gets done, but he (Zohore) does come back when he challenges for the header and is offside.

"It's difficult to take when you get three decisions go against you like that which lead to two goals."

"We created situations - I think in the first 15 minutes we had two or three," added Clough.

"Then the first time they go in our penalty area, they score, which is a familiar story as well.

"We created chances all throughout the game - as usual, we didn't make the most of them.

"We had two one-on-ones in the first half. Lloyd Dyer couldn't quite get it down, and then even when it's 2-1 in stoppage time, Jamie Allen goes clear one-on-one and scuffs his shot into the goalkeeper when he should've gone on and scored.

"That's the difference, because there is not an awful lot in general play in the league. It was just both penalty areas."