Cardiff head coach Paul Trollope was left to bemoan poor defending as the Bluebirds failed to emulate their performance in last week's win at Rotherham.
"We felt that we prepared well for the game," he said. "We came off the back of a disappointing game against Derby but a good away win at Rotherham last week.
"We were trying to build upon that on the road but we shot ourselves in the foot conceding, from our point of view, a soft goal in the early period of the game.
"That was backed up by a disappointing goal from a set play early in the second period that killed any real hopes of getting back into the game despite there still being a long time left.
"We spoke at length before the game about our defending but the manner of both goals was soft.
"Whatever we produce between the penalty areas, whatever pressure we put them under, credit to Burton, when we asked them to defend their box they did."
At the end of the game the City fans were calling for Trollope to be sacked after a sixth defeat in the last seven games.
Trollope said: "I can understand it, I thought the support was great today, we brought a lot of coaches up and the numbers they turned up in was fantastic given the position we're in.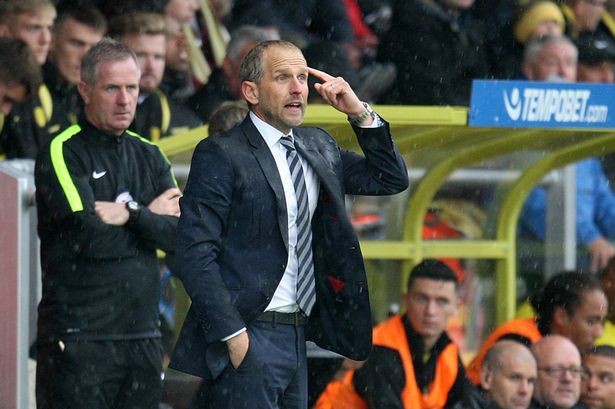 "I can understand the frustration, I'm frustrated in myself and the position we're in, because it's not where we should be and it's not where we want to be.
"I completely understand the frustrations, they pay their money and they sing what they sing, but we're working hard, the international break affords us some time to hopefully improve.
"It's not a nice situation, of course, but it's football. I've been around the game all my life and I know what it is and what happens. It's not pleasant because we're working very hard. We've taken some injuries to key players which I believe has had a baring on results but that's what you have a decent squad for.
"You have to have broad enough shoulders to take it because whatever league you're in there's pressure. I can understand why they sing what they sing, I've taken a bit but that's football."
When asked if he thought he would be sacked he said: "I certainly hope [I'll get time]. I've received great support so far, the results haven't been good enough, I hold my hand up there. It's certainly not we've worked so, so hard for or expected. With the emergency loan window not at our disposal any more the group is what it is.
"I believe the spirit is there in that group and it's the small details in both boxes that have cost us. Football's a rollercoaster, we're at the bottom of a dip now and we have to climb our way out of it."
"It was incredibly important for us to get the win heading into the international break" said Burton coach Andy Garner.
"We looked at these games against QPR and Cardiff over this week and I think we would have settled for four points out of six coming off the back of two defeats.
Irvine's 12th-minute opener, sweeping home Jamie Ward's headed knockdown, got Burton off to a great start and Akins' third of the season came just four minutes after the break.
"We have gone all out today to try and get the three points," added Garner. "Thankfully the players have put on a performance today and got us the points that we really wanted.
"There is still a lot more to come from this group. We got stuck in the middle a bit in the last 10 minutes between going for a third goal or making sure we got the clean sheet.
"Today is a fantastic clean sheet for us. The back three and the keeper all did their jobs very well."