Neil Warnock: "This is the best achievement because if you only knew what I have to deal with off the field. We will get one or two things thrown at us, but hey-ho, it will be better than being in the Championship. When you see things happening like with Sir Alex (Ferguson) - and we wish him well - you just have to grab every minute at my age. If it goes pear-shaped, I'll just leave so there's nothing to worry about.

"Next season will be fine. It's not rocket science, although I'm sure we will be odds-on favourites to be relegated as far as the bookies are concerned. We'll got out and four, five or six players to complement the squad, but we won't be going silly and going to go into markets we don't need to. We won't be doing anything to wreck what we have here."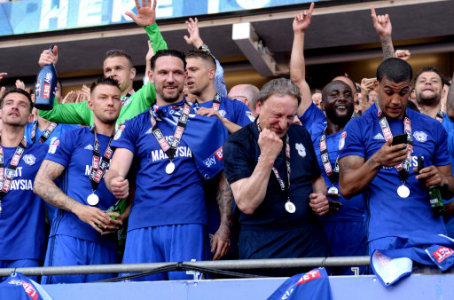 Paul Clement: "We're not celebrating like Cardiff are, but we're pleased. The owners made it very clear that I had to keep the team in the league. Last season the teams were penalty kicks away from the Premier League, this season we were potentially one game from going into League One.

"What Cardiff have done is a brilliant achievement - and I've told my players that's got to be our aim and objective next season. There will be some changes this summer, that's normal and required as well, but there will not be a massive overhaul. It's dangerous to do that."