Neil Warnock:
"I know we're limited, and we're not everyone's cup of tea but we keep going and we're like a rash. They just don't know when they're beat.

"They get knockdowns and decisions and they get on with it. It's great to be the manager. I thought the fans today, the last time I heard the national anthem of Wales like that was when I went to watch Wales play Australia at rugby. My hair stood up. I thought they were brilliant.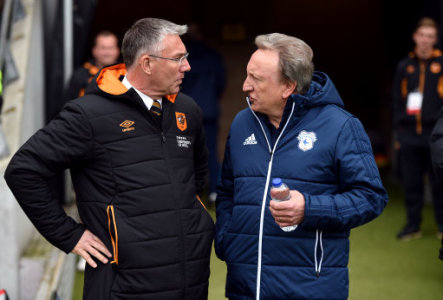 "I don't think Neil (Etheridge) made a save to make even though they had a lot of good play. We should have scored a couple more, (Allan) McGregor made a couple of great saves, I asked him why he didn't do that with us last year. But he made a couple of cracking saves.

Aron Gunnarsson was injured early on, how is he?

"We won't really know until Sunday. It was innocuous really. His studs just got caught and he went over on his ankle.

"But his knee got hurt too so he's got both iced up at the minute. I thought it was bad because he doesn't go down too easily."

So you brought on Marko Grujic and then took him off against at half time. Why was that?

"I had to bring Marko off at half time because all of their staff and two or three players were around the referee at half time, telling him he should have had a red card.

"I didn't want to jeopardise us by going down to 10 men at this stage of the season.

"The decisions I've seen lately haven't really gone for us if I'm honest."
Nigel Adkins:
"I'm really disappointed. But (assistant) Andy Crosby's just said: 'listen, remember what we've come here to do, to make sure we stayed in the division and we've done that'.

"(The defeat) highlighted several things for me. Credit to them, but there was no flow to the game, it was stop-start. It was tedious to watch from my point of view. But the big picture is we're in the Championship next season."