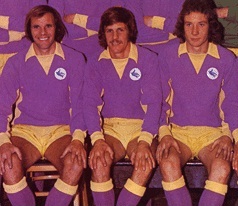 For the second consecutive game, writes Paul Evans, I was unable to even listen to the radio commentary of yesterday's 2-1 loss at Reading and, with it being broadcast live online as well, there seems little point me pontificating at any length about an encounter that I've seen very little of while many of those who read what I have to say have watched the whole ninety minutes!
So, here are a few quick thoughts/observations based on the online highlights package I've watched, some of Neil Warnock's post match comments and one or two opinions I formed before and after the final whistle.
1. A lot of the "old guard" are becoming marginalised under Neil Warnock. The starting line up yesterday was interesting as much for who wasn't involved as who was. For example, Rickie Lambert, Joe Bennett and Stuart O'Keefe were all missing from the match day eighteen, while Craig Noone remained on the bench in a match where we were looking for an equalising goal and Peter Whittingham was only introduced very late on. Tellingly, it was Kadeem Harris who Warnock turned to first when he made a change. With Rhys Healey in from the start and Declan John an unused sub, the fact that there is a way into the first team for those used to turning out for the Development team under this manager was re-emphasised.
2. Warnock certainly has a lot of faith in Greg Halford who he selected in front of another one of that "old guard" I mentioned earlier, Matt Connolly, to be part of a back three.
3. By mentioning twice that Allan McGregor was beaten on his near post for Brighton's goal last Tuesday, Warnock rather gave away the fact that he thought his keeper could have done better with it and I wouldn't be surprised if he was thinking the same about both of the goals we conceded yesterday. For my part, I wouldn't be too critical of McGregor for his part in the first goal (I know plenty who will be though}, but the second one just looked wrong to me. Credit to Kermogant for his free kick, but, at the height it went in, you would have thought that one of, or both, out of the lining up of the wall or the goalkeeper's positioning was at fault.
4. Seventeen goal attempts to eight in our favour rather tells a story on how the game panned out. As at Brighton, we seem to have competed well on the ground of an opponent at the top end of the league, but just came up short. For the first of these matches, it's probably fair to say that our narrow defeat was down to Brighton being a bit better than us, but those attempts at goal figures suggest that this wasn't the case yesterday.
5. That said, the fact that we only matched Reading when it came to attempts on target efforts (both sides managed four) rather makes Neil Warnock's post match point about us lacking strikers who will get on the end of things when the ball is close to our opponent's goal – although I do maintain that if Rhys Healey is given enough first team opportunities, he will score his fair share of "tap ins" like the one he got to secure the win over Burton last weekend.
6. Maybe Neil Warnock had the Burton game in mind when he said that he would rather his team play rubbish and win, than lose narrowly with a degree of credit like we have done in our last two games. All managers would probably say the same thing, but his words do betray that he recognises how easy it would be for us to drop back into the sort of precarious position we were in when he came here in the next few weeks. With a solid Preston side, who are proving hard to beat this season, and then a Norwich outfit capable of comfortably seeing off any team in this league on their day, coming here in the next seven days before successive away trips to Leeds and Derby, it's certainly not beyond the bounds of possibility for us to lose our next four matches.
7. Our manager said that there seemed little chance of any transfer activity before the window closes on Tuesday, but, perhaps it is more accurate to say that there needs to be movement out before there can be movement in? If circumstances allow, I would not be surprised to see us go back to Aberdeen to try and get Jonny Hayes.
8. On that subject, maybe some of the players I mentioned earlier who were absent yesterday were injured (Warnock usually provides a straight answer to a straight question, but often gives very little away when discussing possible absentees through injury in his pre match press conferences), but it also could be that signals were being sent out to prospective buyers with some players.
9. Was anyone else a bit surprised to see us given that penalty? I thought it was probably a correct decision, but it struck me as the sort of decision an away side wouldn't normally get.
10. Finally, it was Joe Ralls who took on the responsibility of taking the spot kick and he, just about, managed to beat a keeper who I believe has a good recent record when it comes to saving penalties. Although Ralls is thought of as something of a midfield grafter these days, I think he is someone who might, under different circumstances, give us some of the vision we could be accused of lacking these days. Ralls can be a creative and incisive passer of the ball, but the fact that Whittingham, Lambert, Noone and the absent though injury Pilkington would have, almost certainly, been ahead of him in the queue to take the penalty says something about where we are now as a squad. Healey and, to a lesser extent as Championship teams get familiar with his game, Zohore will have the capacity to surprise opponents for a while, but one of the things which make me think we could still be a relegation team is that we seem to have less and less players capable of doing something the opposition aren't expecting.