60′s. Name the player who scored his only goal for City in a 3-0 win over Manchester United at Ninian Park in November 1960.
70′s. This player was released by City at the end of the 74/75 season, but he was in the starting line up for the notorious match with Manchester United at Ninian Park early in that season and was an unused sub in the return fixture between the teams in March. Can you name him and also, who was the youngster making only his second league appearance who was a starter in the game at Old Trafford?
80′s. This man made history in a Manchester United match during this decade, can you name him and how did he get his name into the history books?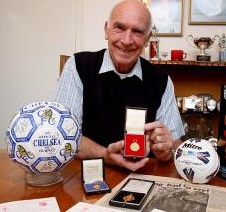 90′s. These two players both scored goals against City during the nineties. The first was a member of "Fergie's fledglings", the group of young players Sir Alex Ferguson gave first team debuts to at Manchester United in the late 80′s. His goal against us came while playing for the club he joined after being released by United in the early nineties – he played over 150 times for his new club. The first player made senior team appearances for Man United, but the best the second player did at Old Trafford was to be part of a Youth Cup winning side. Within months of him being released by the Old Trafford club he was scoring the winning goal in a game at Ninian Park – this striker later went on to win senior caps for Jamaica, can you name him and the other ex Man United player I referred to?
00′s. A thank you to Terry Phillips for this question – Ryan Giggs is one Cardiff born player who was on Man United's books during this decade, can you name another one?
10's. Name the last Manchester United player to score at Cardiff City Stadium.
Answers.
60's. Brian Edgley.
70's. Jimmy Mcinch and David Giles.
80's Peter Willis who was the first referee to send a player of in an FA Cup final when he dismissed Kevin Moran in the Man United v Everton match in 1985.
90's. Russell Beardsmore and David Johnson.
00's. Ramon Calliste.
10's. Michael Keane who was on loan to Leicester at the time.