Questions:
60's. Name the young goalkeeper who played twice against Wolves during this decade, conceding nine goals in the process.
70's. Who was the locally born player who scored twice against Wolves in 1976/77?
80's. When City drew 1-1 with Wolves at Ninian Park during the 85/86 season which saw them relegated to Division Four for the first time, their side contained four Welsh internationals, who were they?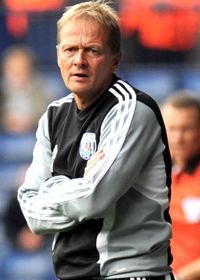 90's. This man (pictured) played for Wolves and City during this decade, do you recognise him?
00's. Name the two players who made their City debuts in the 3-2 win at Wolves in 2004/05.
10's. Wolves had two players currently at Ipswich and another who has played for Bristol City this season on the bench for them when they played here back in September. Their starting line up also contained a player now playing in Ligue 1 in France – can you name the four of them.
Answers:
60.s Lyn Davies.
70's. Peter Sayer.
80's. David Giles, Nigel Stevenson, Chris Marustik and Nigel Vaughan.
90's. Keith Downing.
00's. Darren Williams and Gary O'Neil.
10's. Richard Stearman, Frank Nouble, George Elakobi and Ronald Zubar who now plays for Ajaccio.