Six Swansea related questions, answers below.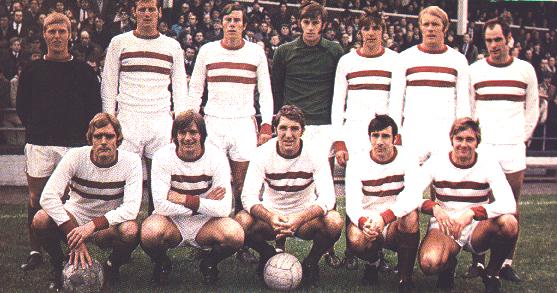 60's.The player stood second right in the back row of this picture has a street named after him in Northampton, but I'm sure it's not for what happened at the Vetch Field in a Swansea v Northampton match in 1969 – who is the player and how did he "bring the game into disrepute"?
70's. What unique achievement did goalkeeper Tony Millington achieve in the Welsh Cup Semi Final replay between Swansea and City in May 1970?
80's. Name the York City player who kept goal for City against the jacks during this decade.
90's. What links Chris Pike, Paul Millar and Simon Haworth in Cardiff v Swansea matches during the 90's?
00's. Two Cardiffians played for their home town club in the derby match during this decade, Joe Ledley was one, who was the other?
10's. Name the player who made his Cardiff debut in a City v Swansea match during this decade.
Answers.
60's. Frank Large – he was sent off for punching a spectator.
70's. Millington saved a penalty by Ronnie Bird, thereby becoming the only keeper Ronnie didn't beat from the penalty spot during his City career (he must have taken about twenty of them in all).
80's. Scott Endersby was on loan from York when he played in the 2-2 draw between the clubs at the Vetch on New Year's Day in 1988.
90's. They all scored the goals in 1-0 City wins at the Vetch Field during this decade.
00's. Leon Jeanne in the FAW Premier Cup Final in 2002.
10's. Dekel Keinan in the 1-0 win at the Liberty Stadium in 10/11.