http://mauveandyellowarmy.net/
Anyone old enough to remember, say, the 2014 World Cup must have at least an inkling by now that in this life you don't always get what you deserve. If you wanted further proof of that truism then it was provided last night when Cardiff City reacted superbly to the awful events of the previous eight days on the ground of one of the "big six" and still came out of the game beaten and with relegation looking a fair bit more likely than it had done a couple of hours earlier.
For the second time this season, Cardiff gave Arsenal a right old battle – in September at Cardiff City Stadium, they ended up beaten by the odd goal in five after a performance full of heart and no little skill. A pretty convincing case could be made that afternoon for saying that City deserved a draw, but my feeling has always been that Arsenal edged things to the extent that the result was, just about, right.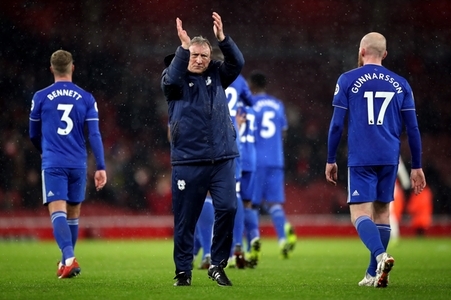 Last night was cruel in so many ways though. Against incredible odds, City dragged up a performance that Neil Warnock called our best away from home of the season, they had more goal attempts and corners than the team that is only being kept out of a Champions League place by goal difference this morning and needed a penalty as the match entered its fourth quarter to finally get in front in an encounter which had to be regarded as an absolute home banker for them at kick off.
It has been a common refrain among some City fans that we have been too defensive away from home this season, but, following the Newcastle defeat, I argued that the intention may not always be to sit as deep as we do – it was just a consequence of facing sides that are, player for player, quite a bit better than us.
However, that argument looked less convincing last night as we took the game to Arsenal in the first half in particular with a high pressing approach which deserved the reward of a goal well before one eventually arrived in the ninety third minute.
Neil Warnock began his pre match press conference on Monday afternoon with an apology to the assembled media for not making himself available to them during the previous week. Even in a profession where its members can come over as hard boiled and cynical at times, I'm sure no one present was blaming our manager for not "fronting up" until then after what he and his club had been through in the past week.
It was obvious that, as someone who had more dealings with Emiliano Sala than almost anyone else at the club, our manager has been badly affected by the disappearance of the forward we had paid a record fee for. Warnock admitted that he had considered quitting in the days after the plane carrying Sala and pilot David Ibbotson went missing and revealed that he and some members of the squad had accepted offers of psychological help from members of the mental health profession over the previous seven days.
With the manager also stating that Joe Bennett, who I thought put in one of his best displays this season, had lost his father in the days leading up to the game, it only emphasised further just what a challenge last night's game was for all involved on the playing side at Cardiff. It would have been so easy for them to have just folded under the strain, safe in the knowledge that, even if the outcome had been really horrendous, there would have been none of the fierce criticism which has followed in the wake of some of our worst displays over the previous six months or so.
For a performance of such character and bravery under the most difficult of circumstances to go unrewarded was cruel enough, but what made it doubly so was that it was a very good night for some of our relegation rivals. The strange fallibility that Manchester City have shown at times in the past few weeks resurfaced when they were beaten at Newcastle after taking the lead inside the first minute, while Fulham's response to being 2-0 down at home to Brighton was to score four unanswered goals in the second half to secure a win which I suppose makes relegation more of a possibility for the south coast club – I reckon they'll be okay though.
Although Burnley let a two goal lead slip at Old Trafford and ended up with a draw, that still has to be seen as a maintaining of their recent improvement, given Manchester United's transformation under Ole Gunnar Solskjaer.
Now, I don't make a habit of bringing up religion on here (in fact this is probably a first!) and I apologise beforehand if what I'm about to say upsets some people, but one of the reasons it plays almost no part in my life is that I cannot reconcile how the all seeing, all knowing and benevolent deity who is supposed to be watching over us can allow the sort of appalling things we see happen so often in our lives.
Of course, the loss of a footballer, tragic though it is, ranks fairly low on a scale of truly awful events to befall mankind down the centuries, but there is something almost cruel to how someone, who it seems was universally well regarded, can be snatched away at a young age just when everything seemed to be coming together so well in his life.
Again, that there are far, far more important things in life than football does not really need to be said, but when someone or something performs as well in adversity as City did last night and not only gains nothing from it, but also see rivals prosper, then it's hard to avoid thinking that someone up there is enjoying a very cruel joke at our expense.
So, as I mentioned before, you don't always get what you deserve. However, as someone who, in the cold light of day, has always believed that there isn't a maker of all things looking down on us and guiding our destinies, I have to admit that when it comes to football matches and results especially, they are decided by matters far more prosaic than any divine intervention!
At the risk of contradicting myself, experience shows that you do tend to get what you deserve when it comes to how the league table looks at the end of the season. Yes, even if we are relegated come May, we will all be able to point to Emiliano Sala's disappearance in late January as a huge contributory factor, but, in the very harsh environment that is the Premier League, someone would be kidding themselves if they concluded that we went down solely because of that.
The truth is that there have been weaknesses present which were dragging us down long before most of us had even heard of Emiliano Sala and, harsh though it may be in the current, very trying, circumstances, the brutal truth is that some of them were present again at the Emirates last night and, in the end, they played a large part in us not getting the point which I feel we merited on the balance of play.
For a start, we again gave a top six opponent a clear sight of our goal in the first few minutes of the game. There were around ninety seconds on the clock when Arsenal easily opened us up down our right and the ball bounced around just a few yards in front of our goal – Arsenal could and maybe should have emulated Manchester United and Spurs in scoring against us with three minutes or less played.
With that narrow squeak behind them, City were by no means backward in coming forward and went on to have the better of most of the first half as they dominated in terms of goal attempts and corners won. Sadly, though not one of the eight goal attempts in the opening forty five minutes was on target, with the majority of them being optimistic hit and hope efforts which only emphasised a lack of proper technique as they sailed way too wide or too high.
However, the two best opportunities came inside the first fifteen minutes to Bobby Decordova-Reid who came a lot closer than most others did with a shot from the edge of the penalty area which flew a couple of yards wide and a header from about eight yards out that was about the same distance too high. Now, I've said a few times on here that I feel Decordova-Reid has not had a fair crack of the whip this season and I also believe that he has shown signs that he can be effective at this level because he has a brightness and sharpness about him that is lacking with too many of his team mates. Neither of the attempts Decordova-Reid missed with last night were particularly bad ones, but I think the harsh truth is that at least one of them should have ended up on target because that is what you would expect from a Premier League player who found himself in the positions he did.
Those two words "on target" are so relevant with City lately because January is going to end with us having had a miserable ten on target goal attempts in our five matches, with four of them coming in our FA Cup defeat by a team which finds itself just one point above the bottom four in League One this morning. Last night saw us have nineteen goal attempts, but the match was past the eighty minute mark before we had our first on target effort when sub Kenneth Zohore's effort from the edge of the penalty area forced Bernd Leno into a routine save.
That and a very neatly taken goal in stoppage time by another sub, Nathaniel Mendez-Laing, were it as far as on target efforts went and it goes without saying that an improvement in the number and accuracy of such efforts is going to be required over the next three months, but are the players we have at the club as of today capable of providing this?
As for corners, all this season has done so far is prove that we were spoiled for the ten years when Peter Whittingham was here. Players like Joe Ralls and Junior Hoilett didn't do too badly in this department last season, but, in the more rarefied atmosphere of the Premier League, neither of them have delivered to an acceptable standard yet and the same can be said of Victor Camarasa who was absent last night.
So, the game contained a familiar lack of precision in attacking terms, but it wasn't just at that end of the pitch where we let ourselves down.
For some in the local media, Sean Morrison's absence is seen as a blessing in disguise because it gives us the chance to see their "dream" partnership of Sol Bamba and Bruno Manga in action. I have a lot of admiration for both players, particularly the thirty four year old Bamba who in many ways represents exactly what Neil Warnock's Cardiff City are all about, but, for all that they do that is good, it's also true to say that, at this highest of standards, they both have a mistake or two in them every time they cross the white line.
Manga has played every minute of this season and is a lot of people's choice as our player of the season so far, but last night he was criticised after the game by Neil Warnock and I find it hard to disagree with what our manager said. When asked if he thought we should have had a penalty, our manager surprised me by saying that while he thought we could have, Arsenal should have had one for a foul by Manga just before half time. This was the second of two dodgy first half challenges by Bruno on Alexandre Lacazette and I'm with our manager in thinking that the second one was a penalty, so you would have liked to think that, having got lucky, our player would have been extra vigilant when it came to his challenges after that, instead though, he was adjudged to have tripped Sead Kolasinac in the box and Arsenal, rightly for me, had the spot kick from which they broke the deadlock.
As for Bamba, the anticipation he shows in nipping in to nick the ball away as a striker waits for it to come to him is a plus factor for us overall, but it does illustrate that Sol is someone who has always lived on the edge of the line which divides effective and impetuous defending and so it will follow that there will be times when he goes the wrong side of it. While Lacazette deserves praise for the way he turned receiving the ball out on our left touchline about forty yards from goal into the strike which doubled Arsenal's lead, he was certainly helped along his way by Bamba diving into a tackle he didn't have to make – Sol rolled the dice and lost on this occasion.
With Morrison, the most disciplined of our central defenders. also struggling more than I thought he would with the step up in class this season, a position where we appeared to be strong back in August has been something of a weakness in truth. The feeling that we may be looking to strengthen in that area was given some credibility when Neil Warnock delivered a fairly bleak assessment of our chances of bringing in new players before the window closes tomorrow – it seems we will not be getting a striker replacement for Sala, only "one or two" defenders.
Now, I'm hoping that this is an example of our manager being canny as he tries to throw one or two people off the scent so to speak because I've always agreed with the we need a right back, a central midfielder (three of our four in that position are too similar) and a striker or two line of thinking. While a couple of defenders wouldn't go amiss with the current injury situation, it's hard not to feel that it won't be enough.
As I finish this piece, I can't help thinking I'm being over critical of some of our players after what they've been through recently and so I'll end on a few positive notes. Given the situation with Emiliano Sala, it's easy to forget that we do have a recognised striker at this level with us in Oumar Niasse and I thought that, all things considered, he did very well last night in that he looked a "proper" centre forward and so was able to give us someone to play off.
As has been the case all season, things would look so much different if Zohore could start showing what he is capable of on a regular basis – if that were to happen, then him, Niasse and a Decordova-Reid with a bit more confidence and belief through more faith being shown in him might be a threesome that would prove me wrong in thinking we need another striker.
The results elsewhere mean that the gap between us and the team above us has grown to three points and a combination of a poor result for us on Saturday and Newcastle, Burnley etc. maintaining their good form would see it growing to a very worrying degree. However, I would say that last night offered a timely reminder that we aren't as bad a team as we looked in the other four games we've played this month – strength can come from adversity and we now face a run of seven matches against the sort of teams we have not done too badly against so far before Chelsea come here on the last day of March.
Once again, can I make a request for support from readers by them becoming my Patrons through Patreon. Full details of this scheme and the reasons why I decided to introduce it can be found here, but I should say that the feedback I have got so far has indicated a reluctance from some to use Patreon as they prefer to opt for a direct payment to me. If you are interested in becoming a patron and would prefer to make a direct contribution, please contact me at paul.evans8153@hotmail.com or in the Feedback section of the blog and I will send you my bank/PayPal details.