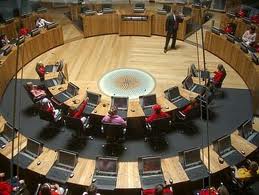 Cardiff's Labour Assembly Members Vaughan Gething, Mark Drakeford, Julie Morgan and Jenny Rathbone said:
"We call on Vincent Tan to actively engage with the club's fan base and consult on these plans before destroying more than 100 years of history and tradition.

"To strip away the club's identity without proper consultation is an insult to thousands of loyal supporters who follow their beloved Bluebirds around the country week in week out.

"Cardiff City Football Club is the lifeblood of the local community and the fans deserve a say over its future. We intend to work closely with supporters' representatives, including the Cardiff City Supporters' Trust and Cardiff City Supporters' Club, to make sure fans have a voice on this matter.

"We all want to see a successful Cardiff City Football Club on and off the pitch but we cannot stand back and let such a radical proposal go through without the fans' blessing."
These comments followed this press release yesterday evening from Cardiff City supporting AM Andrew Davies:
Mr Davies has tabled a Statement of Opinion in the National Assembly calling on other Assembly Members to share his concerns about the proposed rebranding exercise. Mr Davies, a long-standing Cardiff supporter, urged the club's owners to ensure that supporters' groups were given an opportunity to express their views.
He said: "Cardiff City Football Club is part of the fabric of the capital city. Whilst I respect the right of the owners to consider proposals that may improve its marketing potential in expanding Asian markets, it is vital that they also consider the importance of the club's heritage and tradition.
"City has proudly donned blue jerseys since 1908 - through good times and bad - and I sense no appetite to change that amongst fellow supporters. The bluebird itself is also synonymous with the club, in much the same way as the Liver bird is with Liverpool, and it is a brand that is recognised far beyond Wales.

"What is most important is that the club's owners consult fully with the fans and that they protect the club's proud traditions, history and heritage".