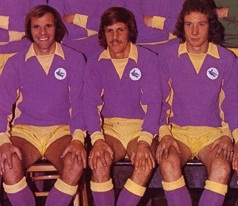 Last night's 2-1 defeat at Brentford was another of those occasional games where I, for one reason or another, am unable to even listen to the radio coverage of it. So, I'm writing this having watched the highlights here and read a little about what happened on various sites and messageboards.
Even so, when you are talking about a subject you have grown to know well over a period of nearly nine months through watching them in action regularly, I believe that there are certain logical conclusions you can come to based on what that knowledge and experience has taught you.
So, although I must acknowledge the possibility that what I'm going to say and the conclusions I draw could be miles wide of the mark, I somehow think this will not be the case. You get to know the strengths and weakness of the individuals involved (especially in the case of a manager who's now been at the club for more than double the nine months mentioned earlier) and so there is little that happens which should surprise you.
Now, that last bit may sound a little contradictory when you consider what I'm going to say about Russell Slade's team selection last night so let's make it clear now that I'm baffled, bewildered, befuddled and bemused by his decision making on various matters, but not really surprised by it – eighteen months of Slade watching teaches you a few things.
Let's start with our manager's recent policy when it comes to team selection. I use the word "policy" there, but, truth be told, when you contrast his approach to what he did a fortnight ago when we had three matches within a week with what has happened so far in this run of Saturday, Tuesday, Saturday football, you have to wonder if one really exists.
Two and a half weeks ago, we deservedly beat Derby in front of what was a record crowd for a City game at their new stadium. At the time, the notion of a top six finish for the team appeared to be as realistic as it had ever been as we went into a match at top of the table Burnley little more than seventy two hours after our previous game.
When you look at the number of players currently contracted to the club, it can be seen that we still have a big squad, but with many of them out on loan and others, apparently, disqualified from selection on the grounds of age (I'll come back to this later), the truth is that the number of players Russell Slade has to pick his team from every game is relatively small by the standards of this division.
It's for this reason that I've been fearing that our Play Off challenge would go the same way as others did under Dave Jones' management a little under a decade ago as fatigue became a factor among a group of players who were not able to get a short respite from exactly the sort of testing fixture list late in the campaign we are currently experiencing.
So, when Russell Slade decided to change the midfield around a bit for the Turf Moor trip, I thought it was an understandable move which also had tactical benefits with Kagisho Dikgacoi sitting in front of the back four. The changes worked to the extent that we played well and got something from what was a potentially very difficult match.
However, with all of the catchable sides above us winning, our 0-0 draw saw the gap between us and sixth place grow to five points – a big gap at this stage of the season, but not insurmountable as we approached a run of four matches that all looked winnable.
City needed a different approach for the game at relegation threatened Fulham just under four days later and, so not surprisingly, Dikgacoi was left out of the starting line up as Peter Whittingham returned. However, there was another change of Stuart O'Keefe gave way to Aron Gunnarsson.
I defended our manager after our defeat at Craven Cottage on the grounds that he and his staff were better placed to know which players were more fatigued than others, but I must admit it struck me as odd that O'Keefe (a box to box midfield with plenty of stamina who had, basically, only been playing for half of the season and was, along with Immers, a genuine reason for our improvement since January) was one of the players deemed to be in need of a rest.
So, after those three matches in eight days in which Russell Slade had indulged in something which is practically unheard of for him (a degree of squad rotation), the results were, at best, mixed with a good outcome against Derby, a decent one against Burnley and a poor one against Fulham.
Not a ringing endorsement of squad rotation then, but, with another three game in eight days spell arriving shortly and fatigue, presumably, more of a factor, I would have assumed we'd be seeing more of the same?
Not a bit of it, last night's starting line up was exactly the one which started against QPR. Now, with City's need for a win greater now than it was a fortnight ago, I suppose our manager could have been thinking that he needed the eleven he considered most likely to deliver the three points on the pitch from the start, but are we to believe that the side which virtually sleepwalked it's way through the first half on Saturday is really the best we can do when it comes to scoring goals?
For me, that opening forty five minutes against QPR should be held as an indictment against players and manager when you consider what was at stake. Yes things improved after the break, but there was nothing in the display in my mind to suggest all eleven starters had done enough to maintain their place against Brentford.
As had been the case in about ninety five per cent of our matches this season, we didn't produce an effective ninety minute performance on Saturday and we didn't again last night. Apparently, we were the better team in the first half at Brentford, but if the shots of varying quality from Anthony Pilkington as shown on the highlights package represents the sum total of our "dominance", then all we did was produce yet another of those tepid opening periods which have become the norm under this manager, that are suggestive of a caution, at home and away, which was the last thing we needed in our current position.
Presumably, our manager thought on Saturday that Pilkington, Immers, Noone and Whittingham were the attacking quartet most likely to deliver three points and, despite all of the evidence to the contrary we saw against QPR, he still felt the same last night?
Now, I'm not saying all four of them should be dropped, but Pilks has stopped scoring, Immers (who I notice was taken off again last night) might be suffering as a consequence of the huge amount of work he has been putting into each match since January, it's been last season's Craig Noone out on the wing lately and Whitts is in one of those spells where you think it's only his dead ball delivery that is keeping him in the team.
My view is that virtually every team in this league would have changed at least one out of it's attacking quartet if it had, collectively, come up with a performance as insipid as the one our four produced against QPR, but I suppose our manager would argue that other clubs have got the forward options which we lack.
That's a fair point, but only to a degree. I'm struggling to put my finger on when and why it was that Tom Lawrence went from being regular starter to bit part player who might get a quarter of an hour or so here and there off the bench. Yes, he's in a goal drought currently, but then so are three out of four of the first choice attacking quartet.
Sammy Ameobi has been a big disappointment, but he comes up with something every now and then which reminds you why so many hailed him as a good signing last summer, while Idriss Saadi may or may not be good enough, but has he had sufficient chances in the first team to prove that conclusively one way or another?
Finally, we come to Kenneth Zohore who, granted, has looked like a raw novice in some of his substitute appearances in the first team, but, now and then, has caused Championship central defenders all manner of problems when he comes on. For example, he put himself about a bit and caused Middlesbrough a few alarms at the Riverside, he frightened the Burnley back four to death at Turf Moor and it certainly sounds like our attacking play was transformed last night by his introduction off the bench.
Zohore made that big impact at Griffin Park despite only being introduced in the eighty fourth minute, while on Saturday it was the eightieth minute and, don't forget that this is a team which needed wins desperately and hadn't scored in the first ninety per cent or so of either game.
So, given our record of two goals in four matches (one of which he has scored himself) at a time when we simply have to win games, why is Zohore not starting? Well, I can only believe that it comes down to his age – I've mentioned that inconsistency he has and it's obvious that our manager's faith in him is limited, but then, in a team that has been consistently guilty throughout the season of not putting in ninety minute performances, there are certainly those who Mr Slade has shown great faith in despite their inconsistent displays.
Unfortunately for Zohore, he has committed the dreadful sin, in our manager's eyes at least, of only being twenty one years of age. I swear that, were it not for the fact that Mr Slade gives Declan John a minute or two off the bench in a senior game every six months or so, he thinks that our Under 21 team is the highest level our players in that age group are allowed to play at while they are developing – or at least, what passes for developing under this manager.
Anyway, I don't want to start banging on for ages about youth development at the club again, so I'll move on to the matter of substitutions. I saw a messageboard post a couple of days ago accusing Russell Slade of effectively wasting two of our substitutions on Saturday – Ameobi for O'Keefe with Whittingham moving into the middle made no sense to me at the time and still doesn't now. According to the messageboard poster, Gunnarsson for Whittingham fifteen minutes later only happened because something needed to be done to address the central midfield problems caused by the first change.
That's certainly how I saw it, Russell Slade messed up with the personnel he used in a match we had to win. More than that though, the timing of his changes could be questioned with two of them only coming in the last ten minutes – if anything, it was even worse last night.
While I wouldn't argue with the personnel introduced last night, why did it take so long to make the changes? We may have shaded the first half, but, from what I can gather, Brentford had been getting the better of us for the first two thirds of the second period before our manager tried to do something about it by introducing Lawrence for Noone.
It seems that Zohore only came on as a result of us going a goal behind and then Ameobi was given just two minutes and added time to try and change things after we went 2-0 down – if I didn't know better, the changes were indicative of someone who was happy while the score was 0-0.
Sheffield Wednesday probably cannot believe their luck – last night's 0-0 home draw with relegation certainties MK Dons strongly suggests that the wheels have come off for them with a heavy away defeat and two one pointers at home against teams in miserable form. However, that's still double what we've managed over the same period from three games in which we've played one team which still had a few lingering relegation worries and another two with nothing to play for.
Russell Slade was, rightly, praised during the first three months of this year as we worked our way into a challenging position despite having a transfer embargo imposed on us, but, for me, he's undone so much of that good work by inconsistent selections, highly dubious substitutions and some confusing tactical decisions in April – it's all been indicative of someone who can take us so far, but no further and isn't that what a few people told us when he was appointed?
One last thing, apologies for the lack of pictures from last night's match, but the only ones I could find were the property of two companies who told me that I couldn't use their photos in the Journey Back despite me offering to fully acknowledge them, so I just don't use anything by them at all now.