https://mauveandyellowarmy.net/
Having not seen as much live football in a month as I usually do through February, I decided to wander over to Blaenrhondda Park this afternoon to watch a Sully Sports* team I saw take on City in a Welsh Cup tie about forty five years ago (one of my PE teachers from school was in their team that night) while listening to Cardiff's game at Barnsley.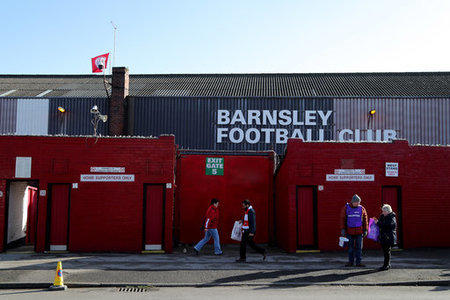 I just looked it up and City played Sully in 1976 and we beat them 5-0 with Tony Evans scoring a hat trick – they were a highly rated Welsh league side back then. So, presuming it's the same team, they were called Sully Town back then*, they played in the same black and white kit as this team, it's sad to see them in their current position adrift at the bottom of the Premier Division of the Highadmit South Wales League with just three draws to show from their twenty matches.
However, they will be feeling a little better about things after what I would guess is their best result of the season in drawing 1-1 with a Blaenrhondda side that sit sixth in the table.
To be honest, Blaenrhondda will be wondering how they didn't manage to turn their incessant second half pressure into a win. The chances to do so we're certainly there, but they were guilty of trying to walk the ball into the net at times and their finishing didn't reach the standards I saw from them last season.
On the balance of play, there really should have only been one outcome – a win for Blaenrhondda. However, Sully deserve credit for some great last ditch defending and for how they overcame the blow of having to change their goalkeeper in the first half – they also provided a moment of genuine high quality football with their goal just before half time.
Blaenrhondda had taken the lead around the twenty minute mark when Sully made a bit of a mess of defending a corner and the ball was eventually driven in from about ten yards following a bout of penalty area pinball. Up to then, the home team had given an impression of being in command while never really looking like scoring and this situation was repeated once they had done so – it looked like they thought they only needed the one goal to seal the win.
Such thinking began to look somewhat optimistic when Sully started to show some signs of attacking life towards the end of the first half, but there had been nothing whatsoever from either side really to suggest they had the sort of quality we saw from Sully when one of their players took aim from twenty two yards and curled a lovely side right footed shot high into the net leaving the home goalkeeper helpless.
The match had kicked off at half past two, so it had been possible to give it my full attention for the first half, but, after that, it was the City's game at Barnsley that I paid more attention to.
I must admit, that I wasn't expecting a great deal from an unchanged City side at the start of the match because after the brief excitement of three wins out of four nearly a month earlier, the last few matches had returned to the December/January phase whereby draws were very much the order of the day.
There wasn't much to suggest that we could expect to see anything other than a grim, hard fought low scoring draw or a narrow defeat in a first half in which City's performance was described as woeful on a couple of occasions by the commentator..
Former Wales captain and City centreback Kevin Ratcliffe was the game summariser and it was clear he was not impressed by what City were producing in those first forty five minutes. Now, I know Ratcliffe is not popular with many City fans in this role, but, having seen four months of Neil Harris' Cardiff City now, I certainly found myself agreeing with much of what he was saying.
For example, Ratcliffe said he struggled to see much difference to the sort of stuff City were producing and how we were playing under Neil Warnock. Ratcliffe also mentioned something which has bugged me about City's play when we're struggling to make an attacking impact – it's the way the ball is just hooked forward over shoulders in the vague direction of other players by our midfielders.
Ratcliffe was also correct in my view when he said City had players who were capable of playing some decent stuff at times, so he struggled to see why they were restricting themselves by sticking with such a rigid way of playing the game.
With Barnsley playing what good football there was about and troubling City at times with their pace going forward, it was the home side who would have been happier with the situation at half time. In what was virtually a must win match for both teams. All City had to show was an Albert Adomah shot competently turned aside by home keeper Brad Collins and a Will Vaulks near post flick of a Joe Ralls corner which went over the bar. However, for all of their promising build up play and their lively running in attacking areas, Barnsly had not forced Alex Smithies into a save – that one effort from Adomah was the only on target attempt of the half.
Therefore, there must have been a realisation from Neil Harris that, as poorly as his team were playing, this was definitely a game that they could win if they stepped things up a bit in the second half.
I'm afraid I cannot remember the exact figures for this, but City have something like the fourth worst first half record in the Championship this season and the fourth best when it comes the second half of matches, so maybe what followed was not that much of a surprise, but count me as one of those who was shocked by how comfortably we did manage the win in the end over a club that we have now lost to only once in fourteen games. All of the stats show how we were deserved winners in the end, with the BBC's figures showing we had thirteen goal attempts to Barnsley's six, we won the on target attempts seven – nil, the corner count eight and, right from the kick odd we were at the home team in a manner barely seen by us on an away ground this season.
Junior Hoilett perhaps should have given his team the lead when he flicked a Joe Ralls cross narrowly over and there was a shout for a penalty when Callum Paterson went down under a challenge with Collins after the keeper had made a mess of a long and high punt by Leandro Bacuna – for me, there might have been our foul by our striker on a defender before the incident, but, if referee James Linington, who did not book a player all afternoon and sounded like an improvement on some of the clowns we've had in charge of matches lately, did not see that as an offence, it's hard to understand why he didn't point to the spot (more evidence of anti Paterson bias I wonder?)
Collins then saved well from Joe Bennett and Vaulks had a shot more comfortably dealt with by the keeper – if it is possible to feel a goal is coming for your team while listening to a match, then this was the time and Barnsley duly cracked soon afterwards when City passed the ball across the field in a manner completely at odds with what had been seen from them earlier and Adomah was given it with space to run into which he exploited by getting to the byeline and crossing low to the near post where Vaulks saw his first effort saved, but he had more luck with his second one which found the bottom corner.
The City contingent were treated to a close up view of the Vaulks goal celebration and within no more than a minute they were celebrating a second goal when Paterson ran on to a fine long pass by Dion Sanderson which was misjudged by a home defender and calmly steered the ball in.
If Vaulks' celebration was to be admired, then the same could not be said of Paterson's, but this old duffer who snorts at pre rehearsed celebrations found it very funny as, by contrast, he indulged in the sort of feeble handstand and forward roll that I would have come up with in my pomp nearly fifty years ago!
A by now thoroughly despondent Barnsley team had nothing to come back with in response and so, amazingly given their four match winless run, City now find themselves just two points behind sixth placed Preston.
Therefore, despite being unconvincing almost all season long, City are right in the promotion shake up with just ten matches left to play.
Normally, the fact that six out of the ten games we have left are at home would be seen as something in our favour, but too many draws have turned what was a formidable record in front of their own fans into just a pretty good one – Leeds come here next weekend having well and truly got over their early 2020 wobble by recording five straight wins without conceding a goal and next Sunday would be an ideal time for the team to rediscover the knack of winning at home because it could prove to be a real launching pad, are City up to the challenge?
I'll finish by congratulating Ton Pentre for making it into the top half of the Welsh Premier League (South) after looking like they were destined to come bottom of the division through the first half of the campaign.
Although their position is a little misleading due to them having played more ,matches than most of the sides around them, Ton Pentre are now looking safe from the drop due to a series of wins over sides in trouble themselves – last night's 2-1 win at Croesyceiliog being a case in point with ex City Academy player Johnathan Kift getting one of the goals.
*Sully Sports are not the same team as the Sully Town side City played in 1976. If you visit the Feedback section regarding this report, you'll see a message from a poster by the name of Cyncoed Slumdog outlining some of the history of both clubs and I've also received an e-mail message from Mark Adams which I will incorporate into my reply to Cyncoed Slumdog's message.
Apologies to all concerned for my mistake.