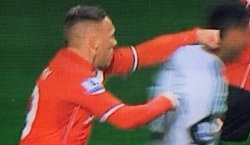 Craig Belamy has served his three match ban for striking Swansea City's Jonathan de Guzman.
The incident was missed on the day but Bellamy was punished by a panel after the game.
He sat out the draw with Aston Villa and the defeats against Wigan and Hull City but is set to return to the side for today's match at White Hart Lane against Spurs.
"The three games I did miss were difficult games to watch," he said.
"Hopefully I have an opportunity to make up for it from now until the end of the season."
Bellamy became the first player to score for seven different Premier League clubs when he scored in City's 2 - 1 win over Norwich a month ago, that was Citys only League victory in 2014.
He is now looking to move on from the ban that gave boss Ole Gunner Solskjaer a needless selection issue.
"I was disappointed with the suspension," he said Bellamy. "The club wanted to appeal but it was me who chose not to as I didn't want my name dragged through anything or accuse anyone of anything.
"So you just get on with it, take your ban, move on and look forward to the games coming up.
"I spoke to De Guzman and had a good conversation with him. It [the incident] wasn't the cleverest thing I've ever done but it wasn't the worst I've done either."
Despite Cardiff's perilous league position and ahead of a difficult trip to fifth placed Spurs on Sunday, Bellamy says manager Ole Gunnar Solskjaer remains positive.
"The way he goes about it, I quite like and admire as well," Bellamy said.
"It's a completely different style to the previous manager but he's got his own stamp on things and he's got his own view on football.
"I had a lot of respect for him as a player and he's come into a difficult situation.
"But he's positive and wants us all to keep believing and to show our character. This is a real test, for all of us."