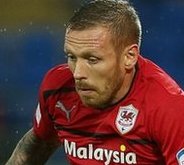 Craig Bellamy has been given a six month driving ban after pleading guilty to a motoring offence.
Bellamy, already on 9 penalty points, was given another 6 points and fined £900 plus £400 costs.
The court heard Bellamy failed to respond to a police notice of intended prosecution. He was clocked speeding on the M62 last April.
After initially pleading not guilty Bellamy changed his plea in December to guilty and was sentenced today.
Deputy District Judge Simmons said: "I must impose penalty points and six penalty points is the required number.
"Given that he has nine penalty points already he must be disqualified from driving for a period of six months under the totting up provisions."
Meanwhile City confirmed the departure of Kevin Sainte-Luce. The 18 year old was convicted of assault after an incident in Cardiff last November. His contract has been terminated with immediate affect.