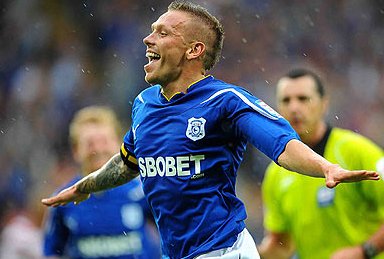 It's started to become the worst kept secret.
No one will say 100% that Craig Bellamy is signing for Cardiff but word from his family and friends along with the comments from both Liverpool and Cardiff's managers leads you to the conclusion that's its just a matter of finalising the move back to his home town.
Craig is thought to be taking a huge wage cut with the carrot of a promomotion bonus. It's estimated his £90K a week at Liverpool will reduce by two thirds as he becomes a permanent signing for Cardiff City, not a loan deal.
From what people have told me (people I know and trust) It's as close to a done deal as it can be until the official announcements.
"We're in advanced talks with Liverpool and Craig," said Mackay. "Brendan is a good friend of mine and he has been fantastic to deal with.
"It's something we're progressing at the moment and we're hoping to have news in the next couple of days."
Of Bellamy, Mackay continued: "We've known each other our whole careers. We were together many years ago at Norwich. He's a proud person from the Cardiff area and he's a top player, a top talent."
Brendan Rodgers, when asked if Craig was signing for Cardiff, said "I would think so. I had a really good chat with Craig when I first arrived here.
"He is not one who can play every week, he is 33 and coming towards the final years of his career.
"He has made a massive commitment to come to Liverpool, to reside up here on his own.
"He enjoys playing for the club, but I believe that at the end of last season he had already made his decision.
"I obviously respect that.
"What is so important is a player's happiness.
"Unless a player is happy you don't get the maximum from them.
"Cardiff is probably where he will end up. If he does, we wish him the very best. He will still be a Liverpool supporter.
"It is not for football reasons that he is leaving, but for personal ones.
"I understand his thinking.
"He is 33 and has travelled around the country for his whole career, so there are compassionate reasons.
"We will look at it. But we will wish him the best and move forward."
City are holding a stadium 're-opening' tonight with 7,000 fans attending. Could Bellamy be revealed at the marquee signing of the summer at tonight's event?
I wouldn't bet against it.