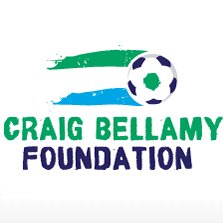 14-year-old centre-forward Mustapha Bundu, central midfielder Santigie Koroma, 15, and Sulaiman Samura, a 14-year-old centre-back are staying at Craig Bellamy's house in the Vale and will be training with the City U15's.
They are part of the first 16 young players to be given five year scholarships to the Foundation in Sierra Leone and another 16 are due to join later.
They are here in South Wales to broaden their footballing education and are the first players from the foundation to develop their skills in another country.
Sulaiman told The Echo: "I enjoyed everything. The session was good, it was all about attacking and defending. I want to improve my heading and my shooting while I'm here."
Mustapha said the windy weather was very different from the 30°C temperatures they usually train in. "We are used to playing in the hot sun," he said.
And Santigie said they were all grateful to Bellamy for the opportunity to train with the Championship side's academy.
"Craig is very important to us because in our country that is the first academy, so we are happy," he said.
The academy's technical director, Johnny McKinstry, travelled to the UK with the budding players on Friday night.
"It's been a good first session, they've settled in nice and quickly," said the 26-year-old, who also paid tribute to Manchester City star Bellamy.
"The boys are staying with Craig's family. He's down with the Welsh team at the hotel but he was around to welcome them and get them settled in and I'm sure he will be up and down. Even when he's up in Manchester he tries to get back and see his family as he's got young children. He's around to give the boys a bit of advice and make sure they are all right."