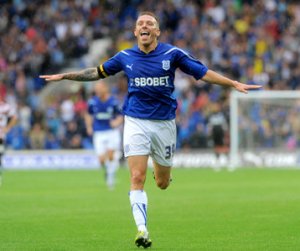 Bellamy has signed a two year deal with the Bluebirds after agreement was reached between all parties.
Bellamy completed his medical and the news was made official at 2pm today.
He will wear his usual No. 39 shirt. This is a proper transfer, not a loan. Craig was at Cardiff for the 2010/2011 season on loan from Man City. When that ended last summer he signed a lucrative deal with Liverpool. This summer though for a number of reasons Cardiff have negotiated a package that brings Craig home to Cardiff.
Chief Executive Alan Whiteley told the official website
"I would like to place on record my thanks to a number of key parties that have facilitated Craig's return.
"Firstly to the club's Malaysian investors, Tan Sri Vincent Tan and Dato' Chan Tien Ghee; their support, commitment and confidence in the vision and ambition of the club has enabled us to attract and retain a squad containing the calibre of players that we now have. This, quite clearly, is demonstrated by Craig's confidence in joining us at this time.
"I would also like to thank our manager for his tenacity and single mindedness in ensuring the transfer could take place - and for making my life a misery until such time as it could be completed! And of course to Brendan Rodgers and Liverpool Football Club; their assistance and support during the process of negotiations have been conducted in an extremely professional and amicable manner, of which we are grateful.
"Finally to Craig, for having the confidence and courage to buy into and wanting to be a part of the club's future. I am sure that Liverpool will agree that their loss is this football club's gain and that Craig's return will be met with huge excitement and enthusiasm by all Cardiff City fans - and as the perfect backdrop to the start of the new season."
Craig will be available for City's opening League game against Huddersfield Town, live on Sky, next Friday August 17th.