https://mauveandyellowarmy.net/
Another of those occasional matches today that I was unable to watch or even listen to, so, rather than a lot of detailed "analysis" (which would actually be guesswork!) of Cardiff City's 1-1 draw with Birmingham at St. Andrews today, I thought I'd be better served saying a bit about what I think of this season's Championship and where City stand within it.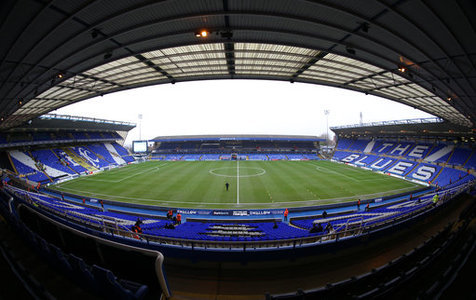 Long term readers may know that I do sometimes question what it is that leads to a league being regarded as "strong" or "weak". It's a subject that I've seen consistently discussed on messageboards for twenty years or more and I've read plenty of people's take on the subject on all sorts of media, but, speaking for myself, I'm genuinely none the wiser!
For example, if Liverpool maintain their form of the first sixty per cent of the Premier League season through the last 40 per cent of it, they are going to break all sorts of records and the 19/20 campaign will go down as one of the more memorable ones. However, does a team dominating a League as completely as Liverpool are currently doing automatically make it a strong one? My instinct is to say no and argue that it could just as equally be offered up as proof of a weak division.
Staying with the Premier League a little longer, I thought the general standard was, possibly, as weak as I could remember it in 17/18. For me, it was certainly stronger last season and I'd say this season standards are down again a little, but definitely better than they were two years ago – I don't say this because of any great statistical, tactical or footballing analysis, it's just the "feel" I have about those three seasons.
Moving on to the Championship, I was certain I wouldn't be as interested in it as normal last season for the simple reason we were no longer in it, but, in the early weeks of the campaign, I was struck by how often I would watch a match and end up really enjoying it. There seemed to be a more attacking outlook with an increased emphasis on speed and mobility going forward – it doesn't automatically follow that standards were higher, but the entertainment value was and the fact the team at the top of the division kept on changing so frequently throughout the first half of the season only added to the enjoyment.
Now, to me, all of that made the 18/19 Championship a strong league, but, as I mentioned earlier, what do I know about it! It became a bit of a running joke with me in the decade or so after our promotion in 2003 that just as the first cuckoo of spring would be heard sometime in late March or early April every year, so you'd get the first read about the second tier being a weak league this season around about the 1st of October.
I daresay the advent of October 2018 saw the same sentiments being expressed about the Championship somewhere, so I suppose all that shows is that these things are very much in the eye of the beholder – probably the only way a judgement can be made is by counting the votes.
All of which brings me on to the 19/20 Championship and the first thing I want to say is that, off the top of my head, I cannot remember reading or hearing anyone expressing the opinion that it is a strong League this season.
In fact, I'm struggling to recall anything other than the viewpoint that standards are not high this year. Is this fair? Yes, based on what I have seen in the flesh at City matches and on Sky live games, I would say it is.
You only have to read what I've been saying about City on here this season to realise that there haven't been many occasions when they have impressed me. I'm sure some will think I've been negative and harsh in my views, but I can only say that, generally speaking, they are largely echoed on the messageboard I use.
Yet, we have only lost a single home match all season and, thinking about it, how many teams can you say have definitely outplayed us at Cardiff City Stadium? I thought Preston were unlucky not to have beaten us, Sheffield Wednesday were better than us for long periods and all QPR had to show for the passing and counter attacking lesson they gave us was a 3-0 defeat.
It's easy to go over the top about how poor we are, but the fact is that we have only lost seven times. Only four teams have lost less matches than us, so we must be doing something right, but our twelve draws are more than any other Championship team and we have won fewer than any top half team, while two of the sides below us have also won more.
A record like that for a side that has spent the last few months hovering between, say, eighth and fourteenth in what is generally accepted as a mediocre league, cries out mid table mediocrity.
I'm afraid that's the context that today's result should be judged by – this was yet another draw against a team that we'd be expecting to beat if we had anything about us and we were realistic candidates for promotion.
In a fortnights time, we will have played thirty league games, so the season will be, as near as damnit, two thirds over. Is it realistic that we will see a transformation in the side which will lead to us taking our place in the top six come May?
Optimists will say that there is also the best part of a fortnight to go before the transfer window closes and so there is still plenty of time to bring in players who can fashion such a transformation, but what is there in our transfer dealings in the past two years and the way this window has gone so far to make anyone believe that is likely to happen?
Even if we accept that Neil Harris will bring in, say, two players who will improve the squad, I think they would have to be truly exceptional to overcome the fundamental problems we have.
To expand on that, Nathan Blake has often said it would be something like the end of January before he starts to judge Neil Harris as City manager, but, with that deadline too close for comfort now, it seems to me that his team selection today when compared to the team he picked last week against Swansea suggests that he is no nearer knowing what his best side is.
I was certainly critical on the messageboards of the decision to appoint Harris as our manager, but once he was here, my attitude has been that I'll give him my support until the end of the season at least, but, at the same time, it's impossible for me to look at the snippets I've seen and read about today's match without uttering a bit of a groan.
Besides the team selection which looked pretty uninspiring, there was the manager's admission that the team switched to a more direct approach at half time. Given that Millwall were probably the closest thing in the Championship to Neil Warnock's Cardiff in terms of style of approach, I do often find myself wondering what has changed in the two and a half months since Harris took over.
However, I'll give Neil Harris the benefit of the doubt for now and accept he is genuinely trying to bring in more of a footballing approach at Cardiff, but a couple of sets of statistics I've read about in the past few days tend to emphasise the size of the task facing him.
Firstly, there was the one about how four of the five defenders in the league with the worst passing accuracy figures were City players (Morrison, Flint, Nelson and Peltier) and the other one was that City's figure of forty six passing sequences of ten or more in open play for the season is thirteen fewer than any other Championship side.
Yes, I know that City are not a side for passing the ball around at the back and I know they like to get it forward quick, but the evidence of twenty eight games this season also tells you the plain fact that too many of our players cannot pass the ball with the accuracy you would expect from Championship footballers.
The very brief highlights I saw of today's match show that our goal came from a corner and the closest we came to a second one was from a Callum Paterson long throw. Given this and the fact that our more direct second half approach worked to the extent that we equalised and came more into the game, does this mean that to get the best out of this squad you have to play Warnockball or something very close to it?
As for the couple of minutes highlights I've seen, the goal we conceded was another shocker as what looked to me to be a mishit corner was flicked on at the near post to sixteen year old Jude Bellingham who held off Joe Bennett to score. Bellingham could easily have had a second when he was, criminally, left completely unmarked some six yards from goal, only to be denied by what may well have been the save of City's season so far by Alex Smithies.
City's goal came from a Lee Tomlin header from a corner of all things – it was a good one as well as he glanced in a Marlon Pack's delivery to the near post under pressure from the keeper and a couple of defenders.Tomlin hit the bar after that, but this was offset by Birmingham doing the same in a first half the home side totally dominated – in terms of today being a case of one point won or two lost, I'd say it was the former, but we have had more than enough draws for now!
A quick word about Blaenrhondda FC who won 3-0 at Cwm Welfare in the John Owen Cup, while Ton Pentre did not get the chance to continue their recent climb up the Welsh League Division One because their match at Aberbargoed Buds was postponed.