Although it could be said that this blog has recently offered proof of a tendency in these days of instant reactions to talk up a crisis with a football season barely started, I like to think of August as being a month where supporters of most clubs can still feel optimistic.
https://mauveandyellowarmy.net/
Even though your head may be telling you that this may not be your season after all (in fact it could be a bit of a disaster!), the heart tells you there's plenty of time yet for things to be turned around.
Okay, I concede that I would be struggling to see much light at the end of the tunnel if I was a Bolton or Bury fan, but the point is that in August you can still dream the sort of dreams that will be impossible to contemplate in a few weeks time.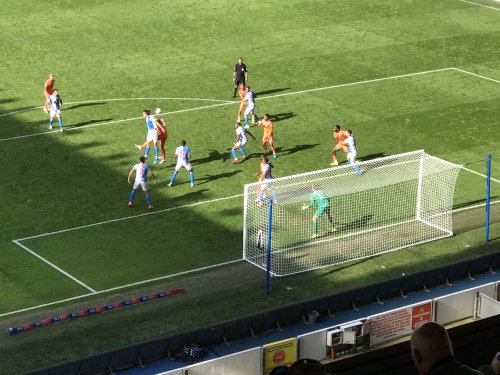 The received wisdom is that it takes ten games for the league tables to sort themselves out. I'm not so sure about that myself, but leaving my opinion on that issue aside for now, I believe supporters are prone to analyse performances in early season looking more for positive signs than negative ones – the little indications that while things might not be great now, they are going to start improving soon. After all, August is a time when people feel good about football in general and their team in particular – they haven't had time to get bored with either of them.
With that in mind, what is one to make of the reaction to Cardiff City's 0-0 draw at Blackburn today? That point gives us seven from five matches with two wins and two defeats leaving us in fifteenth position and, as I sit here typing this about three hours after the match finished, the number of posts about the game on the City messageboard I use is probably the lowest I've ever seen following a first team match – most people are more concerned with Dan James' alleged diving and Manchester United's defeat than Cardiff City it seems.
That isn't meant as a criticism, because I can understand that reaction. After all, I'm really struggling to write much about the game because, rather like a Chinese takeaway meal, I've virtually forgotten everything about it a few hours after I "consumed" it.
Should a goalless draw at an opponent with an identical record to us apart from their slightly better goal difference, be viewed as one of those hints of better days ahead I talked about or is it more evidence to back up a pretty uninspiring first four matches to the campaign? Is it a small step forward from where we were after the game against Huddersfield on Wednesday or is it more proof that fifteenth place is about right for us at the moment?
I honestly believe it's a toss a coin job as to which one of those options is closest to the truth, but, if told I had to come down on one side or the other, I think I would just about opt for the tiny step forward one.
Although I can almost feel myself changing my mind as I type this, I think a first clean sheet of the season after conceding six in our opening two losing away matches has to be seen as a positive and the fact that most observers had us down as the better side is a plus I suppose.
The trouble is though that I, and I suspect many other fans, cannot stop looking at things from a perspective where it could be legitimately argued that, as the relegated side with the most number of points, we could be seen as the strongest team in this division for 19/20 as last season ended.
Yes, I know we lost important players we had on loan and two stalwarts of the team over the past few years left us, but I think it's fair to look at things from a context of us being the eleventh best supported team in the Premier League last season, a side that was better than the team who finished above us for all but the first two and a half months of the campaign and think shouldn't we be doing better than this?
It's that awful word "expectation" again isn't it – I expected better from our first five matches and I certainly expected better in the summer transfer window.
I'm sorry, but it annoys me that, after just five games of the season, our manager is saying the following in his post match press conference today;-
"We've got four tough points from two games so I'm delighted. You look at Leeds and Fulham and you look at a few lads who might pull away and we just have to hang on to their coat-tails." .
So, with less than a month of the season gone, we are already thinking in terms of hanging on to the coat tails of other sides, I just think to myself, what on earth happened to the feelgood factor generated by that win at Old Trafford to finish last season off? I accept the result was meaningless, but we won the game deservedly and there was a definite blueprint there for a potent attack made up entirely of players that people expected to still be with us come the beginning of the new season.
It was interesting listening to Rob Phillips' phone in tonight on Radio Wales, because, again, it seemed that no one really wanted to talk about the Blackburn game, the Cardiff City conversation was all about things like Neil Warnock's legacy, the style of play at Cardiff and the need for some sort of recognisable structure and plan at a club that has given the impression of not having either of those things for almost all of this decade.
Others who listened to the programme may feel differently to me about it, but the impression I got was that the majority of contributors took a gloomy view. The two studio guests Ian Walsh and Jason Perry were united in their opinion that the lack of footballing expertise in the Boardroom at Cardiff meant that replacing Neil Warnock would be something of a lottery and that the club were ill equipped to handle the implementation of the sort of footballing philosophy that is, increasingly, being seen as an essential part of club management these days spreading through to things like recruitment and youth development.
The pair of pundits were in agreement about a possible appointment of Neil Warnock to the Board with responsibility for overseeing such matters in the future as being a bad thing – I believe the term "the worst thing that could happen" was used or words to that effect.
The whole tone of phone in debate and the messageboard reaction I mentioned earlier was downbeat and, for me, this originates from what happened over the summer and has been exacerbated by what's happened on the pitch in the past three weeks.
Although I struggle to understand how any relegation can be viewed in a positive light, I will admit that there was a feeling abroad with many City fans that we had been relegated with honour as people were referring to a view heard in the summer of 2018 that our transfer business was being conducted with a view to having a very strong Championship squad in the event of us being relegated..
Sadly, all of that just seems so much pie in the sky now. I'm not having a go at the two men involved here because I think one of them can be a good signing for the club and the other one deserves credit for working so hard during the summer to reach his best level of fitness since signing for us a couple of years ago. However, if you told me as the final whistle was blowing at Old Trafford three months ago that the two players who would generate most excitement among Cardiff fans in the opening weeks of the 19/20 season would be Marlon Pack and Lee Tomlin, I would have said you were mad – it's stuff like this which I believe explains why there is such a feeling of frustration and anti climax around the club currently.
Anyway, I should talk about the match that took place today. Firstly, it was a surprise to me to see Neil Warnock go for an unchanged side from Wednesday because I felt he wouldn't trust Lee Tomlin in an away game. I'd give some credit to our manager there for a positive selection which came close to working in a game which saw the woodwork hit three times.
Leandro Bacuna was the first of the trio to be foiled by the frame of the goal when his shot from a similar distance to when he missed a good chance on Wednesday got a slight deflection on to the outside of a post. In the second half, Joe Ralls, who I feel is going to be a very important player for us in the coming weeks given the injury to Pack, showed the confidence he has in his shooting at the moment when his low effort from twenty five yards after Josh Murphy's cross following a fine run had been half cleared to him, beat Walton in the home goal and clipped an upright on its way out for a goal kick.
Defender Derrick Williams, who scored late on to deny City a win on their last visit to Ewood Park, almost won it for the home side in the eighty eighth minute with a shot that rapped against the woodwork and bounced out, but this was a rare threat on the City goal in a second half that they generally had the better of.
Apart from that, there was a fine block by Sean Morrison and a good save from Alex Smithies to deny Blackburn in the first half, while Tomlin was foiled by a decent stop by Walton – sub Junior Hoilett also had a couple of chances to win it.
City's Under 18s were also in Lancashire today, but they are still awaiting their first competitive win of the campaign following a 2-1 defeat at Burnley – Keiron Evans equalised for City after they fell behind early on, but a goal in the opening minutes of the second half for the home team proved to be the match winner.
I had intended to watch my first Blaenrhondda match of the season today, but then found out on Twitter that the game was being played on the artificial 3G pitch at Cambrian and Clydach Vale. Apparently, Blaenrhondda will be playing there for the foreseeable future following work to improve the drainage at their home ground in the summer – they did have a lot of home games postponed last season.
I'll get down to Cambrian and Clydach Vale to watch the occasional game, but, judging by today's outcome, Blaenrhondda may still show the strange fallibility at home which dogged them last season – after following up away draws in their first two games with a 5-2 win at Merthyr Saints in midweek, they were beaten 3-2 today by a Caerphilly Athletic team that had lost all of its matches before today.