Saturday lunchtime Cardiff City's Academy were beaten 3-2 at Leckwith by Watford which means that, after starting their season with a win, they have suffered two consecutive defeats (the first of which was a 3-1 loss at Swansea). City's Under 23 Development team were thrashed 5-1 at Swansea in their season opener and then they followed that up with a 2-1 home loss to Bristol City in the only other game they've played. Our Women's team began their season last weekend with a heavy 3-0 loss at Swansea.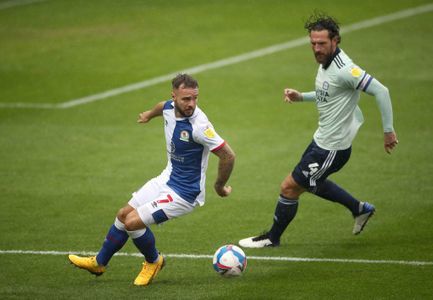 Now, I'd say what happens below first team level at a professional football club is of little consequence to most supporters of a team if the seniors are winning most weeks, but before Neil Harris' side played at free scoring Blackburn this afternoon, their record read won one and lost three if you include the League Cup loss at Northampton.
Therefore, while results at age levels below Under 18 may be brilliant for all I know, the record at Cardiff City in competitive games at the levels that really count if you go by what the club website tends to concentrate on, read played ten, won two and lost eight before the first eleven faced a team which had scored the highest number of goals in their first three matches of the season at second tier level since Middlesbrough managed twelve of them in 1963 (stat courtesy of Radio Wales' radio commentary on the game today!).
Saturday afternoon, Bristol City won at Nottingham Forest to make it four wins from four to start their season while Swansea saw off Millwall by the same score at the Liberty to make it ten points from a possible twelve for them – the jacks have also had those three convincing wins over us at below first team level, so we are very much the poor relations in the local rival stakes as well so far this season.
To add to all of that, the anticipated sale of Callum Paterson to Sheffield Wednesday went through this week and so we've lost a versatile player who was among the squad's most popular players, if not the most popular one, with the club's supporters.
I'm not as disappointed with Paterson's departure as some because it seemed clear he was not going to be getting that many opportunities with Keiffer Moore's arrival and I can see that it made sense in many ways to let him go.
However, what I don't get is why we would let someone who still had two years left on his contract, who was our top scorer in a promotion season, someone who scored winning goals for us in the Premier League, go for what I'd call an almost derisory £500,000 (£425,000 once Hearts have been given their sell on fee cut).
I've had online discussions with supporters who say that I'm being unfair there, they say that once you factor in the player's high wage and the new football financial world brought on by Covid 19, the fee is a reasonable one, but I've twice asked those who say this to come up with comparable examples to Paterson's bargain price during this window and nobody has yet.
Anyway, to get back to the point I've been leading up to from the start, there were all sorts of reasons, despite our very good recent away results in the Championship lately, to fear the worst at Blackburn today – I was definitely expecting another defeat against a side that I'd say were as impressive as any visiting team I saw at Cardiff City Stadium in 19/20.
From what I'd read prior to the match, my opinion was shared by an awful lot of City fans. Indeed, I was surprised to see how many were starting to be critical of Neil Harris, but maybe I shouldn't have been really because he was probably nobody's first choice when Neil Warnock left, apart, it seems, from the Cardiff City Board.
So, I think that even when he was steering us to a record which I believe was the third best in the division over the second half of last season, there was still probably a sizeable number in the fan base for felt our manager was only just managing to keep his head above water despite the good results, particularly post lockdown.
It would be going over the top to say there's been an air of crisis over the club, but I'd say the club's supporters are more restless now than at any time under Neil Harris' management – perhaps the vultures were just beginning to circle?
Therefore, what effect will a 0-0 draw today in a game in which we had to play with ten men from the sixty fifth minute have on the mood around the club?
I'd like to think it would be a positive one, because, for me, this was definitely a good outcome against a team that had the momentum of 5-0 and 4-0 wins behind them going into the game. As someone who would not even be close to contemplating suggesting we might need a change of manager, this was a reminder of what we do have going in our favour in terms of durability and work ethic.
I say all of this mind while being frustrated that I've still only been able to watch one of matches so far – for the other four, I've had to make judgements based on what I've heard from Radio Wales' commentators and summarisers. More often than not, when that has been the case in the past, I've tended to just make observations as opposed to anything in depth and that's what I intend doing here.
The first thing I'll say is that both Rob Phillips and Kevin Ratcliffe sounded very impressed by Keiffer Moore today. Ratcliffe talked of us having got him at a bargain price and believed that he has become a different, much more confident, player in the past year on the back of his goals and performances in a Wales shirt.
It does seem that we have a striker at the top of his game who has goals in him if he gets the right service. I happen to think that Moore's presence in a team does not mean that service needs to be solely high balls into the box, he is good enough with the ball at his feet to fit in with a more ground based offensive approach – witness the lovely little pass he slipped through to Joe Ralls I think it was at Forest.
Of course, at six feet five, it would be daft not to make use of the height advantage he has over most opponents he faces and, to that end, despite what was described as a good display by Junior Hoilett and what some on the messageboards are saying was Seyi Ojo's best performance so far, it did sound to me as if, once again, there were very few crosses into the box from open play for Moore to feed on. Indeed, from what I've heard and seen it would seem to me that Ojo's default action so to speak when he is fed the ball out wide with the chance to run at a defence is to cut inside looking to shoot.
Our two wingers and one big striker approach seems a flawed one when you consider that for a few seasons now we have not given anywhere near enough opportunities for our big man to show his prowess in the air from open play and when you consider that we hardly have a multitude of incisive and imaginative attacking passers to play the number ten type role to offer an alternative to our non crossing wingers, it's little wonder our strikers barely ever end up with ten goals in a season.
For me, City are fortunate to have two tall strikers this season who are better than you might expect with the ball at their feet for someone of their size. The latter stages of last season offered evidence of a better understanding between Lee Tomlin and Robert Glatzel and I'd like to think that the same sort of thing could be seen when Tomlin and Moore get a chance to play together for a while.
Unfortunately, you have to wonder if that is a partnership we're going to see much of this season. A year ago Tomlin was, by his own admission, fitter than he had been for sone time, but, for some reason, was not being picked in the starting eleven by Neil Warnock. When he did get his chance following the change of manager of, he proved himself to be our most effective all round attacking player by a distance, but, even with his better levels of fitness, there were always accommodations made for him because it was considered he was not up to the challenges posed by, say, a fortnight of fixtures that included a couple of midweek games.
Tomlin's season would have ended in February through injury if it had not been extended and a hamstring injury in the closing minutes of the Play Off game at Fulham meant that he was only ready for his first start of the campaign today after having no sort of pre season regime – I know it was hardly a normal pre season, but players who missed out on that training programme traditionally encounter problems in getting up to scratch over the following months after getting over injury and that still has to apply to some extent, especially to someone with a fitness record like Tomlin's.
Now, having finally got the man who is by far our most inventive player into the starting eleven, we are going to have to do without Tomlin for the game at Preston in a fortnight when fixtures resume after the international break.
The second yellow card Tomlin picked up today for what was described as a petty foul committed on the edge of the Blackburn penalty area sounds absolutely pointless and his manager talked about it being something that someone with Tomlin's experience should not be doing.
Referee Darren Bond was described as "abysmal at best" by Neil Harris and I think it's fair to say that the radio commentary team were not impressed by him today, but, to illustrate Tomlin's mistake, nobody was criticising Bond's decision when it came to the second yellow card – the same could not be said of his decision with the first one mind.
Anyway, the point is that, for all sorts of reasons, you cannot bank on Tomlin being available to start in the majority of our matches this season and this in a team that have scored just three times in five games, with two of those coming from corners and the other one from a recycled long throw.
Moore may be a very confident striker at the moment and he has got off to a fast start with those goals in the win at Forest, but if the lack of quality service he is getting from open play continues, how long will he be able to maintain those high confidence levels?
It's been claimed in the media that the word coming from the club is that our first priority is a winger and with Albert Adomah having been released from his Forest contract on Friday, you have to wonder whether he is on his way back to us on a permanent level. Given what I said about the lack of crosses from out wide, you can understand why we might be thinking in terms of another winger, but, surely, it's more important that we get someone who can play an attacking midfield role in more central areas to provide a better alternative to Tomlin than Joe Ralls or Leandro Bacuna?
Just a couple more points, I was distracted at times during the game as I tried to figure out who Kevin Ratcliffe was getting Greg Cunningham confused with. Cunningham came on when the gamble of playing Joe Bennett when he had only returned to training on Thursday after the injury he sustained at Forest failed after only thirteen minutes – Ratcliffe first nominated Ralls as a replacement for the injured left back and then said he'd only ever seen Cunningham play in the middle of the park. Later the former Wales captain talked about Cunningham being a defensive risk and that his strength lie in what he could do in the ball which, on the evidence of what I've seen when Cunningham has played for us is wrong on both counts – try as I might, I could not think who Ratcliffe had in mind when he was talking about Cunningham!
Cunningham promptly passed simple balls straight to an opponent on a couple of occasions within minutes of coming on, and when a couple of his team mates did the same thing soon after, I think Ratcliffe may have had a point when he said that our players may have been confused due to the similarity between our new off white change strip and the blue and white halved Blackburn shirts – if ever there was a game where a third kit was required, surely this was it?
Can I also give a mention to my new book Real Madrid and all that which has been bought out to commemorate the fiftieth anniversary on 10 March next year of our win over the team which can be judged as the best team in Europe based on their record in continent wide club tournaments since they were introduced in the 1950s. The book is more than that though, it's a review of the whole of the momentous 1970/71 season which saw us fighting for promotion to old First division, reaching two Cup Finals and scoring the best goal I've seen us scoring in nearly sixty years of supporting the club – it also contained the most controversial transfer of my Cardiff City supporting life.
Real Madrid and all that is available in e book and paperback formats and can only be purchased from Amazon.
Once again, can I finish by making a request for support from readers by them becoming my Patrons through Patreon. Full details of this scheme and the reasons why I decided to introduce it can be found here, but I should say that the feedback I have got in the past couple of years has indicated a reluctance from some to use Patreon as they prefer to opt for a direct payment to me. If you are interested in becoming a patron and would prefer to make a direct contribution, please contact me at paul.evans8153@hotmail.com or in the Feedback section of the blog and I will send you my bank/PayPal details.
https://mauveandyellowarmy.net/