Paul Evans writes: Of course, the following would look and sound a hundred times more impressive if it had been produced before, rather than after, last night's draw for Cardiff City at Blackburn, but a look at the recent history of games between the two teams would have shown that a final score of 1-1 was something of a banker.
City resumed league fixtures with Blackburn back in 12/13 after a gap on twenty seven years and, with us on the way to the Championship title and Blackburn struggling to cope with relegation and the arrival of foreign ownership which had, like so many before and since, struggled with the task of repeating their business successes in the football marketplace, we enjoyed two big victories over them.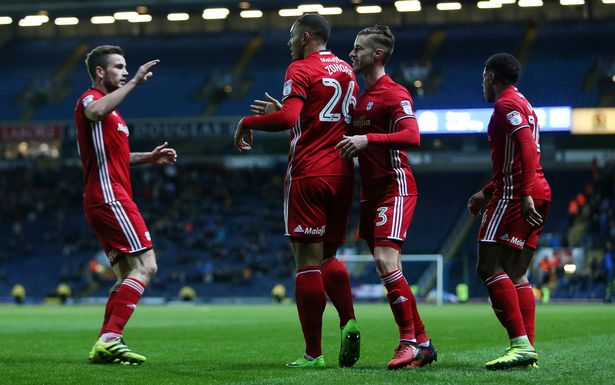 Malky Mackay's side of Champions have come to be regarded as effective, rather than attractive – their wins tended to be by scores of 1-0, 2-0 or 2-1, but we managed to see Blackburn off by an aggregate score of 7-1.
The 4-1 win at Ewood Park in a televised match in December was one of our best displays of that season and we played well in the return fixture on Easter Monday, but my main memory of the second of those games is of how abject Blackburn, who included plenty of players in their side who would have made them a very decent outfit if they had been there two years earlier in their careers, were.
Blackburn looked like a side that was heading for successive relegations that day, but they survived and were our first opponents on our return to this level some sixteen months after we had last played them – contests between the two sides since then have been far tighter affairs.
I say matches have been tight between the sides, but this is despite us being able to score against Blackburn in the first five games we played against them since our relegation. However, the only time we've been able to turn one goal into a second one during this time was when a Rovers player gave us a huge helping hand with a couple of own goals back in August.
When you also consider that we've only managed one clean sheet in those five matches (when Joe Mason's last goal for the club was enough to secure a win in December 2015) and yet have not lost any of them, you begin to see why 1-1 was such a nap last night.
So, one goal is certainly our norm recently against Blackburn and the fact that, despite this, they have not been able to beat us is impressive in a way I suppose, but, when you consider that we have scored first in every one of those five matches, it has to be a big disappointment that we have only gone on to win two of them.
So, when Kenneth Zohore scored the latest in what is becoming a catalogue of impressive goals this season (this one was not as spectacular as some have been, but, in it's way, was just as impressive for what it told us about his development in the last three months), our poor record this season when it comes to keeping clean sheets in away matches and the precedent of our last five matches against Blackburn should have led to thoughts that it was unlikely that we would hold onto our lead until the final whistle.
It's uncanny how similar the four matches which have finished 1-1 in the last six encounters between the sides have been. In fact, having watched that first game back at this level on the opening day of the 14/15 season on Sky, saw a video of the draw at Ewood Park last season and then listened to the one last night, it seems every match up there for us these days follows the same pattern – we start the better, score a first half goal and then spend the rest of the game trying to cling on to that lead in the face of Blackburn pressure which gets more intense with every passing minute.
Back in 2014/15, Blackburn were able to equalise a lot sooner than they normally do, but the way we were completely outplayed in the middle of the park in the second half was an early indicator of how that season would turn out for us. The return match that season saw us play much better than we had been going into the game and when we went ahead in the eighty fifth minute, it looked like we could achieve what was a rare win in those days, but, Blackburn, and Rudy Gestede in particular, thought differently and this time the equaliser came in added time.
Blackburn probably deserved their draw that night, they certainly merited at least a point in the two previous draws at Ewood Park I've watched and it definitely sounded like they did last night by the end of the game. Therefore, I'd argue that, generally speaking, the six matches played between the teams over the past three seasons are a pretty accurate reflection of where we stand now, with us coping a little better than Blackburn have done with a very damaging relegation – our slightly better squad is reflected in the two narrow home wins we've gained over them, but the four draws mark them down as stubborn opponents who we have real trouble shaking off.
With two 1-0 home wins already within the past week, Blackburn have been enjoying a "new manager bounce" under Tony Mowbray which is leading to a reassessment on the part of many who had previously favoured them for one of the relegation places.
Given the fact that they had seven points from three matches under Mowbray going into last night's game and had given Manchester United a fright in the Fifth Round FA Cup tie at Ewood Park recently, there had definitely been better times than last night to visit Blackburn this season, so, overall, a point which inches us that little bit closer to the fifty point mark has to be viewed as a decent return.
This becomes even more the case when you factor in Matt Connolly and Aron Gunnarsson dropping out of the team from Saturday resulting in us only being able to have six substitutes (including Mark Harris, who has not played any Championship football yet and recent signing Ibrahim Meite for the first time).
Judging by what Neil Warnock had to say after the game, Joe Bennett helped make sure Connolly wasn't missed too much as he did well on his return to first team action after a recent injury absence and, with Jazz Richards impressing in his more normal right back position, the manager sounded happy enough with his back four.
Warnock also said that Greg Halford had his best game since signing for us and that the two other midfield players "did well", but, listening to it on the radio and reading the comments of one or two who were there watching, it didn't half sound as if we missed Gunnarsson as the game went on.
There was some online stick aimed at Peter Whittingham, but, in his defence, I would say that a thirty two year old who had not played any football for over a month (he was an unused sub in our previous five games) would nearly always struggle when thrown back into the hurly-burly of Championship football, especially a touch player like Whitts – overall though, it seems to me that last night did nothing to dispel a growing feeling that, in the coming weeks, we may be seeing the final stages of a great Cardiff career.
A week or so ago, Neil Warnock talked about how he likes wingers. Having been one himself, he probably knows better than most how they have the onus put on them for so much of a team's creative play. He gave the impression that he would never be too harsh on a winger for trying, and failing, in an attempt to improve one of his team's attacking options.
However, he showed last night that he is less forgiving when it comes to what he sees as defensive lapses by his wingers. Declan John, used exclusively as a winger in his first team outings since our manager arrived, was taken to task for not blocking the cross which led to Blackburn's equaliser, while Craig Noone was said to have not done enough to prevent Derrick Williams' goal.
If, as expected, we reach a position where we are safe from the drop fairly soon, then, increasingly, it looks like our manager will use the rest of the season to assess some of the fringe and younger players he has at his disposal – in some cases, it may well be that they will be playing for their Cardiff careers. Therefore, to be publicly singled out for criticism like two of those fringe members were last night, may have an ominous ring to it, because it seems to me that there is going to have to be a lot of players leaving this summer if the club are going to be able to provide Warnock with the finances he wants for those three or four newcomers he talks about.
I say this in the light of the contents of the club accounts for the year ending 31/5/16 which were recently filed at Companies House. Keith Morgan, the Chairman of the City Supporters' Trust, is eminently more qualified than I am to be able to analyse such things and so anyone wanting to read his breakdown on the newest set of figures should click on this link to the Trust website.
What I would say though is that the loss recorded is quite a bit bigger than I was expecting and, given the general tone of the accounts and what Keith says about them, I believe anyone who thinks that we are going to see Vincent Tan authorising spending of the type we saw before our promotion season is kidding themselves.
Neil Warnock has already talked of "having to do his bit" when it comes to wages if he is to get that £5 or £6 million which he feels can turn us into promotion contenders and, while some clubs in this league seem to be happy to flout the FFP regulations as they gamble on achieving the promotion which would pay for any fine they might receive many times over, all of the signs are that City aren't one of them.
It, surely, has to follow then that the large majority, if not all, of that £5 or £6 million will have to come from wages saved or movements out of the current squad of players we have.
So, it would appear that the future could look bleak at Cardiff for any of the players who Warnock has allowed to go out on loan, these are men of whom the manager said he "weren't considering" and "that doesn't worry me really".
However, I would hope that some thought would be given to retaining at least three of the current loanees. Semi Ajayi's contract is up this summer and with Rotherham already talking about trying to sign him permanently, he shouldn't have a problem finding a new club if City do decide to let him go. However, Rotherham's Paul Warne always talks about Ajayi in glowing terms and so he seems to be proving himself at Championship level under very tough circumstances – I suppose much depends on whether Bruno Manga leaves or not (I still think he will), but giving Ajayi a new contract on wages that wouldn't be too big instead of bringing someone else in could well be the cheaper option.
The situation is different with Emyr Huws because he still has plenty of time left on his contract. I must say, I was pretty disappointed with Huws when I watched him play for Ipswich in the recent East Anglia derby at Carrow Road because he looked a lot like the diffident, peripheral figure he was when finally given his chance in the Fulham FA Cup tie to me.
Even so, there were two or three flashes of quality from him and a couple of goals and two or three man of the match awards from the local media offer all of the proof you need that he is playing a lot better for Ipswich than he was here – Mick McCarthy is already talking about wanting to extend Huws' stay at the Suffolk club.
Having watched Huws play so well for his country on occasions, I think all concerned at Cardiff (not least the player himself) should feel guilty about such a talent contributing so little at a club where you would have thought his Wales prospects would be enhanced. The suspicion lingers that supporters are not aware of the full situation when it comes to Emyr Huws and Cardiff City, but, if there isn't something going on behind the scenes which means that it will never work out for the player here, then it seems daft to sell, or further loan out, someone with so much potential when we are unlikely to get anything like we paid for him – signing someone who was better than Huws could use up a large portion of that few millions pounds Warnock wants this summer.
Apparently Matt Kennedy has been wowing the fans at Plymouth and he has three goals to his name already, but the Devon club have now lost three of their last four at Home Park and have only won once in their last six matches. Kennedy might be one of those players (and I think there are a few like this who play in his position) who is a crowd pleaser, but teams he is in tend to suffer a deterioration in results.
On balance, with him contracted until the end of next season, I'd hope City would either see what happens with him for another year or loan him out again next season with a view to giving him another deal, because there is definitely a lot of talent there. However, if I had to guess, I would say all three of Ajiyi, Huws and Kennedy will be playing elsewhere next season.
Anyway, back to our current position to finish. Successive home games against mid table opposition offers the hope, and expectation, that we will be at, or beyond, the fifty point mark when we go into the final international break of the season – maybe we'll then get to see how some of those who played so well for the Development team on Monday fare when given a first team chance in the coming month or two.