Since we got relegated we've had one game a season where the wheels have spectacularly come off for the team. In 19/20 it was the New Year's Day 6-1 massacre at Queens Park Rangers, where they were six up after about an hour and then took pity on us and then last April there was the 5-0 hammering at Hillsborough by a Sheffield Wednesday side destined to finish bottom of the league – a look at Wednesday's record for last season shows you it was a result they never came remotely close to repeating against anyone else.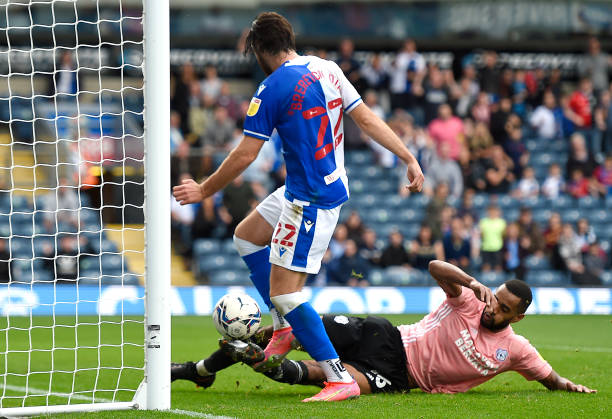 Despite this, it was no fluke win by Wednesday, they were three up in no time and had done all of their scoring by around the hour mark – they were five goals better than us, perhaps more.
However, the most pertinent thing was that those defeats were very much one offs in those seasons – last season for example, our next worst defeat was 0-2. One horror show a season is not enough for a team to lose the reputation they've gained for being good defensively, it's when it's backed up by two or three other big losses that this happens.
So, a casual observer of Cardiff City in recent years may well think that being routed 5-1 at Elwood Park today by Blackburn Rovers is nothing to get too concerned about, it's completely untypical of the team and they'll come through it to end up in their usual fifth to tenth finishing spot.
If you're reading this, then I doubt it very much if you fall into the casual observer category and you'll know better than that – what had been a pretty concerning start to the campaign has got a lot worse and it seems daft now to think that we could have gone top of the league if we had beaten the wurzels four weeks ago today!
The QPR loss happened about halfway through 19/20 and there was little left of 20/21 when we played at Hillsborough, the difference this time is that we've not even played ten games yet – we're defending badly enough for similar such thumpings in the coming weeks and months.
There was so much wrong with today's performance, but, clearly, when a team concedes a lot goals, it's the defence that will come under the closest scrutiny and, although this is going to sound a bit like being wise after the event, I wasn't that surprised to see us look so shaky.
While the goals against record before today may not suggest it, we've been poor at the back this season – there's been one clean sheet kept in eleven matches in all competitions and many of the goals we've given away have seen at least one of our three "untouchables" of Morrison, Nelson and Flint at fault somewhere along the line, yet our manager was saying they've been "excellent" at yesterday's media briefing!
I think it's fair to say that, whatever one thought of his appointment at the time, many City fans admitted to liking Mick McCarthy because he was straight when asked a question, his answers were honest and right from the heart. Having seen his media style closer up now for almost nine months, I'd say our manager is a little less straightforward than he first appears.
Yes, you'll get the honesty when he is critical of his team and you very rarely hear him blaming officials – if there is any of the latter, he'll often add to it something along the lines of "but that doesn't excuse what we got wrong". That's the sort of stuff that will make the headlines from a McCarthy media appearance and it all adds to the public perception of the man, but there's also a lot of very bland manager speak in there as well, hence the my three central defenders have been excellent baloney we got yesterday.
Was that our manager being the blunt, plain speaking Yorkshireman that is the bedrock of how he is thought of? Hardly, but I wonder if he feels the same way about the trio concerned tonight!
Actually, I thought we started quite well today with Morrison having a header cleared off the line as we enjoyed a measure of midfield control, but once the Blackburn plan became more apparent (to draw us on to them and hit us on the break) our domination of the ball (the BBC stats showed us having sixty one per cent possession) became more understandable.
Blackburn are not the first team to be happy for us to have possession of the ball as long as it doesn't lead to us having too many set pieces opportunities because, although we passed it fairly well by our standards today, there was little sign that we had the guile to create anything in open play.
This goes to the heart of my continuous, and monotonous, criticism of City – we lack creativity and do not pass the ball well enough.
However that is to ignore something else that is central to why we are something of a basket case of a team currently. As soon as Blackburn began to bear their teeth, it became clear that, just as at Coventry, we couldn't live with our opponent's pace. So, we were losing sprints to Blackburn players all over the place, but they were also making our movement of the ball look ponderous.
Our lack of pace had something to do with shocking goals of a similar nature that we conceded at Peterborough and Coventry, but it couldn't be blamed too much for the first one we conceded today. True, the fact that Marlon Pack and Will Vaulks were nowhere near home midfielder John Buckley as he played a fairly straightforward pass forward to Sam Gallagher was partially down to a lack of pace in midfield, but when you've got three central defenders covering the sort of area Buckley's pass was aimed at, it shouldn't have been too much of a problem.
Now, Mick McCarthy maintained after the game that Gallagher was offside – that thought never entered my mind as I watched the horror unfold or, as far as I'm aware, those of the two commentators I was listening to, but even if our manager is right, that's no excuse for Flint being no way to be seen as Gallagher waltzed through a yawning gap between Nelson and Morrison and shot beyond Dillon Phillips – it was abysmal defending.
Blackburn had the bit between their teeth now and we endured a very tough second quarter of the game which saw us concede two more.
Before that though, rugged Blackburn centreback Daniel Ayala (I often wonder why he never ended up with us for some of his career, he seems such a natural for us, but there's still time I suppose) headed a corner on to a post, before Blackburn's pace did for us again a few minutes later. Tyrhys Dolan skinned the lumbering Flint (for what it's worth I think he was our best central defender today, but, given the competition, it's hardly a compliment) out on Blackburn's right, Nelson was drawn out to meet Dolan, but was helpless to stop a cross that reached Chilean international striker via Nottingham, Ben Brereton-Diaz who volleyed in with no defender near him.
City looked like they would stumble their way to the dressing room at half time only two goals down, but there was a third one to come for which the word "farcical could have been invented. City were by now in a state of panic every time a Blackburn player ran at them, but the isolated Brereton-Diaz had few options as he started off down Blackburn's left about thirty five yards from goal and flicked a poor pass which should have meant that the danger was over, but Vaulks and Morrison played an inadvertent and, admittedly, unlucky one two between them which left the striker bearing down on goal once he had burst clear of Morrison's half hearted challenge. The comedy was far from over though, as Brereton-Diaz slipped and was only able to poke a half hit trundling effort at the frantically onrushing Phillips who went to ground in an uncontrolled manner which left him unable to deal with the dribbler of a shot that was coming at him. The ball rolled towards the empty net, but there was nothing the keeper could do about it now and it was left to Nelson to just about keep it out, only for the clearance to hit Brereton-Diaz and roll in from point blank range.
This was the latest in a small number of goals I've laughed at despite the fact they were scored against us – it was either that or cry.
For the second consecutive away game, Mick McCarthy made a couple of half time changes with Mark Harris and the returning Ryan Giles coming on for Perry Ng and Vaulks (the first named could feel somewhat aggrieved at his withdrawal, the second named, less so).
Although I still can't quite figure out what formation we were playing, the changes did lead to some improvement after the break. For a start, Giles' presence on the pitch ensured our strikers had some good crosses to work off and Harris brought about home keeper Thomas Kaminski's best save of the match with a header from one of them, while Morrison glanced in a Giles corner.(it had to be a set piece of course) to record yet another second half goal.
By then though, we were four down as Gallagher outjumped an isolated Joel Bagan to nod across to Dolan who burst forward in a way a City midfielder never does, to beat Phillips.
The scoring was completed when more panicky defending led to a succession of loose balls being lost before Phillips came charging out brainlessly to bring down sub Khadra for a clear, yet unnecessary, penalty which Bremerton-Diaz put away to complete his hat trick.
Although there will probably be some who are critical of the younger players in the team, it's men like Phillips, all of the back three, Vaulks and, to a lesser extent, Pack who should be criticised first and longest. It's tough enough for young players trying to deal with the step up into senior football, but it's doubly so when they are getting so little help from their elders and, alleged, betters.
Just a quick few words on Blackburn, they were good today and have made a promising start despite the loss of an unreplaced, in the transfer market at least, twenty plus goals a season striker. Despite this, I hear manager Tony Mowbray is not too popular with their fans. Earlier on, I said that Daniel Ayala seemed a natural fit for us and, at first glance, Mowbray would appear to be as well when it comes to the manager's job. After all, he was a no nonsense centre half as a player and he has enjoyed success at this level in the past, but, if you look a bit closer, Mowbray teams have tended to be attack minded, easy on the eye with more than a fair sprinkling of star quality – clearly, that's always been too much of a stumbling block to be overcome as far as City's hierarchy are concerned.
At this point, I'd like to thank Jason Perry for something he said on Rob Phillips' phone in tonight. I like Ewan Robert's, but he, like a few in the media, has this notion that City fans are happy to put up with the boring, one dimensional dross we've had to watch for so long.
Just because there is no Swansea style "it's our way or you're out" attitude among City fans, that makes a few in the media believe that we have to put up with what we're given so to speak, but Jason was very quick to point out the attitude of most supporters towards the likes of Kav, Steve McPhail, Jason Koumas and Whitts as proof that they enjoy and appreciate good, skillful, footballers and football..
I think Perry is right when he says City fans like a high tempo, pressing game which includes a decent level of quality football, but that's an awful long way from what we've been getting for at least three years.
Whatever the truth, the way I feel tonight, City can get along without me on Tuesday, I've bought my season ticket, they've got my money and, based on the attitude of those who make the decisions at the club in recent months, that's all they're interested in.
For myself, City don't seem worth making the effort for these days – crap football and a changed sense of priorities brought about by 150,000 of your fellow country men and women dying in a pandemic have seen to that.
Finally, the Under 18s were in action at Colchester this lunchtime in their first game since their 7-1 loss at Wigan. They had a tough time of things defensively again, falling 1-0 and then 3-1 behind, but goals from James Crole, Caleb Hughes and sub Rhys Schwank ensured that at least they made the long journey home with a point.
http://mauveandyellowarmy.net/