From nowhere, Erol Bulut came up with a three at the back formation featuring a full back and a central midfielder which worked like a dream as a shadow side really impressed in winning their Second Round League Cup tie at Birmingham by 3-1.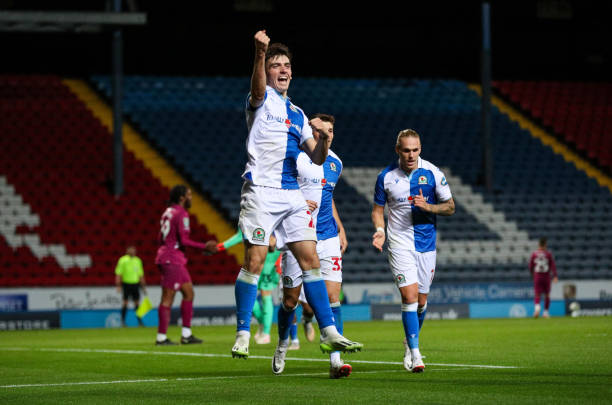 It wasn't surprising therefore to see a repeat tonight at Blackburn in Round Three, but this time it ended up like many would have feared when they saw the team and formation for the Birmingham match – a 5-2 loss which, by the sound of the commentary I listened to (no pictures still in League Cup games this season) sounded like a fair reflection of the differences between the teams as City gave as good as they got in a very exciting sounding first half which ended 2-2 before Blackburn, who've now scored seventeen goals in their three games in the competition, ran away with things after half time.
The City team was, if anything, even more experimental than the one which faced Birmingham as Erol Bulut made eleven changes from Sunday's win at Sunderland. Alex Runnarsson was in goal, Ebou Adams and Mahlon Romeo were in the back three again with Jonathan Panzo making a first start since signing on loan from Forest. At wing back were Ollie Tanner and Keiron Evans, Romaine Sawyers captained the team and had Andy Rinomhota alongside him in central midfield and Callum Robinson and Rubin Colwill were on the flanks just behind attack leader Kion Etete.
It was on the bench though that City really emphasised the experimental theme. Vontae Campbell was the most experienced player of the nine subs, with only Joel Colwill and Cian Ashford having tasted first team action out of the remaking eight. If goalkeeper Matthew Turner, new signing for the under 21 side from Spurs, Malachi Fagan-Walcott (he's a centreback), defender Luey Giles, left sided player Josh Beecher, strikerJames Crole and attacking midfielder Cody Twose came on, it would be for their senior debuts,
In the event, Beecher and Crole got their chance and they were joined by the younger Colwill and Ashford who had featured in the earlier rounds of the competition.
I've not seen the fifth goal (Sky Sports News showed the other six), but three of Blackburn's first four goals were gifts from a City defence that sounded distinctly creaky all night. Despite giving away a penalty, it sounded like Ebou Adams was the best of the bck three and maybe he has done enough to convince Bulut that he can be used there in the league if injury or suspension cause two out of McGuinness, Goutas and Panzo to miss out.
City had threatened once or twice before the home side took the lead on thirteen minutes as a straightforward looking ball played from the halfway line sent Jake Garrett racing through and he was easily able to beat Runnarsson from just inside the penalty area,
City were level within five minutes with a fine goal as some lovely footwork by the elder Colwill set up Robinson who drilled a low shot into the corner of the net from twenty five yards.
It was heartening to hear that it was three young players with time to develop further were at the heart of most of the good things City did in the first period as Colwill, Tanner and Etete sounded like they were making a case for inclusion against Rotherham on Saturday.
Another young attacker seemed to be finding it hard going in his unfamiliar left wing back role and Blackburn exploited a gap where Evans should have been to score an easy second after Sawyers had lost the ball cheaply – Andrew Moran got to the bye line and pulled a low cross back for Arnor Sigurdsson to side foot in.
That effort looked like sending City in at half time a goal down, but Etete receiving a pass from Sawyers flicked the ball up a couple of times to tee himself up for a shot into the net from about fifteen yards – another very good City goal which means that Etete has already beaten the figure of three goals he scored last season.
The game was beautifully poised at halftime, but a sleepy start to the second period saw two goals conceded in the first nine minutes to effectively end the game as a contest. It certainly sounded like Panzo was looking as rusty as you might expect someone who has played so little football so far this season to do and he was culpable as he gave the ball away twenty yards from goal to leave Moran with a clear run in on Runnarsson and he scored easily.
Four minutes later, Moran was brought down by Adams for what sounded like a penalty which didn't need multiple views by VAR to convince the authorities as to its validity. Runnarsson, diving to his right saved his fellow country man Sigurdsson's penalty, but the respite was temporary as the resultant corner was half cleared to Moran who was given time to shoot past a goalkeeper who, with eight conceded in the two games he's played so far, has every reason to wonder about some of the defending in front of him at Ipswich and now Blackburn.
The seventeen year old Beecher was brought on for the last half an hour (the youngest City player to make a first team debut since Adam Matthews nearly fifteen years ago?) and it was a mixture of defensive fallibility and attacking quality from him it seems- it sounded like he was at fault with the fifth goal as Markanday steered in a Moran cross, but also knocked over two or three very nice looking crosses.
Crole also got half an hour and came as close as anyone in maroon/plum in the second half with a shot from twenty yards o to the top of the Blackburn net, while Ashford and Colwill junior played for the last fifteen minutes or so.
So, it's five conceded on two of our last three visits to Elwood Park and we go there again next month -with their scoring record in this competition and twelve scored in the league so far, Blackburn are finding goals easy to come by this season, so we're going to need something a lot better from our defence if we are to avoid another disappointment there in a few weeks time.
On Tuesday, the under 21s (actually, the team selected was almost completely, an under 18 one) were beaten 1-0 at Leckwith by a Millwall side which have yet to lose so far this season.
The most influential moment in the game came after around a quarter of an hour when Alyas Debono, a first year scholar, was sent off for a lunging tackle after the ball had got away from him around the halfway line. It was probably the right decision if you go by the way the game is being refereed at Premier and EFL levels these days, but it seemed a harsh call by a ref who didn't impress me much and only showed a yellow card to a visiting player for a foul which looked no better than Debono's.
Once it became eleven against ten, City were reduced to trying to get to the half time interval without conceding, it was a little like the first team's game at Sunderland with the difference being that he under 18s conceded when Leahy glanced in a header around the thirty five minute mark.
However, City came out with a much more positive outlook after the break and spent most of the second half on he front foot.
In the eighty ninth minute, it looked like City had got a deserved reward for their second half efforts when Tanatswa Nyakuwha was hauled down in the penalty area. It was a nice piece of play from Nyakuwha to win the penalty and he stepped forward to take the spot kick. The problem was that for the fifteen minutes or so before the penalty incident, Nyakuwha had looked out on his feet to me and so it was that much of a shock to see the spot kick saved by Millwall goalkeeper Wady as Fin Johnson stabbed the rebound from the save just wide.
A really good effort in the end by a very young City team (possibly the youngest one we've fielded at this level), but particularly worthy of praise for me was Kyle Kenniford in midfield and another first year scholar in Dakarai Mafico playing at left back which I understand was an unfamiliar position for him.