Believe it or believe it not, a Mauve and Yellow Army Board meeting was held on Wednesday after the League Cup win over Sutton where it was unanimously agreed that I should try and be a bit more positive about Cardiff City or, to be more accurate, stop being so fixated on our style of play.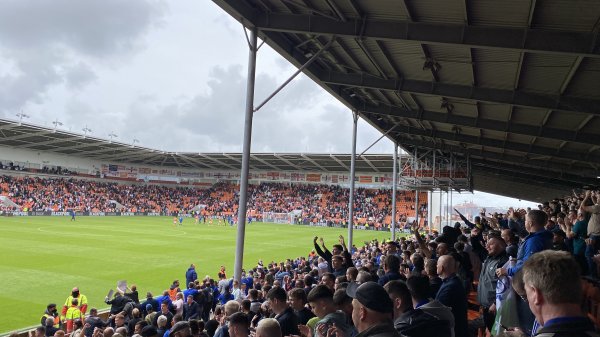 How long this will last, I don't know. I'll try to concentrate on the positive elements of our game, because they are there, but I know that when we pass the ball poorly, it's like a red rag to a bull with me, so I'm not expecting this new approach to last months or even weeks, but the good thing is that I can promise that I'll not be having a moan today.
With no success in my search for a working stream of today's match at Blackpool, I was forced to listen to it on Radio Wales just as I had been on Tuesday against Sutton and so, as I said after that game, I couldn't really make something like our style of play an issue when I'd not watched the action yet.
Down the years, I've written on here about plenty of matches that, at the time of writing about them, I only had a radio commentary to go on. Therefore, I've always tried not to be too judgmental about such matches, concentrating on general impressions I'd got, rather than specifics.
However, sometimes it's impossible not to have more than those general impressions I allude to. For example, it would have been impossible not to deduce that we were struggling in the first half on Tuesday, the almost complete lack of things to get positive about following Sutton's very early goal made sure of that.
By the same token, it became clearer and clearer as the first quarter of the match at Bloomfield Road went by that we were playing well and this was translating itself into chances, with the only real concern being that we weren't taking them.
What sounded like total dominance by City at times came as a surprise to me, because I was expecting a much more equal encounter based on what I saw of Blackpool in the Play Offs last season and their start this time around that had seen them pick up a useful point from a 1-1 draw at Bristol City and comfortably see off Middlesbrough 3-0 in the League Cup (we all know about Neil Warnock's approach to cup games mind don't we!).
Those results suggested that Blackpool had enjoyed the early season bounce that so many promoted sides benefit from and my prediction pre game would have been for another 1-1 draw, not the comfortable 2-0 win it turned out to be.
With Ciaron Brown and Mark McGuiness hit by injuries that are expected to keep them out for a few weeks and Sean Morrison, understandably, struggling somewhat following his reduced pre season and late introduction into our warm up programme, I wonder if either going with a back four or moving Marlon Pack into the back three was seriously considered by Mick McCarthy before the game?
If those options were contemplated by our manager, they were soon shelved as he opted for the safer, and more sensible, one of restoring the skipper to the starting line up for the first time in a league match this season in the only change from the team which started against Barnsley.
Sometime during the afternoon, the commentator remarked on how much trouble Blackpool had in dealing with our long throw ins. Again, this had been coming over loud and clear before he made his comment. Indeed, I found myself wondering if we'd ever had such success from this source before because it seemed that every time we tried one, we'd get the first touch and it would be panic stations in the Blackpool back line.
That in itself was a surprise, but it was more so because it was Marlon Pack sending the throws in. For me, in a squad full of long throw practitioners, Will Vaulks is definitely the best one we have with his quicker, flatter deliveries which are quite like corners or free kicks for defences to face as opposed to the slower, more loopy, ones from, say, Morrison and Pack.
Here though, Blackpool had terrible trouble coping with what Pack was producing and this was one of a few small clues which just have me wondering if I was wrong in my pre match opinion of our opponents and, perhaps, enthusiasm for our win should be tempered somewhat by a suspicion that we may have been facing a team destined for a real struggle this season.
Returning to the long throws, they've always had something of an image problem in a way because they're considered to be a symptom of boring, set piece orientated football, but, despite my criticisms about our style, I've never really had an issue with us placing an emphasis on attacking set pieces, because, let's face it, we're good at them and it seems daft not to use this to our advantage.
The very first long throw we tried, Morrison flicked on to Aden Flint who forced Welsh goalkeeper Chris Maxwell into the first of a number of saves he had to make and he was in action again soon after when a combination of a neat James Collins pass and a mistake by one of the home centre backs sent Ryan Giles in on goal, but Maxwell got down well to turn the resultant shot aside.
Before a quarter of an hour had been played, we came closer still when Blackpool struggled with another set piece and the ball was presented to Flint who hooked a very well struck shot against the crossbar from eight yards out.
A wrongly raised offside flag according to the radio meant that another good save by Maxwell to deny Leandro Bacuna counted for nothing, but when Giles delivered his first high quality cross of the afternoon from a free kick, Flint met it beyond the far post and his header was just missed by Morrison and spooned over from a couple of yards by Collins, denying him the goal that it seems his performance deserved.
By now of course, the feeling that it was going to be "one of those afternoons" for City was setting in and Jerry Yates wasn't too far away from scoring the goal that somehow seems Inevitable in such circumstances just before the break.
City were less dominant in the second half and yet they scored their goals then. The first came around the same time Marlon Pack put us ahead against Barnsley last weekend and, again, it was a header from a set piece. Given the way the game went, it was no surprise that this one came from a throw in, not a corner as Morrison's near post header was met by Bacuna who scored via the post from point blank range.
This goal sets Bacuna up nicely to better the likely tally for a full season i predicted last week (think it was four or five) and there were insinuations on Rob Phillips' phone in after the match that those City fans (like me) who don't see him as an attacking midfielder have been proved wrong.
I think that it's much too early for such talk, but what I will say is that I can see the sense in, as expressed by Jason Perry after the match, having Bacuna as someone who can use his mobility to almost fulfil a dual role as a central midfielder and support man for the striker in away games, but still feel you need someone who is more of a natural in forward positions to be one of a front three in home games. I say this especially as Giles, who is proving himself a very useful addition in other respects, is another one with a poor games per goal ratio (five in seventy three career league appearances) and so it could be argued that we have taken the field with just one specialist attacking player in our first two league matches – not so much of an issue away from home perhaps, but in games at Cardiff City Stadium?
Blackpool eventually got their attacking game together somewhat and Dillon Phillips, selected against despite Alex Smithies having a good game against Sutton, made a fine save to keep out a long distance effort by Grant Ward which was made better by the fact the shot got a slight deflection and an easier one from Yates.
Maybe the closest Blackpool came to an equaliser was four minutes from time when referee Andy Woolmer denied strong home claims for a penalty after Flint appeared to block Callum Connolly's shot with his arm and what made it worse was that City went straight down the pitch and scored the goal which made the points safe.
All of a sudden, after a superb. long, crossfield pass by sub Will Vaulks, on for Joe Ralls, City had a three on two chance of the type you always think should be taken, but rarely is and it's a great credit to them that they were able to take the opportunity so efficiently as Giles dinked a precise cross in which was headed in emphatically by sub Keiffer Moore, replacing Collins, from ten yards out.
James Husbands hit an upright very late on, but City were home and hosed by then and find themselves third in a table which shows that not one of the twenty four Championship teams will have won their opening two fixtures in this most competitive of divisions – although it should be said it was a better weekend for the more fancied sides (Sheffield United were poor again in a boring 0-0 draw at Swansea mind), than the last one was.
Today's win was most welcome and encouraging, but our next two matches will tell us a lot. Bloomfield Road is thought of as a bogey ground by many City fans, but the truth is we've now lost only one of our last seven matches there, so I'd say that it used to be a bogey ground.
Now, if you're talking about bogey grounds, then London Road, Peterborough, where we go on Tuesday, is a proper one – it's not really the case, but it feels like we have to go 4-0 up there just to get a draw!
Following that, we have our annual Cardiff City Stadium draw with Millwall (both of their matches so far have finished 1-1), so we'll have to defy history if we want to extend a two match winning run to four.
Finally with the football, the Under 18s had an eventful first competitive match of the season today at Hull, but for all of the wrong reasons – ahead 2-0 after eighty four minutes thanks to goals by Morgan Wigley and Caleb Hughes, they ended up losing 3-2!
It's the time of year again when I ask readers of Mauve and Yellow Army to make a contribution towards its running costs. Before I go into detail about this, I should, once again, offer my sincere thanks to all of you who have helped ensure the future of the blog over the past three years through a mixture of monthly payments via Patreon, monthly Standing Orders into my bank account and once a year payments via bank transfer, PayPal, cheque and cash.
The first time I made this request for assistance, it was prompted by a need for funds to pay for three yearly web hosting costs which, frankly, I was in no position to meet following my move of house a few months earlier. However, I'm pleased to say that, this time around, the web hosting bill was settled back in June with none of the problems there were back in 2018.
Therefore, any monies received this year will go towards other running costs and, although it's too early yet to make any formal commitments despite so many of the pandemic restrictions in Wales being lifted recently, I am minded to do another review of a season from the past book to follow on from "Real Madrid and all that" which looked back on the 1970/71 campaign. At the moment 1975/76, the first promotion season I experienced, looks to be favourite for the book treatment, which would mean a lot more trips back and forth to Cardiff than my finances have become used to over the past year and a half – hopefully, the majority of them will not have to be made via Radyr Cheyne!
As always, the blog will still be free to read for anyone who chooses not to make a donation towards its running costs and, apart from the one in the top right hand corner which is to do with Google Ads, you will never have to bother about installing an ad blocker to read this site because there will never be any.
Finally, as mentioned earlier, donations can be made through Patreon, PayPal, by bank transfer, cheque, Standing Order/Direct Debit and cash, e-mail me at paul.evans8153@hotmail.com for further payment details.