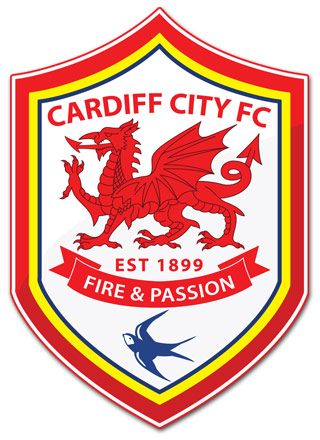 If someone points me to links of the pro red blogs I'll link them as well but over the past week we've seen some very compelling pro blue writing hit the internet.
Quite simply the footballing world has reacted with disbelief at the plans to turn Cardiff City red. I was away over the weekend and twice, while I wore a shirt with 'Bluebirds' on it, I was mocked and had to take chants of 'redbirds, redbirds' to the echoes of much laughter. We are a topic of ridicule.
The following articles have appeared on the net in the last 7 days.
Wednesday June 6th 2012, The day my football club died..
Today as a football fan who has spent probably thousands following my club home and away, I received what feels like the final kick in the teeth from the business that is Modern Football. If leaving our great historic Ninian Park, with all it's atmosphere, intimidation and history wasn't enough. If the new all-seater soulless bowl they now play in, not unlike any other sterile "football" stadium wasn't enough. If the jobsworth stewards who demand we sit down, arms folded and not have any fun watching football wasn't enough.. then today truly is, enough. At 9am this morning, despite promises from our owners that our history and tradition would remain, Cardiff City Football Club, my beloved Bluebirds, were rebranded. Replacing our bluebird with a red dragon, desecrating our famous blue kit, and replacing it with a red one, and why did they do this?
Read more..
Take it as red . . . Cardiff's Malaysian owners don't know what they're doing
One of my daughters has recently reached the age of three-and-a-half. As parents among you know, this is the age where children begin — fairly arbitrarily — to assign values and character attributes to colours.
For example: pink is good because of princesses. Blue is rubbish because boys like it. Orange is okay because although it seems a little close to red — a colour, again, for boys — it is at least in the rainbow.
This is faintly interesting, I suppose: in that it suggests that the human brain is predisposed from a very early age to link variations in the visible wavelengths of the electromagnetic spectrum with concepts of good and evil. On the other hand, it is also preposterous, unless you are a child or a goddamn hippy.
Or indeed, a football supporter. Sports fans care about colours, too. This is why there has been so much consternation this week after the owners of Cardiff City FC announced they are changing the club's shirt colour from blue to red and introducing a new crest, with a dragon sitting meaningfully on a bluebird's head.
Read more
Cardiff City rebrands – fans see red
Today is a day that will live in the memory of every Cardiff City fan. Following the massive outcry by fans over the proposed plans to rebrand the club, the Malaysian owners are going through with their plans to change the home kit to red and alter the club crest.
But what will be the long-term impact on the club of this shock news today?
Read more
Matt Gabb writes in The Times
The row over Cardiff City's decision to change the club's colours from blue to red this week should reverberate with all supporters. We have all become marginalised and powerless to act against the wishes of wealthy owners, often based far away, who have no consideration for our history or long-term future.
Cardiff's Malaysian owners want the colours changed as part of a supposed multimillion-pound investment that will help to take the club into the Premier League.
They did a U-turn after a fans' revolt when the plans were revealed last month, claiming that Cardiff's future was in peril without the money and that we would have to accept it while looking down the barrel of a gun.

That smacked of blackmail for some fans, who felt they were being railroaded by threats of administration or worse if they didn't toe the line. Others believe it is economic reality and said that the club can play in pink so long as the team are strengthened and we can compete against the likes of Chelsea and Manchester City in the future.

To many, a significant part of Cardiff City has died this week. There is a revolt brewing in the fanbase, but no one voice to rally behind. The Supporters' Trust, the Supporters Club and internet messageboards are pulling in different directions, split by an acceptance of, or opposition to, the club's spin.
Some fans campaigned for change, which has hurt the most. It is souring lifelong friendships and turning supporters away from their club. Even some supporters of Swansea City, our rivals, have understood and empathised with our anger.

Fans feel they were not consulted at any stage and the club's hierarchy were insensitive to our history, identity and memories. When the decision was rubber-stamped this week, the board alluded to widespread fan support based on private correspondence, opinion polls from local media and the Supporters Club. But the questions were skewed and samples not conclusive. Why not canvass the 16,000 season ticket-holders with an honest set of questions to gauge opinion?
The offer of a £100 million investment has been bandied around, but about £40 million of that has gone in already and there are no precise details on the rest. Ask fans of Blackburn Rovers, Portsmouth and even Liverpool about similar promises. What exactly are we signing ourselves up to? Will it come back to haunt us? No one knows.

The club have given no clarity. A big decision should have required the club to show evidence to support the logic of their plans. We were told that the commercial opportunities offered by playing in red are greater in Asia, but no facts were provided. Some marketing experts in the British media have poured scorn on the owners' claims and the only conclusion that can be drawn is that this is the whim of a billionaire not used to justifying himself to mere customers. Vincent Tan, the owner, is a billionaire, so he knows business, but not football.

Sign up to a wealthy owner and you sign away your rights as fans. Disgruntled Manchester United fans have adopted their club's original Newton Heath colours -- green and gold -- at games. Blackburn fans are disillusioned with Venky's, the Indian owners, and Chelsea fans opposed Roman Abramovich over his desire to buy from them the freehold of Stamford Bridge. Where does it end?

We have lost faith not just in our club but in modern football. The game used to be about sharing identity, ecstasy and pain. Now it is a case of accepting the assurances of money, crossing your fingers and hoping for the best.
http://www.thetimes.co.uk/tto/sport/football/footballleague/ article3440216.ece
A City Divided
One of the things I love about being a football fan is the sense of unity. At Wembley when Ben Turner scored the equaliser with seconds remaining against Liverpool, it didn't matter if you were stood next to your best friend or a total stranger, the reaction was the same. I have made several lifelong friends from traveling to away fixtures and meeting the same people wherever Cardiff City may play. We live in different parts of Wales, do different jobs and have different beliefs, but Cardiff City unites us. While most of the country sleeps, the away football fan wakes up at 5am on a Saturday morning to travel to Middlesbrough, and takes days off work for a midweek away trip to Yorkshire. Despite the level of commitment it takes, the effort a fan puts in to watch their team is not a chore or an inconvenience. It's because they want to do it, because the feeling of walking out of an away ground victorious is like no other. Cardiff City are undoubtedly responsible for some of the best and happiest moments of my life. Last season was a fantastic one, with a squad, staff and fanbase united like I had never seen before. Liverpool won the cup and we were soundly beaten by West Ham in the playoffs, but the spirit around Cardiff City was worth more than if we had formed an independent country and won the World Cup.
Read more
New Cardiff City kit to be giant penis costume
The football club formerly known as the Bluebirds are going through some big, phallic changes, as Back of the Net's John Foster explains...
Controversy has erupted around Cardiff City, after the club's owners announced that their players will no longer wear the club's traditional blue shirts, and as of next season will take the field dressed as giant penises.
A statement issued by Malaysia-based Berjaya Group, owners of the south Wales club since 2010, confirmed that Cardiff are to drop the blue shirts they have worn for over 100 years in favour of a new penis-based design, a move they say represents "a bold new strategy for the brand."
Read more
Cardiff City's 'whimsical' rebrand gamble on red
Cardiff City may be gambling their international marketing strategy on red - but a sports finance expert thinks the Championship club are "dreaming" if it will get them into the black.
Cardiff's controversial rebrand from blue to red, a dramatic U-turn as theirMalaysian owners initially insisted the plan had been dropped , is because their backers think red will make the Bluebirds more attractive in the Far East market.
Blue is the colour for Champions League winners Chelsea and Premier League champions Manchester City but principal investor Tan Sri Vincent Tan wants his Bluebirds to turn red to "exploit and maximise its brand".
Read more
A Malaysian Divorce – Cardiff City / Rebranding / Modern Football
Like most football clubs, Cardiff City have had their share of shifty and egomaniac owners. The infamous headline-courting Sam Hammam was one of the worst, overseeing a period of financial recklessness which nearly drove us into extinction. Weighed down by a ton of debt, the club were flailing around in quicksand when the Malaysians rode into town in 2009. Enticed to invest in the club by that other renowned slippery customer, then-chairman Peter Ridsdale, property tycoon Dato Chan Tien Ghee was soon joined on the board by billionaire Vincent Tan Chee Yioun, who later became the majority shareholder.
Read more
Losing my religion
It was about 1993 when Knocker and me went back for a late night, post-club drink at his house. Admittedly, we were well into a bottle of brandy when it happened, but it did happen nonetheless. We'd been talking about our love for the club, a shared passion which forged a lifelong friendship, has it has with so many of my friends over the past 35 years. And on this evening our bumbling conversation about the season just past and about our journeys across the country in the back of a transit van went further. Knocker produced a blue and white scarf which bore the club crest and pointed at it. "Look at that mate – that's Cardiff. The Bluebirds – Cardiff City Football Club". And ridiculously, but genuinely, we looked at that badge and it moved us both to tears.
I didn't want to write this blogpost. The rebranding of what I had always consider 'my' club has divided opinion and driven a deep wedge between supporters which may be impossible to heal. But the situation has affected me deeper than I cared to admit. I went to bed last night under a dark cloud and woke too early at 5.30am. My last thoughts before sleep and my first on awakening were about the destruction of an institution which has played a far too important part in my life.
Read more
Take It As Red – Cardiff City Fans Are Singing The Blues
Cardiff City supporters woke up on Wednesday morning like most of the country nursing a post Jubilee hangover; however the Bluebird fans were about to be dealt a sickening body blow to accompany it – one which quickly sobered every Bluebird up.
Hidden in a long, waffling, but carefully worded statement from the club's board of directors which began "City Football Club are delighted to announce that Tan Sri Vincent Tan and Dato Chan Tien Ghee ("Our Investors") have pledged their continuing commitment to enable the club to plan for the future." Was the news that "The rebranding of Cardiff City Football Club would be reactivated."
Read more
The promises that must be kept and the questions that must be answered by Cardiff City chiefs
ONE of the most controversial weeks in the history of Cardiff City comes to a close with the dust far from settled.
With red rebranding now a reality rather than a proposal, emotion has been high and opinions varied.
And there appears little danger of the debate raging any less until the club give a greater insight into what the future holds.
We all hope that it leads to a bright future for the Bluebirds – but we won't apologise for wanting assurances of how that future is going to work.
Read more