The group then walked through the City Centre holding up a banner saying 'Against Modern Football. Keep Cardiff Blue'
Pics from Jon Candy
http://www.flickr.com/photos/joncandy/sets/72157633712655871/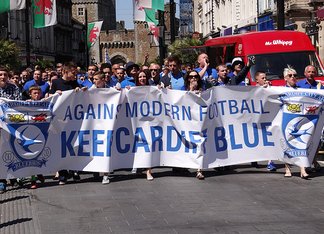 Sian Branson, who organised the march, said:
"We wanted this to be a peaceful protest which took place on a non-match day so it wouldn't affect the team - and we've achieved that.
"Some of us feel like we've lost our friends and our identity as a result of the rebranding.
"I like to think of us as the Cardiff City Conservation Society.
"But I don't think Vincent Tan cares about what we're doing. We're grateful for getting into the Premiership, but not at the expense of who were are and what we represent.
"These people are my family and this was a family fun day. Watch this space for more activities and events from us."
Vincent Tan has declared he believes red is the way forward but if enough people display their preference to blue, something which was apparent during City's final away games of the season, then maybe the message will get across that while supporters ares till backing the team 100% they'd like to see them play in their traditional colours.