First published on ESPN
http://www.espnfc.com/blog/_/name/cardiff-city/id/260?cc=5739
One man stood in his red Cardiff City shirt as he watched his team lose 2–1 to Chelsea at Cardiff City Stadium.

That man, Cardiff City owner Vincent Tan, was in a very small minority as almost all the home crowd proudly wore blue or held aloft blue scarves to make a mockery of the whims of the Malaysian and his desire to play in red.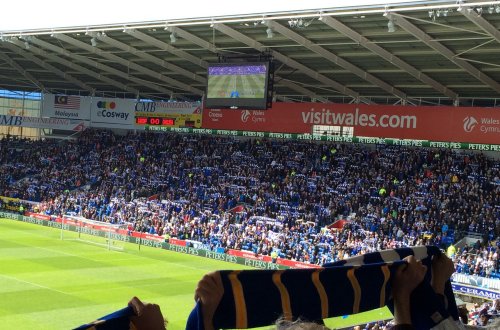 - Report: Cardiff City 1-2 Chelsea

Fans that fell for the "red or dead" threats of two years ago have finally woken up to the reality that Tan is playing games with his threats and his half-empty promises. The money invested by Tan is in the form of loans that he keeps promising to convert to equity.

But the goal posts keep moving. "I'll convert after we settle the Langston debt," he said; "I'll convert after we settle with [former manager] Malky Mackay," was another option. Both of those situations have been resolved and now Tan says he may convert some of the debt. He undoubtedly saved the club with his money, but he's in danger of killing it as he alienates more and more of the support.

For the first time he has acknowledged that fans dislike -- in fact most detest -- the red shirt. He has said he will sit and talk to fans about a compromise when the club is promoted back to the Premier League. It's another half-baked promise that is meant to appease those supporters who are objecting to the colour change, and there are now thousands and thousands. The majority who are making themselves heard and seen game after game wearing blue and chanting blue songs are hitting a nerve with the owner.

Tan has the opportunity to be a hero in the Welsh capital. With his investment, the full backing of the fans and a solid unity on the pitch, Cardiff City could have survived and prospered in the Premier League. Instead, the club was relegated amid a circus of off field nonsense that saw the most embarrassing public sacking of Mackay and more crass and classless outbursts from the owner.

The latest of those has seen Tan speak to the media this last weekend and launch an attack on Mackay. Now Tan may be correct in what he says, the apology issued by Mackay last week was strange. If Mackay was so sure he did nothing wrong at Cardiff, then why apologise? Maybe he just wants to draw a line and move on.

That's something Tan should also do but he's dragged it all up again and is making himself look petty and unprofessional. The person Tan should be dismissing is his PR consultant. Someone should be advising the man on how to work with his customer base and not against them.

Tan blames relegation on Mackay saying, "The main person responsible is Malky Mackay, the hero of fans. They should ask why he apologises.

"His friends supported him to be a big hero. Unfortunately, their hero almost killed this club and I was not going to put more and more money in. He took us to the Championship.

"If I had not invested, he couldn't have won promotion.

"Why didn't he earn promotion with Watford? He was their manager for two years, finishing 14th and 16th."

Is there any need to air this in public?

A crowd announced at just under 28,000 against Chelsea may be the biggest the club see for a while. The seats of those fans who walked away from the club after the re-brand were filled by people wanting to see Premier League football. That's gone now and I suspect many of the people who came to see Manchester City and Arsenal and Liverpool will not renew season tickets for next season.

The fans who walked away might come back if Tan resets the clubs identity, but many won't come back unless Tan walks away. The stadium is currently being expanded with 5,000 extra seats being added, that coupled with the thousands who will not renew will see a stadium at best two-thirds full come the new season.

Craig Bellamy scored Cardiff's last Premier League goal and it may turn out to be Bellamy's last goal for the club as well. The local boy who realised his ambition to get his hometown club to the top-flight will now sit down with manager Ole Gunnar Solskjaer to discuss his future.

Other possible departures include player of the season David Marshall, captain Steve Caulker and World Cup-bound Gary Medel. The Chilean missed the last couple of Cardiff's games as his season came to a disappointing end.

It's going to be an eventful summer for Cardiff City Football Club and its supporters are going to wonder from day to day what might happen next. With Vincent Tan in charge, its anyone's guess what the future holds.