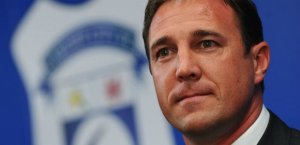 "I would think the we are [underdogs], in terms of the expectation on a club the size of West Ham," Mackay said.
"It's a former club of mine and I know the pressure at that football club to do well and to impress."
West Ham missed out on automatic promotion with Reading and Southampton taking the top two places.
"I think that financially there was such a big gulf between themselves [West Ham] and a lot of teams in the division, and the spending power they had even in January," Mackay said.
"I think there's an expectation level on West Ham so automatically with that we would be underdogs in that game.
"You're talking about a team that for a vast part of the season were in second place - they might have been in first place at some points.
"So no matter what, there is that disappointment that they never got [an automatic promotion place]."
The pressure and expectation on West Ham to beat Cardiff could work in City's favour. West Ham fans can be harsh on their own club if it's not going right so if Cardiff can frustrate the Hammers and keep it tight going into the 2nd leg then City can get the right result over the tie.
Remember City won the opening game of the season at Upton Park.
"Going into that game we were trying to put a team together to play at Upton Park, six weeks before. It was daunting," said the Cardiff boss, who made 18 appearances as a player for West Ham in the 2004-05 promotion-winning season.
"When we scored in the last minute it was a smashing day, but we knew there was an awful lot of work to do.
"I think if you said to me at that point that we were going to make the Carling Cup Final and be one of the [play-off] semi-finalists, I'd have bitten your hand off at that point, with the group that were there."