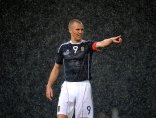 David Marshall has been omitted because of his ongoing illness that has caused him to miss the last one and a half Cardiff games.
But Kenny Miller and Don Cowie have been joined by Craig Conway in the squad for the trip to the Mediterranean island.
Like Wales, Scotland are having a friendly game this coming weekend. The Euro 2012 qualifiers are taking place with the Republic of Ireland competing for a place in Poland/Ukraine.