Even though a number of members were on holiday, (January is a pretty quiet month in Australia ) and also the meeting clashed with the England v Sri Lanka match in Sydney (nice planning Rich!!), we still had over 20 people attend, some for the first time. We were particularly pleased to welcome Stuart Pease who had just arrived in town a few days before direct from the Clive Hotel, Canton. He carried with him a precious tape put together by the CCFC media team especially for us to show in Australia.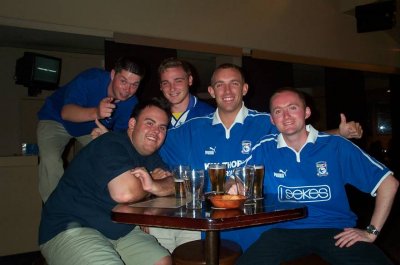 The high quality Nicam tape showed every goal City have scored this season up to (but not including) Coventry at home. The 50 minute tape was professionally edited with music, great action and a lot of humour. (Who the hell was the streaker, and even more interestingly, who was that blonde?) Big thank you to Neil Hughes and Wayne Nash at CCFC, Dave Povall for doing the leg work back in Cardiff and getting the video from the club, and of course Peahead for not losing it in Vienna. We watched the action through about three times, and then, (after downing a number of beers to dull the pain), watched the Wurzels game, courtesy of Ian Golden (who also was visiting Australia in January.)
We also held our first Organising Group (OG) meeting. We started by discussing what we wanted the club to be, and what we didn't want it to be. The people involved in this discussion were; James Martin, Clive Woosnam, Nick Mather, Roger Mather, Kevin Rua, Julian Davies and Richard Jeffery. It was suggested that the club would be known as Bluebirds DownUnder, with its objective being;
"To provide an opportunity for Cardiff City supporters in Australasia to meet socially, watch recent games and promote the best interests of the club."
The name of the club and its objective will need to be ratified at a full OG meeting.
Other suggestions.

· Bayview Hotel should be adopted as the 'home' of Bluebirds DownUnder. It is a handy location for most people, the beer is good and reasonably priced, food is good and not expensive, and it is far enough out of town not to attract undesirable elements from other clubs.

· It was agreed that whilst no charge would be made for membership, a $5 donation would be sought from those attending meetings. The club will not at this stage be registered. The group felt that we should keep things fairly informal.

· We will show any recent full City game that we can get hold of, even if City does lose. (This suggestion met with a lot of debate!!)

· We will probably set up a web site for the Club. We need a Webmaster, and this costs money.

· We will form affiliations with the Valley Rams, CCFC Official Supporters Club, and CardiffCity Exiles. Members of these groups are very welcome to attend our meetings when they are visiting Sydney.

· We will get a representative for each Australian state plus New Zealand. The representative may well organise regional sub-meetings if they chose, using our web site.

· We will get Cardiff City Fanzine magazines shipped out from Wales and sold at meetings, Profits to club.

· We will survey our members to see what other activities we could organise. Suggestions already made include;

o going to Leichardt to watch Wales v Italy ( yeah ..right!!)

o a get together with Sydney Welsh choir on St David's Day

o beach bar-b-ques

o newsletter

o football matches against other supporters clubs in Sydney

o getting the Rams to send a bus for us to attend the final game of the
season (no problem)
All the OG members volunteered to take on various roles in the running of the club. These roles will be discussed at the next OG meeting. We need to appoint a treasurer who has experience of handling money and can keep financial records for the club. We will have costs, including shipping costs for videos, equipment hire etc. The following position nominations were provisionally agreed.
Richard Jeffery Club Captain and secretary
Jim Welsh Treasurer
Russell Mather Special Events Organiser
Clive Woosnam Cultural Liaison Organiser
Nic Mather Pub Liaison and Gathering Organiser
James Martin Entertainment and Video Organiser
Julian Davies OG Member
These positions will be ratified at our next meeting with other OG members being nominated for roles. The intention will be that we spread the load with a number of people doing a small number of jobs and that way no one gets over loaded.
The next gathering will be Monday 3 March. (St David's Day meeting.) We'll show the club video mentioned above from , followed by Coventry replay at (apparently it is worth watching) and Oldham game from . (Hope that's worth watching.) Also highlights of recent Wycombe game plus anything else we can get our hands on. All subject to us receiving the videos in time, of course.
My apologies for the delay in getting this report out to you. I have been
overseas since the day after the meeting and only got back today.
Cheers
Richard (Sydney Blue)
21 January 2003
0409491867