About 25 mostly 'local' Bluebirds attended the latest gathering on March 3 at the Bayview Tavern in Sydney. The group of disparate South Wales expatriates are now getting to know each other well and there was a warm 'feel' to the gathering as everyone relaxed and enjoyed the chat, the banter and, of course, watching the City play.
We were pleased to welcome five visitors, (right) Left to right Peter & Tess Davies (Whitchurch), Chris Pearson (Cardiff), Terry Hewitson (Barry) and Christopher Virgin (Tongwynlais).
Big thank you to Peter Davies who presented a copy of the Bristol City match programme signed for us by Lennie Lawrence. We will raffle this off at the next gathering. Thanks also to John Newman in West Sydney and Ian Golden in Abercynon for the Coventry and Oldham games which were enjoyed very much by all the members. We are, however, looking forward to seeing a City game that we actually won; not far away I'm sure.
The members were also pleased to be able to read through a number of programmes sent to us by CardiffCity Exiles President Mark Jones, up there in Liverpool. Big thank you for that Mark, very much appreciated. Quite frankly, if someone sent out a CCFC beer mat we would be very pleased, (particularly if it was soaked in Brains SA.). We'll take ANYTHING Blue.
The OG had a very productive meeting and a number of points came out of it which may be of interest.
A raffle will be held at each gathering with all members attending asked to purchase at least one ticket at $5.00 to cover cost of attendance. Members are welcome to purchase more if they wish. Good prizes will be offered.
We will show any recent City games we can get, plus Wales games.
It was decided that at this time a web site would be unnecessary as we probably don't have that much information to put on it and funds are limited. The OG wants to thank web designers in Wales and Australia who offered their services for free.
We will have a reciprocal arrangement with Valley Rams, CCFC Official Supporters Site, CardiffCity Exiles and World Wide Welsh.
We will encourage members in other parts of Australia and NZ to have their own mini-gatherings co-ordinated by a local member. So far we have members in Adelaide, Melbourne, Brisbane and Auckland (NZ)
The following people have accepted positions on the OG.
Richard J – Captain & Secretary
Jim W - Treasurer
Russell M- Special Events Organiser
Clive W – Cultural Liaison Organiser
Julian D – Greeter and bouncer
Kevin R- Graphics and design – product development
James M – Entertainment & videos
David P – Sth Wales representative and club liaison
Mike D – Membership Representative
Steve H – OG member
Roger P – OG Member
Gary T – OG member
Bluebirds DownUnder logo – Kevin is going to come up with a few designs for us to look at. One suggestion which was well received was to have a Bluebird upside down in an Australian map outline with Bluebirds DownUnder underneath. Another option might be the new flag Sam is keen on with the Welsh cross and the Bluebird in the centre. This logo can be put onto T shirts and caps and we can raise some funds for the club this way. If you have any ideas on logo, please let me know.
Gathering Dates – We have had a number of requests from CCFC supporters overseas to let us have the gathering dates until the end of the year. This will help them plan their visits to Australia as they are keen to attend. Also, there are a number of dates during the year when we know a large number of Sth Wales people will be in town for the rugby, (June & October) We will do some research and publish future gathering dates which will coincide with specific events but not clash.
Italy v Wales in early September. We will be organising a joint function with our Italian friends in a Leichhardt restaurant that will be receiving a live feed from Italy of the game. It will probably be on a Saturday morning but unsure yet. Entry will be by ticket only and limited to active members of the Bluebirds DownUnder Club. Details at next gathering.
Bluebirds DownUnder - Player of the Year award - We will be sponsoring an award this season for a CCFC player. It was suggested that this will be for the best player to join the club since the end of the previous season. The player would have to be still at the club to qualify. David Povall will present the award as the representative of our club.
Next club meeting will be advised together with dates to end of year. We expect it to be in late April, probably 28 April if that isn't Easter. We will let you know.
Cheers
Richard (SydneyBlue)
0409491867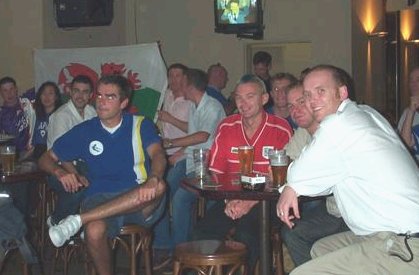 City fans enjoying a "cold one" in Oz