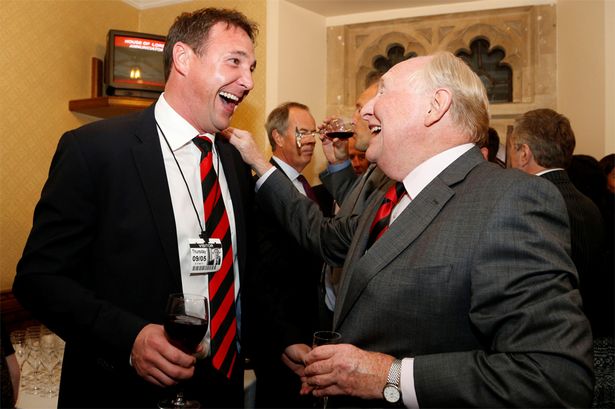 Cardiff City played at the House of Lords on Thursday night, in a reception to mark the club's promotion to the Premier League.
Bluebirds fan Lord Kinnock hosted the party, which was attended by owner Vincent Tan, manager Malky Mackay and captain Mark Hudson. "Joy is unconfined" announced the former Labour leader as he looked forward to next season's top-flight meeting of Cardiff and Swansea City - "a bit like El Clasico but with more rain and lots more passion".
Apologising for the smallness of the Home Room in the Lords, he explained the reception was organised at short notice. When Cardiff win the Champions League, he promised, he'd book Buckingham Palace.
Malky Mackay appeared genuinely touched to have been invited to the Lords, despite public challenges to stay in his role as long as Sir Alex Ferguson - 26 years. "And 38 trophies," added Lord Kinnock. No pressure, then, but few present thought Mackay would be tempted away from Cardiff by the Everton vacancy.
Vincent Tan explained his strategy of trying to widen the club's fan base in Asia - "where the money is". He said he'd already put more than £70m into Cardiff City although the only dividend he had received was emotional rather than financial.
He defended his controversial decision to change the club's strip from blue to red but said he hoped the bluebird and the red dragon would fly high together. Cardiff City Supporters' Trust chair Tim Hartley made sure Tan was aware of the fans' views on the change.
It was a time for looking forward, but also for nostalgia for lifelong Bluebirds. Dannie Abse, now 89, was there to hear Cardiff West MP Kevin Brennan read from his poem The Game.
Newport West MP Paul Flynn looked back to the days of Trevor Ford; the youthful Stephen Doughty, of Cardiff South and Penarth, confessed to bedroom posters of Scott Young and Phil Stant.
Premier League chief executive Richard Scudamore welcomed City to the top table and said that despite the money in football, the game was still about sporting success. He paid tribute to the efforts of Neil Kinnock and season ticket holder (and Tory MP) Jonathan Evans in helping promote the Premier League during its early years.
Guests queued to have their picture taken with the championship trophy on a night when their MPs and peers appeared, as Mackay's players might put it, over the moon.