Also in attendance were Peter Ridsdale, Peter Enkleman and a large press contingent - all taking photos, videos and interviews. I think we can expect the campaign to get the single to number one to gain even greater coverage over the next few days.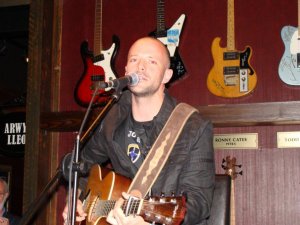 James Fox playing the Hard Rock Cafe on Wednesday evening.
Fox played a short acoustic set in front of an appreciative crowd, which included one of his own songs as well as sing-along covers of Babylon, Hey Jude and Don't Look Back In Anger. There was lots of audience participation and a short rendition of Singling The Blues also thrown in for good measure. James finished of course with the forthcoming single, Bluebirds Flying High, before leaving the stage to show off his City shirt, emblazoned with the words 'James Fox - No.1 HMV' on the back.
Chatting to James and the Cardiff City media team afterwards, everyone is really pleased with the exposure they are getting in the local media. The Echo has given the song 'Campaign Status', which basically means they have a reporter assigned to them almost full time. They've been touring local schools this week and next week signings have been arranged at HMV in Queen Street on Bank Holiday Monday and Wednesday afternoon. I don't think it's really sunk in yet, but there really is every chance that Bluebirds Flying High will be at number one by the time City play at Wembley.
You can pre-order the single now for just £2.99 at HMV online. The single is also now listed on Zavvi and Amazon and will also be available on iTunes for download from May 5th.
http://hmv.com/hmvweb/displayProductDetails.do?ctx=-1;2;-1;-1&sku=802821&WT.ac=singles-LHTMN-Top+10+Best+Sellers-802821
Loads of photos and videos from the evening have now been posted to the Bluebirds Flying High Facebook Group, which now has over 2,100 members:
http://www.facebook.com/group.php?gid=48698475600
More videos will also be posted shortly on YouTube: