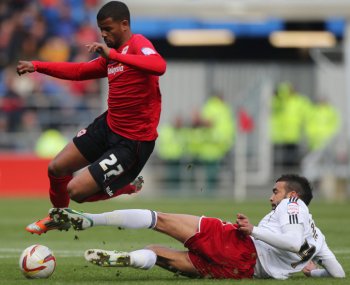 Fraizer Campbell's goals earned City three points in the Severnside derby yesterday but it was the overall team performance that saw one of the best displays from City in a number of weeks.
The late og was unfortunate and a gift to the visitors but before then City had the game sewn up and were playing keep ball as the clock ticked down.
With Hull, Watford and Palace all winning their 3pm games the three points Cardiff collected were priceless.
So that's another game played. Just 15 left for Cardiff to keep up their march to the Premier League. Most of the chasing teams only have 14 games left.
Next up for it's at home again, Brighton are the visitors to CCS on Tuesday ko 7:45pm.
Bristol City boss Sean O'Driscoll said after the game:
"Cardiff are a good side and we would all love to have a front two like Craig Bellamy and Fraizer Campbell. They are quality players in the Championship and we would all like to have that firepower.
"Cardiff scored a really good first goal. I said to the players at half time: 'If they score good goals, then credit to them. Let's not beat ourselves up, but let's not concede a poor one.'
"I was very disappointed with the second one. It was a poor goal for us to concede.
"At the end of the day, we get a goal back near the end and could have walked away with a point. But we haven't, because we have not done the basics well and have not cleared a long throw.
"It is always going to be the second ball rather than the first and I'm disappointed in that sense. It is a ploy and Stoke got out of the Championship almost purely on long throws.
"It is an opportunity to get the ball into the box and, if you have someone with that ability, then you use it."
O' Driscoll was not happy with the added time at the end of the first half.
He complained: "The fourth official was late putting the board up before half-time, because he was talking to Malky Mackay.
"The added minute was already up when they scored. These are the little things that annoy people, that annoy managers, players and coaches alike.
"We changed system three times to try and cope with their movement and, in that sense, I was pleased.
"We were resilient and that is an asset we are going to need from now until the end of the season."