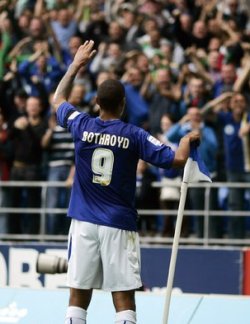 "We just have to concentrate on ourselves and we need to win every game," said striker Bothroyd.
"If we can't then we don't want to lose, we want to keep our morale high."
Bothroyd scored a penalty in the 7th minute, usually Peter Whittingham takes the spot kicks, and Cardiff never looked back from there. Keinan, Quinn and Whittingham scored further goals before Robbie Savage's late penalty earned Derby a consolation.
"I think the fact we've won 4-1 at home is big but it's come at a great time as well," added Bothroyd.
"With so little games left, it shows we are in form and we have to go to Doncaster now and back it up with that same kind of performance.
"Since I've been at the club there have been disappointments," he added.
"The first year we missed out by a goal, the second year the play-offs and I'd like to get promotion with the club.
"We're third in the league now, we've got some, not easy games, but almost everyone we have to play are towards the bottom end of the table.
"So we should be putting in performances like that and hopefully getting automatic promotion."