I've experienced seven relegations as a City fan and as I try to recall how I felt on those days when it was confirmed we were going down, writes Paul Evans. My memories are that there was no devastation, no contemplation of slitting my wrists etc. In my experience, relegations creep up on you gradually over a period of months or weeks in a way that means you've accepted your team's fate before it's confirmed, you know it's coming and so you can cope with it philosophically.
http://mauveandyellowarmy.net/
I'd be lying if I said hadn't spent much of today thinking that our relegation was going to be confirmed, to all intents and purposes anyway, tonight. Defeat or even a draw at Brighton would have left us needing to get something from the two games that I'd long since given up on, Liverpool and Manchester United, and I just don't see that happening I'm afraid.
However, even when I'd virtually talked myself into believing that a bad outcome at the Amex was inevitable, there was always that sliver of hope, which I have to say had as much to do with how our opponents would cope with the pressure they suddenly found themselves under as it did with any belief that we would put in a quality performance at the time we most needed it.
When it came down to it though, it was Cardiff who were able to cope best on a night which had the potential to define the two teams' seasons, it was Cardiff who had the resolution, nerve and, yes, the quality to rise to the occasion and win 2-0!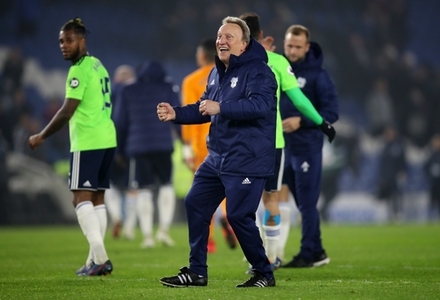 Over the weekend, I was asked by the Brighton blog WeareBrighton.com to answer some questions about the upcoming game and, although my optimism didn't quite stretch to predicting a win for City, I did outline how I could see a lifeline for my team if they could get ahead in the game – here's what I said;-
"The first thing I'd say is that I believe we'll probably survive if we win. That's as much down to where you find yourselves after Saturday because I feel that, following on from that pounding, a loss to Cardiff would be totally devastating for you, whereas we'd have momentum which I believe may be enough for us to come out of the Fulham and Palace matches with six points. I'd really fancy our chances if we scored first, but the reality is that we are lowest away scorers in the Premier League and, for all of the talk of penalties we should have had yesterday, we created barely anything from open play – when it comes to heart and head, I always tend to follow the latter more and currently the former is saying 2-1 to us, but the latter is saying 1-0 to you or possibly a 1-1 with us equalising."
Of course, now we have won the game, it's in the nature of things that the Fulham and Palace matches start to look that bit harder and it has to be said that they will be because tonight's result will mean that there will be an expectation that we will win these games. I've mentioned before on here before that, looked at logically, there should never be an expectation that we are going to beat anyone in this league.
After all, we performed as poorly as we have done all season in the one game, Huddersfield at home, where we were thought of as banker winners, but it has to be said that tonight we did what this squad have done pretty often since Neil Warnock took over – that is produce a result and a performance when it was really required and the hope has to be that they can do it twice more.
If we get to thirty seven points and Brighton find a way to finish above us then credit to them, but you have to doubt whether they can do that based on what has been seen from them since early December – they've taken just twelve points from eighteen matches while only scoring twice in 2019 at the Amex Stadium, the fortress upon which Premier League survival was built in 17/18 and that looked to be ensuring survival again in the first half of 18/19.
So, Brighton can take very little encouragement from their form over a long period of time as they approach their last five matches, but more concerning for them surely has to be what has happened to them since they put up a decent display in losing to Manchester City in their FA Cup Semi Final just under a fortnight ago.
So to the action, the two managers made eight changes between them for tonight's match with Neil Warnock bringing in Joe Ralls, Nathaniel Mendez-Laing and Oumar Niasse for Harry Arter (who injured his calf running off after being substituted at Burnley apparently!), josh Murphy and Kenneth Zohore, while it seemed to me that Brighton had been strengthened by the returns of Solly March and Pascal Gross after injuries.
It was March who almost changed the whole dynamic of the occasion in the first minute as he shot into the side netting and Neil Etheridge had to be quick off his line sixty seconds later to deny Glenn Murray as City made an edgy start.
There was an early indication of Brighton defensive uncertainty as they defended a corner, but City had reason to be grateful to referee Andre Marriner after ten minutes when he waved play on after Bruno Manga contested a high ball with Lewis Dunk in the penalty area amid claims from the home fans and players for a penalty.
Much has been made of how decisions have gone against us in recent matches, but my impression was that a penalty could easily have been awarded for Bruno's challenge as it looked to be a pull of the sort Sean Morrison had twice been the victim of against Chelsea – we still are well in debit when it comes to how poor decisions have affected us, but I think Mr Marriner may have redressed the balance a bit there.
With their opening flurry having not borne fruit, Brighton's intensity dropped after that and this enabled the tension to grow among the home fans. This was the scenario that City would surely have wanted and with Ralls and Gunnarsson prominent as they disrupted the home midfield while also ensuring their team gained a foothold in the game, there were a few grounds for quiet optimism on the part of the 1,800 or so away supporters.
City's emergence into the match had not really been reflected in any sort of goal threat as it entered it's second quarter, but then Mendez-Laing offered a reminder of what a good player he looked in the first month or so of last season as he curled in a shot from twenty five yards that Matt Ryan in the Brighton goal never got within a yard of.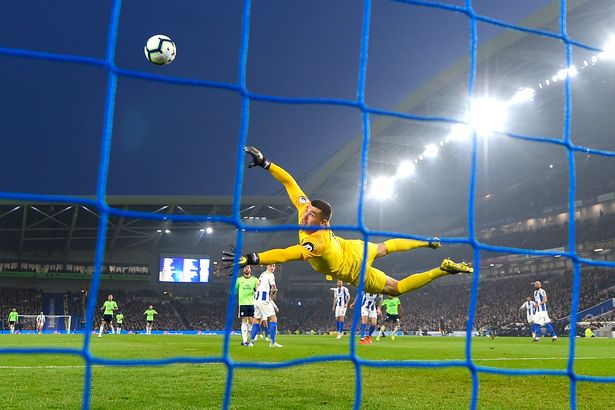 A superb picture of a superb goal – Matt Ryan looks on in despair as Nathaniel Mendez-Laing's City goal of the season contender flies past him.*
It was a similar goal to the ones Junior Hoilett scored against Wolves and Watford at the back end of last year, but one difference was that this one came from a move started deep in City's half. Ralls broke up an attack, fed Mendez-Laing who was allowed to carry the ball a long way before finding Hoilett who rolled a pass back into his path and the winger was able to capitalise on Brighton's failure to close him down quick enough in sensational style.
One of the reasons I doubted that City could ramp up the pressure on Brighton by scoring the first goal was that it happens so rarely for us in Premier League matches. By scoring here, Mendez-Laing joins Steven Caulker, Jordon Mutch and Sol Bamba in a very select group who have put us 1-0 up in the first half of an away Premier League game – even more extraordinarily, it was only the second goal City had scored in the first half of an away game all season!
The other one was Bamba's at Chelsea back in September and on that day, an Eden Hazard inspired home side turned things around to the extent that they had the lead at the break – there was never any threat that Brighton would be able to follow suit though.
True, they had more of the ball, but this was one of those occasions where that only betrays a paucity of creativity and willingness to accept responsibility – City were looking pretty comfortable as they saw things out to half time with their lead intact.
Facing the biggest forty five minutes of their season so far, City settled back into the rhythm they'd established in a manner that made me hopeful that they could withstand the bombardment which would, surely, come their way for the remainder of the game. What I didn't figure on though was that we would then go and double their lead with a goal one of our players in particular must have thought was a long time in coming.
It's almost a year since Sean Morrison ran the length of the pitch at Hull in the dying minutes to receive a pass from Nathaniel Mendez-Laing as it turns out and finish like a seasoned striker. It was Morrison's second goal in the 2-0 win which, more or less, ensured our promotion and, as supporters looked forward nervously to the new season in the top flight, one of the things they were able to feel confident about was that our captain would be scoring a fair few more.
Morrison was supposed to be there nodding in free kicks and corners as we carried the dead ball threat that had been so important in our promotion into the Premier League. It's just not happened like that though, Morrison has come up with the occasional assist, but, by fair means or foul, Premier League defences had nullified the threat our captain presents – it must be said as well, that dead ball delivery has not matched the quality seen in 17/18 for much of the time.
So, when Victor Camarasa stood over a free kick out on City's left about thirty yards from goal five minutes into the second half, I don't think there was any great expectation of much coming from it. However, when the Spaniard swung in a good, but hardly devastating, ball, Brighton showed the frailties that are betraying them time and again lately. The home side's centrebacks Dunk and Duffy established themselves as one of the best aerial partnerships around at either end of the pitch when the going was good for Brighton, but here Dunk was caught underneath the ball leaving Morrison to get free off his marker and nod in easily from six yards.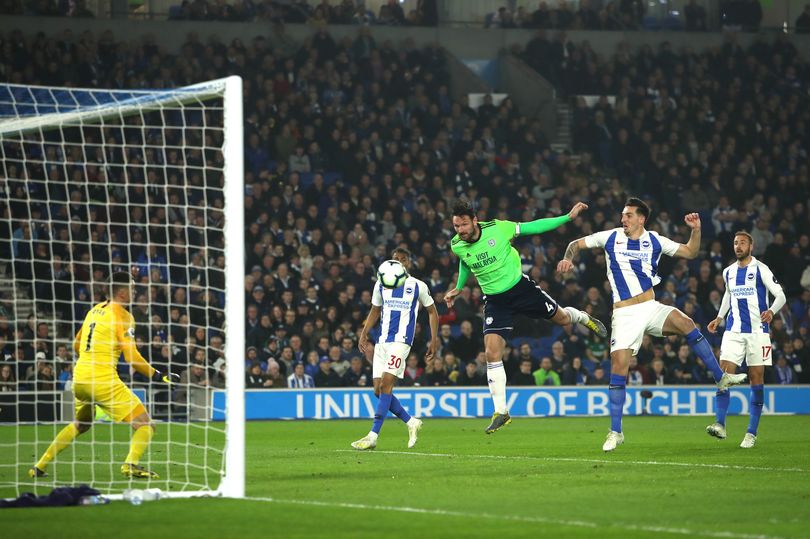 Sean Morrison has responded in fine fashion to the loss for the season of defensive totem Sol Bamba and it's great that he now has a goal to his name – not as eye catching as out first one, but every bit as welcome.*
It all looked so simple that you had to wonder why Morrison had waited so long for his first goal of the season, but the truth was that this was Championship standard defending and, although he missed one or two sitters earlier in the campaign (Huddersfield away springs to mind), our skipper has just not been getting opportunities like this one this season.
Of course, when you are watching any game where your team has to defend a two goal lead for half an hour or more, you always think it's not enough, but Brighton, the third lowest home scorers in the division, with just two in their last five matches at the Amex, only really had the veteran Murray to fall back on as they sought a way back into the game.
"Fall"was something that the home team's top scorer did a fair bit of as Brighton looked for the penalty kick which may yet transform the game for them and he did have alarm bells ringing in City's back line with a shot which flew inches over and then an effort against the woodwork in time added on. There was also a brilliant Morrison block to deny sub Andone, but, in reality, City defended very well and were fairly comfortable against opponents whose confidence looks shot to pieces.
My thanks to the messageboard poster who pointed out that our record against the current bottom five now reads played seven, won five and drawn two. I think those figures offer a clue as to how this City squad has an ability not shared by some of the more talented ones they find themselves in competition with, to come up with big performances in the matches which really count – they coped with the pressure of having Fulham breathing down their neck last season excellently and, up to now at least, they have done very well in the sort of situation they will find themselves in when they go to Fulham and entertain Palace.
So, while it must be acknowledged that it may turn out that fate was only teasing us as we slip up in the two matches which could save us, that relegation I was preparing for may not happen after all – what we do know for sure now is that the 18/19 side has won more matches and earned more points than the 13/14 one did.
News from earlier on means that this has to be our best day of the season up to now. I say that because Ipswich were unable to get the win they needed to become Professional Development League 2 Southern Section Champions as a late equaliser by Crystal Palace meant they could only draw their final game 1-1, thereby handing the title to City who finished a point clear of the Tractor Boys.
This means that we will be at home to the Northern Section runners up in the one off Play Off Semi Final to be played in the coming weeks. What we do know is that will be either Leeds or Sheffield Wednesday – with one game left for them to play, Wednesday will be Champions if they avoid defeat on Saturday, but they will be up against Sheffield United!
Anyway, warm congratulations to captain Sam Bowen and the rest of the Under 18 squad for recovering from their stumble just short of the line to regain the position at the top of the table they had held almost from day one of a season where they've suffered from a succession of injuries to important players.
Once again, can I make a request for support from readers by them becoming my Patrons through Patreon. Full details of this scheme and the reasons why I decided to introduce it can be found here, but I should say that the feedback I have got so far has indicated a reluctance from some to use Patreon as they prefer to opt for a direct payment to me. If you are interested in becoming a patron and would prefer to make a direct contribution, please contact me at paul.evans8153@hotmail.com or in the Feedback section of the blog and I will send you my bank/PayPal details.