These days there are statistics for everything in football, so it seems feasible to me that some sort of research has been done to determine how teams come out of long winless runs. My guess is that, if such research exists, it would show that the most common way a team gets back on the winning trail is with a scruffy, scrappy 1-0 win – that's how Newport County ended their run of nine games without a win today as a goal from ex City man Nicky Maynard was enough to secure the three points against Grimsby in a match that saw County have their fourth player sent off in their last five games.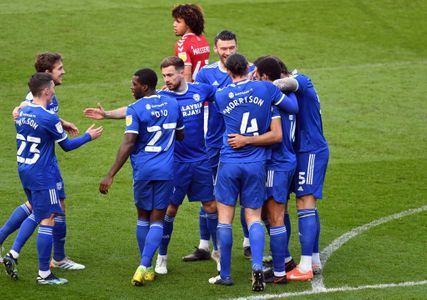 Cardiff City's run without winning wasn't quite as long as Newport's, as they gained two draws under Mick McCarthy in his first couple of games to follow the six straight losses that cost Neil Harris his job.
When City were losing miserably at Wycombe and in Harris' last game against QPR or while they blundered their way to 2-0 down in McCarthy's first match at Barnsley, it was hard to imagine how they would ever take the lead in a game again, let alone win one. However, today at Ashton Gate against Bristol City, they took their first step towards, hopefully, making winning a habit again with a triumph which was far from the scrappy single goal affair alluded to above.
City were full value for a 2-0 win which was a lot more comfortable than the score line suggests. If it was like any of previous victories this season, it was the 2-0 at Forest early in the season – the colours were the same, the score was the same and the goals came early on in the game. However, in that match, what was a very comfortable first half was followed by a second period that saw something of a fight back by the home side as we survived a few awkward moments – today though, there was nothing approaching a revival by the wurzels to follow on from a very one sided opening period.
In fact, there is another game from this season which today reminded me of, that was a local derby as well – Cardiff 0 Swansea 2 less than two months ago.
Okay, we didn't look as polished as the jacks did in the match which I still believe was the precursor to the six successive losses, but, in our different way, our control was as complete as Swansea's was.
I've said before that I was surprised by the effect the Swansea loss had on me. I hadn't been that annoyed after a match in ages and I can imagine that there will be many wurzels fans feeling the same way tonight, because, just as with that Sunday lunchtime, there was absolutely nothing that the losing team could take from the game – they had come second by a long way in a match which means an awful lot to the club's supporters.
The funny thing was that, having been pretty weak on their own ground for a season and a half, Bristol had won their last four matches at Ashton Gate before today, but, right from the opening five minutes when City pinned them back with a series of dead ball attacking opportunities, the home side was on the back foot throughout.
Back In November , Bristol had become one of seven teams to beat us Cardiff City Stadium when they scored in two minutes to win 1-0 and move up to second in the table. In truth though, the wurzels were probably the least impressive away winners at our ground this season and, although they defended well for much of the time, City were their own worst enemies with their substandard finishing as many chances were missed to not only equalize, but to go on and win.
The always streaky wurzels have been struggling really since then despite those home wins I mentioned earlier and what was looking like an automatic promotion challenge that night three months ago has now, rather like City's promotion push, become an outsider's tilt at the Play Offs if they finish the season really well.
So, this was a very important match for both sides, with City desperate to stop a gradual slide into a relegation battle as teams below them started to find some form and Bristol needing to resurrect their top six hopes following successive losses in away games at Derby and Brentford.
Bristol could offer a pretty long injury list as an excuse for what happened to them today, but, maybe more tellingly, there was the fact that, while City's new manager had an invaluable week on the training pitch to work with his new team, Bristol had a tough visit to Brentford on Wednesday to recover from.
Quite how much good came out of all that City training is hard to tell really – was the one sided contest down to us being so good or the wurzels being so bad? Truthfully, I'd say it was more the latter, but I would add that we played better than we have done for weeks – that's setting a low bar mind!
One thing that can definitely be deduced from the ninety minutes is that we gave our best three centre backs system performance for some time. Yes, I find myself again thinking low bar, but, besides Sean Morrison, Aden Flint and Curtis Nelson all having as comfortable an afternoon as they've experienced for some time either as part of back three or four, Joe Bennett and the increasingly impressive Perry Ng played like proper wing backs today, not full backs that were being ever so slightly more attack minded than normal.
City made just the one change from last weekend's draw with Millwall with Harry Wilson coming back into the starting line up for the first time under Mick McCarthy for Leandro Bacuna.
Whether there should have been another change might be the subject of some debate though because the most concerning feature of the afternoon from a City point of view was the strange situation which saw play held up for a long time in the first ten minutes while Alex Smithies, who I don't believe had touched the ball before then received treatment which, apparently, included a check of his oxygen levels and a reading of his blood pressure.
Looking somewhat pale, but with no obvious signs of pain, Smithies was taken off on a stretcher and replaced by Dillon Phillips.
There were some reports that Smithies had been taken straight to hospital, but Mick McCarthy confirmed this was not the case after the game saying that Smithies had been "sick" and was sitting up in the dressing room, while confirming that he had been tested for allergies, but, as yet, it had not been confirmed what was wrong with the goalkeeper – for now, I just hope our keeper makes a full and quick recovery.
Phillips was soon in action as he unconvincingly patted away a Henri Lansbury free kick from about thirty years, but that turned out to be the home side's only on target effort and the game soon reverted to its early pattern of City forcing the pace.
Wilson, starting the game very well, soon had something tangible to point to for his impressive opening as he delivered a wicked free kick in from City's right which only needed a touch from someone really for us to go one up – Nelson duly obliged with a header from eight yards and, on eighteen minutes, City were in front in a game for the first time since Will Vaulks goal from inside his own half against Brentford on Boxing Day.
Seven minutes later, some excellent target man work by Keiffer Moore enabled him to feed Sheyi Ojo who took his time before crossing to Moore who was in glorious isolation on the far post as he headed firmly past a helpless Daniel Bentley for his eleventh goal of the season.
An incredible statistic which shows that City are among the very worst in the Championship in terms of first half outcomes, but the best in the division in the second half attracted a lot of attention last week, but almost as amazing is that Keiffer Moore is regarded as the best player in the division this season despite him missing a significant portion of the campaign with injury and him playing for a team in the bottom half of the table – while these sort of gradings are pretty subjective and so cannot be taken as a definitive judgement, Moore has continued the development seen in recent years quite late into his career which suggests he may well not have reached his peak yet..
Moore has clearly been a very good signing for City, but here he wasted a great chance early in the second half when he failed to pick out the unmarked Ojo, who had a header tipped over the bar by Bentley in the opening half, who would have been left with a tap in.
City failed to make the most of some very promising opportunities to make it 3-0 after the break, but none were as bad as the one when the home side had wasted what was a four on one advantage at one time as they broke from a City corner.
Those few instances apart, it was a quiet second half with the hapless home team unable to fashion anything else that could be construed as a chance against opponents who were, understandably in view of the run they they'd been on, happy enough to hang on to what they had at half time.
City's win gives them a bit of a gap over the bottom three and they will now face a couple of sides below them in the table in the coming week – they go to an in form Rotherham side on Tuesday for a game rearranged following the postponement on January 2 and then entertain Coventry next Saturday.
Meanwhile, like the Under 23 side, City's Under 18 team have been offering some evidence that they are over what was a tough first half of the season. Having won at Watford last week, the Academy side thrashed QPR 5-1 at Leckwith. this lunchtime. Syabonga Ligendza scored twice, as did Frazer Thomas and there was also one for Taylor Jones who scored for the Under 23s in their recent win over Swansea.