– that's the same number of home points as we gained throughout last season (we also managed the same number in 06/07 and 07/08). With us already having passed the number of home points gained in our first three seasons after promotion in 2003, that's six out of nine campaigns where we have beaten or equaled our total home points with less than two thirds of our 2012/13 fixtures completed.
One more home win would see us pass the 09/10 total of forty two points and equal the forty three we managed in 10/11, which would leave only the forty seven we amassed in 08/09 left for the current squad to surpass. Based on what we've seen so far, it seems inevitable that this will happen some time in April and any debate as to why this season has turned out differently so far from those other ones where we were chasing promotion, but were always dogged by a certain degree of frailty and inconsistency, has to include our magnificent record at Cardiff City Stadium where only five points out of a possible forty five have been dropped up to now.
Sides which do as well as that at home tend to pick up more than their fair share of big wins, but this is not the case with City - ten of our thirteen triumphs have been by 1-0 or 2-1 and it's only in the remaining three matches (Wolves. Blackpool and Burnley) where the victory margin has been more than a single goal. Yesterday provided our sixth 2-1 home win of the campaign so far, but, to be honest, it was far more comfortable than the scoreline suggests – for me it was easily the most clear cut of those ten home wins by a single goal margin.
"Winning ugly" is a phrase you would come across fairly regularly if you read through reports of our matches over the last two months or so, but, for me, that's not a description you could apply to our seventh home win in eight over the wurzels. Right from the start, City were dominant and the first half was played out with an expectation of "when we score", rather than "if we score".
Mind you, with Tom Heaton showing the ability which made him one of the best back up keepers in the Championship last season and the wurzels defending stubbornly with the renewed belief provided by a run of three wins from four, perhaps things might have been different if they had got to half time at 0-0. Last week I pointed out that we had just nine goals to show from our previous nine matches and a recent scoring record which was a good deal poorer than you would expect from a club as far clear at the top of their league as we are, could have become more of a factor if the wurzels had been able to preserve their clean sheet well into the second half.
However, well into the one minute of added time at the end of the first half, we saw an example of a natural finisher at work and the match was transformed. Fraizer Campbell's career goalscoring record isn't great and I suppose there has to be question marks about whether he will ever be able to score consistently at Premiership level, but his spell at Hull five years ago and the way he has started his Cardiff career marks him out as someone who won't encounter the same problems in the Championship. We have players who might have made scoring that first goal look as simple as Campbell did, but Nicky Maynard is injured, Peter Whittingham doesn't tend to get into those sort of positions any more, Joe Mason isn't getting the game time and it's doubtful whether we will ever see Etien Velikonja in a first team again this season.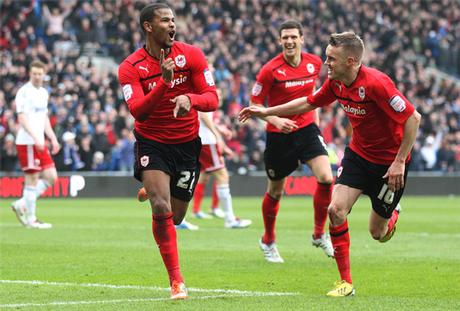 Campbell celebrates his third Cardiff goal in one hundred and eighteen minutes of first team football so far. This compares quite favourably to others in the squad – next best are Joe Mason and Aron Gunnarsson who have managed three since our 5-4 defeat at Charlton seventeen games ago! *
For most of the time recently, we've had players who might have put away that chance, but would just as likely have missed it playing up front for us, but the way Campbell placed his shot so well said that missing the target was not an option – his, seemingly simple, second goal also showed anticipation which does not come naturally to most players. Until his lack of match fitness took hold, Campbell demonstrated that he is pretty good in the air for his height and there were promising signs of an understanding developing with Craig Bellamy, who, as usual, was an example to his team mates when it came to work rate and closing down of opponents.
Campbell provided the finishing ability that we have been short of, but, the responsibility for the downturn in our scoring rate did not lie only with our strikers, because our attempts at goal figures had declined markedly – we weren't creating as many opportunities as we had been. Things were different yesterday though – apart from his puzzling inability to reach his usual standards from dead ball situations, Whittingham looked more like his old self, Aron Gunnarson continued the form which has made him our best central midfield player over the past few weeks, Craig Noone added a cutting edge in the first half in particular and I can only assume Tommy Smith was carrying some kind of injury which led to his substitution because, even with Campbell's impact, I thought he was our best player while he was on the pitch.
It wasn't a perfect performance by any means – I thought chances to hit the wurzels on the counter attack were ignored late on as we preferred to sit on our two goal lead and the scruffy own goal by Ben Nugent (good overall, but he headed the ball back to Marshall "blind" when just a quick glance would have shown him where the keeper was) made for a more anxious last minute or two than there should ever have been. However, when you consider that there have been those (myself included at times) who have accused City of playing route one stuff, this was a game where they tried to play good quality passing football throughout and often succeeded in that aim (the fine build up for the first goal being a case in point).
We're now at the stage where results count for far more than performances. Although Hull, Palace and Watford have not had bad weeks, we still know that seven more wins from fifteen matches will, in all likelihood, see us us finish in the top two. We've won eleven out of our last fifteen league games and the word "stylish" doesn't spring to mind when describing most of them. You don't get any more points for winning with style, but it's reassuring when you can do that in our position because it illustrates that the pressure of the situation isn't getting to you – I thought we won with a bit of style yesterday and, if we can keep that level of performance up, we should be able to find those seven wins (and a few more on top of that) from somewhere.