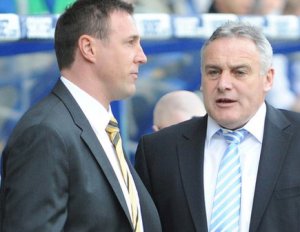 Already the Bluebirds have set a club record by winning 9/9 games from the start of the season and it could become 10 if they beat struggling Sheffield Wednesday on Sunday.
The 100% home record so far this season is already the best in Europe and if 10/10 were achieved City would take back top spot in the Championship and send former boss Dave Jones away with his side languishing in the bottom three.
Malky Mackay, ever the diplomat, welcomes Dave Jones back to Cardiff.
"To even be at a football club for six years is a huge time. Dave oversaw the move from Ninian Park to the new stadium, took them to the FA Cup final and the play-offs. I think that's a good achievement," said Mackay.
"When a manager is sacked people want change, but I hope with time most people will look at the whole period someone was at a club and assess things.
"There are fond memories and I hope people take that into account."
Mackay went on to say about his City side:
"I'm delighted with the results we've picked up recently given the injuries we've endured.
"Adapting was the name of the game, people have come in and done that for us. It was the first time the youngsters were putting on the jersey and that can only be good for the club.
"But there are 23 teams who can stop Cardiff out there and Sheffield Wednesday are no different. We are not halfway through the season. The minute you start thinking you've achieved anything is the moment you start dropping down the table.
"Momentum is the key because that breeds confidence. But I am not expecting anything but Sheffield Wednesday to come here and give us a very tough game.
"How can you expect anything different in this league? Just look at last week at Middlesbrough. Bristol City were on a poor run and went and beat one of the form teams 3-1 at their home ground.
"Anything can happen in this league and it usually does. So unless you have 100 per cent focus on the team in front of you, if you don't cover the bases, then you are going to be beaten, It's as simple as that.
"We have to make sure we apply ourselves in the way we have applied ourselves in every other game this season."
Cardiff v Sheff Weds
Sunday 3:00pm.