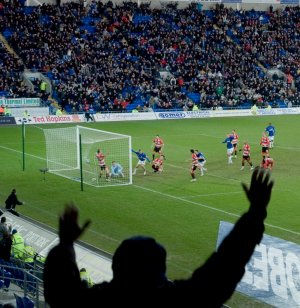 Doncaster thought they had earned a point after a decent second half performance but Jay Bothroyd's effort on goal in stoppage time forced keeper Neil Sullivan into a "nightmare moment" where he looked to have saved but the ball popped up like a piece of soap and dropped into the net.
Cue mad celebrations for the home team and support and despair for the visitors.
On the first half perfromance alone the referee should have stoped the bout. Cardiff were rampant and Michael Chopra scored with a sweet shot after being played in by Peter Whittingham.
After that Chopra missed two clear one on one chances and the Ross McCormack saw a free header hit the post. It really was one way total domination.
2nd half the tide turned. City didn't find the space as much. Doncaster took control of midfield and started to look dangerous. Their efforts on goal were nowhere as effective as Cardiff's were (and because of that can have little complaint at the end result) but they were in the box seat.
David Marshall made one good save tipping a shot over the bar but he was helpless as Gareth Roberts'' sweet left footed shot found the net.
The crowd were subdued after great support but they rallied. The City fans are behind their manager and team (it's the chairman they don't like). Cardiff probed, Doncaster looked to have settled for the draw and from a corner won through persistence City won the match.
Again the people sat near me headed for home with 10 mins to go. I'm glad they missed the winning goal. If we were 6 nil down then walk away if you must. Not when the game is in the balance.
The Pièce de résistance came when City snatched the match when skipper Bothroyd scored the winner. The corner came in Bothroyd got a goalbound touch and Sullivan did the rest.
The support during the game was second to none. That was a 4th straight victory. Next up City are away at Newcastle and Chelsea. A result or two from those games will be massive.
After the game a selection of supporters gathered to voice their opinions agianst Peter Ridsdale. A crowd of around 200 held up banners by the main entrance to the stadium and chanted "Ridsdale Out" and "Where's the money gone".
I don't think they'll ever get a straight answer.
I can't go to Chelsea (was that nearly a song?) but I am going to Newcastle. That promises to be one hell of a night next Friday. City are still right up there.
Fighting against adversity.