The 20 year old Spurs striker signs a three year deal at CCS.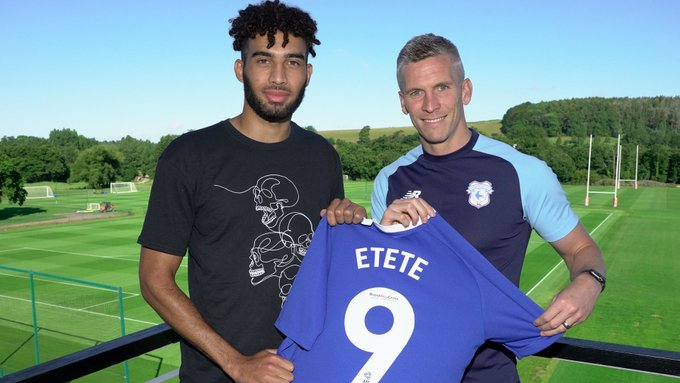 Steve Morison has added to his squad with a strong athletic striker. 20 year old Kion Etete has left Spurs and comes to South Wales looking to do the job asked of him by the manager.
Morison said of his new signing:
"I'm very happy. He's an investment for the Club, and he's got all the attributes to be a top striker.
"He's strong, he's quick, and he's athletic. He will bring other players into the game, and he will run all day long. We've got a top player on our hands.
"He's young, he's hungry, and he's a player that we see as ready now. He can get better and better, and we'll like to see how far we can take him."
Speaking after his arrivcla Kion said:
"It feels good to finally be here. The manager went into a lot of detail about the plan for the season, and how they want me to play. It's my job to try and fulfil that. When the players know what the gaffer wants from them, it's easier to put it into motion on the pitch.
"Obviously having gone from League Two to League One, the Championship is the next one. I just can't wait to get started, get used to the level, and hopefully excel.
"I'll always work hard for the team and the Club. Winning is the number one priority at the end of the day, and I'll do as much as I can to fulfil that."
Tottenham Hotspur said:
"We have reached agreement with Cardiff City for the transfer of Kion Etete.
"The striker, 20, began last season on loan at League Two side Northampton Town, scoring six goals in 23 appearances, before he joined League One side Cheltenham Town in January, where he scored three times in 13 appearances.
"Having signed for us from Notts County in June, 2019, Kion made 27 appearances for our Development squad, scoring 10 goals.
"We wish him all the best for the future."